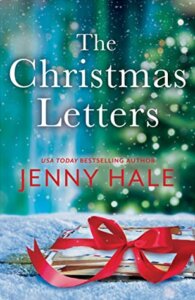 The Christmas Letters by Jenny Hale
Genres: Adult, Contemporary, Holiday
Published by Harpeth Road Press on October 11, 2022
Also by this author: A Christmas to Remember, Coming Home for Christmas, Christmas Wishes and Mistletoe Kisses, All I Want for Christmas, We'll Always Have Christmas, It Started With Christmas, The Summer House, Christmas at Silver Falls, Christmas at Fireside Cabins
Format: eBook (264 pages) • Source: Kindle Unlimited
Goodreads • Amazon • Barnes & Noble


Elizabeth Holloway's sparkling world comes crashing down around her when her boyfriend of seven years drops the bomb that he's leaving her—at Christmas. In an attempt to piece her life back together, she suddenly finds herself seven hundred miles from her New York City home, trudging through the snow, back at her childhood farm in the Great Smoky Mountains.

And she isn't expecting to meet visitor Paul Dawson with his dazzlingly blue eyes and warm smile, chipping away at her resolve to focus on figuring out who she is and what she really wants in life.

Just when she starts to think things are moving in the right direction, a stack of letters from Elizabeth's grandmother will change everything she thought she knew about her family and cause a divide between her and Paul that she never saw coming.

Under the glitter of Christmas trees and bundles of mistletoe, Elizabeth uncovers more than she'd ever imagined. Will the Christmas letters strip her of everything she holds dear? Or will they be the biggest gift of the season?
Story
Jenny Hale's holiday books used to be my absolute go-tos each year but the past couple were not quite as good as her earlier books. I'm excited to report that this one was definitely back along the lines of her older books! Elizabeth fled her small farm and hometown ten years ago for the bright NYC lights, high society with a rich boyfriend, and charity work in lieu of a "real career." When her boyfriend dumps her, she heads home to her recently departed grandmother's farm, which her mom is currently running. They find old Christmas letters from her grandma and realize her story isn't quite as straightforward as they once thought.
Meanwhile, Liz hits it off with a newcomer who is there for the holiday season and falls back in love with the way of life on the farm. I really enjoyed that she reconnected with her family, friends, and neighborhood. I enjoyed the southern farm town quite a bit. There was a little mystery in the letters and the ending of the book truly surprised me! It was so unexpected and really made this a winner for me.
Wintery Setting & Holiday Feels
The farm made for a fun Christmas setting – very similar to another holiday novella I read this year. I liked reading about the decor, festive shops in town, etc. but as usual, I could have gone for more! Lots of snowy scenes too.
Overall
This was more reminiscent of some of Hale's best books but still missed a little bit of the heavy holiday vibes. I used to love reading about intricate decorations across big mansions and holiday cooking. It was present, but my standards are high 😉 I would recommend this one overall especially if you want a slightly mysterious and intriguing story that will surprise you in the end.


---


I received this book for free (hey, thanks!) in exchange for an honest review. I promise that this does NOT affect my opinion of the book or the content of my review. For real.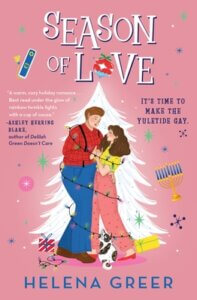 Season of Love
by
Helena Greer
Genres:
Adult
,
Contemporary
,
Holiday
Published by
Hachette
on October 11, 2022
Format:
eARC
(384 pages) •
Source:
Publisher
Goodreads
•
Amazon
•
Barnes & Noble

Buzzfeed's Most Anticipated LGBTQ Romances of 2022

Miriam Blum has no choice but to face the past she thought she'd left behind when she inherits her great-aunt's Christmas tree farm in this witty, glittering, heart-filled romcom.

Thanks to her thriving art career, Miriam Blum finally has her decoupaged glitter ducks in a row—until devastating news forces her to a very unwanted family reunion. Her beloved great-aunt Cass has passed and left Miriam part-owner of Carrigan's, her (ironically) Jewish-run Christmas tree farm.

But Miriam's plans to sit shiva, avoid her parents, then put Carrigan's in her rearview mirror are spoiled when she learns the business is at risk of going under. To have any chance at turning things around, she'll need to work with the farm's grumpy manager—as long as the attraction sparking between them doesn't set all their trees on fire first.

Noelle Northwood wants Miriam Blum gone—even if her ingenious ideas and sensitive soul keep showing Noelle there's more to Cass's niece than meets the eye. But saving Carrigan's requires trust, love, and risking it all—for the chance to make their wildest dreams come true.
Story
I was really looking forward to this one and it did not disappoint. When Miriam heads to "home" after her great-aunt's passing, she finds herself completely changing the course of her life. Cass has left her a portion of Carrigan's Christmas tree farm, along with her cousin, her cousin's ex-fiance, and Noelle, who she brought on to manage the farm at some point. This is honestly a tough story with some abuse elements and a lot of trauma to unpack – it's not a light and airy holiday book, but I still found the romance to be swoonworthy! The story is really addicting and enjoyable, with everyone's issues feeling real and fleshed out.
The back-and-forth was often annoying but not to the point where I wanted to put the book down. I could see the conflicts and their reasoning, so it was valid!
Wintery Setting & Holiday Feels
Excellent Christmas tree farm setting with Jewish main characters, Christmas vibes, and a plot that stretched to New Years. It hit on many  holidays throughout the end of the year and brought a lot of diversity to the usual plain-ol-Christmas-book TBR I have each December.
Overall
I really loved this one. This band of misfits was so real and charming! Like I said, it's not a light holiday story but still had lots of holiday vibes across the board. Now give me a Hannah/Levi companion book RIGHT NOW. And a book about Cole. And Tara! I want it all.


---

Related Posts