I received this book for free (hey, thanks!) in exchange for an honest review. I promise that this does NOT affect my opinion of the book or the content of my review. For real.
Snowfall on Cedar Trail
by
Annie Rains
Series:
Sweetwater Springs #3
Genres:
Adult
,
Contemporary
,
Holiday
Published by
Hachette
on September 24, 2019
Also by this author:
Christmas on Mistletoe Lane
,
Springtime at Hope Cottage
,
Starting Over at Blueberry Creek
,
Sunshine on Silver Lake
,
Season of Joy
,
Reunited on Dragonfly Lane
,
The Summer Cottage
,
The Christmas Village
,
The True Love Bookshop
,
The Good Luck Cafe
Format:
eARC
(699 pages) •
Goodreads
•
Amazon
•
Barnes & Noble

From a USA Today bestselling author comes a heartwarming holiday romance between the a small-town florist and the handsome chief of police.

Last Christmas was tough for Halona Locklear and her seven-year-old son Theo, who hasn't spoken a word since his father's death. This year, Halona wants nothing more than to give him a good holiday and to hear his sweet voice again. Enrolling him in the Mentor Match program might help, but when Theo gets matched with Sweetwater Springs Chief of Police, Alex Baker, Halona realizes that the handsome hero might know secrets about her past that she is determined to keep buried.

Chief of Police, Alex Baker, re-opens his father's hit-and-run cold case every December, hoping to finally solve it. This year, his plate is full with being a Mentor Match to a young seven-year-old boy as well. His biggest obstacle, however, is fighting his attraction to the boy's mother, Halona. As Alex gets close to solving his father's cold case, he learns that those closest to him may be in danger -- including Halona. Alex has already lost one of the most important people in his life; he isn't about to lose her too, even if it means walking away to keep her safe.
Story
I'm always so excited to head back into Sweetwater Springs! As I've said a hundred times before, it's one of my favorite small town settings for a companion series. I always find Annie Rains' books to be sweet and steamy at the same time – never too cheesy! The story follows Tuck's sister Halona, who owns the town flower shop, and her son Theo. He's been struggling with selective mutism since his father died. The leading man is Alex, the chief of police, and Tuck's best friend. The two have had chemistry since they grew up together.
There were heavy plot points throughout the story that affected the main romance quite a bit (and other things – more on that in the next section). Theo was so adorable and usually I don't love kids in books that much. The progression of Alex and Halona's relationship was sweet and seeing his interactions with her son made it that much better.
Wintery Setting & Holiday Feels
Sweetwater Springs is a petty magical place during the holiday season! I loved reading about the town's traditions and decorations. I think the heavier plot points in the story, like Halona's history with Ted and Alex trying to solve his father's murder, really took a lot away from the warm and fuzzy Christmas feels I'm used to in books like this.
Overall
This was a really lovely romance. I do wish there were a bit more Christmassy feels but the nature of their story, with the hard-hitting aspects, made it a little harder to get in the light holiday feelings. As usual, great secondary characters and exploration of Sweetwater Springs! I think I have some solid ideas about who the next main characters may be in the series…


---


I received this book for free (hey, thanks!) in exchange for an honest review. I promise that this does NOT affect my opinion of the book or the content of my review. For real.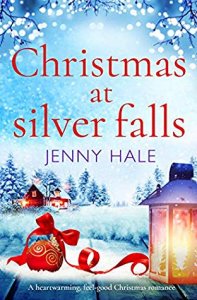 Christmas at Silver Falls
by
Jenny Hale
Genres:
Adult
,
Contemporary
,
Holiday
Published by
Bookouture
on October 15th 2019
Also by this author:
A Christmas to Remember
,
Coming Home for Christmas
,
Christmas Wishes and Mistletoe Kisses
,
All I Want for Christmas
,
We'll Always Have Christmas
,
It Started With Christmas
,
The Summer House
,
Christmas at Fireside Cabins
,
The Christmas Letters
Format:
eARC
(263 pages) •
Source:
Publisher
Goodreads
•
Amazon
•
Barnes & Noble

Curl up with this completely enchanting winter romance! A stunning festive read about the joy of Christmas with family, second chances, and finding love under the falling snow. Get cozy and keep some tissues on hand. You're in for a truly magical story…
White Oaks Inn has always been at the heart of Christmas celebrations for Scarlett Bailey and her family. Her adored gran has owned the rambling, old-fashioned hotel, filled with the scent of cinnamon and chocolate, since Scarlett was a little girl. But now her gran's home is under threat. And it looks like it could be the Baileys' last Christmas together there…
Over the holiday season, amidst much-loved festive traditions of baking cookies and decorating the tree, Scarlett throws herself into saving the hotel. When she hears that Charlie Bryant, a handsome, successful property developer, is spending December in Silver Falls, Scarlett is hopeful he might be the answer to their problems.
When they meet, sparks fly between impulsive Scarlett and business-like Charlie – as they both have very different ideas for the future of White Oaks. Scarlett is determined to show him how much White Oaks Inn means to her family and the guests who return there every year and, as they spend more time together, she begins to realize there is more to Charlie than his serious appearance…
But Charlie is struggling with a secret from his own past. Will he be able to face it, or will it stop him from truly opening up and getting close to anyone? And can Scarlett share the true meaning of Christmas with him and save her gran's beloved hotel along the way?
Embrace the wonder of Christmas in this gorgeous novel about living for the moment and finding love when you least expect it. Christmas at Silver Falls is the perfect festive indulgence for fans of Debbie Macomber, Susan Mallery and Sheila Roberts.

Story
I'll be honest, I didn't LOVE Hale's Christmas book last year. The concept was excellent but I didn't love the execution or lead couple. That didn't put me off this year, though – I was ready for Christmas at Silver Falls. I tend to love books set in small inns (major bonus if they're holiday-themed or super cozy for Christmas!) and these books usually have some kind of "our inn is closing and we'll miraculously get help just in the nick of time" subplot, which definitely happened here. (I've never wanted to punch a grandmother before but holy moly did Scarlett's Gran annoy me lol!)
Scarlett, her family, and Charlie (an ex real estate developer that she thinks can help them save the inn, either through purchasing it or something else) spend a lovely Christmas in Silver Falls. There was a big theme of giving and charity in this one, which was so nice to read.
Wintery Setting & Holiday Feels
Year after year, I save my annual Jenny Hale Christmas story for the last of the season. She always writes so much detail about decorating, holiday spirit, and traditions, that I need those feels right before Christmas (or on Christmas, in this case!). I made the right choice, as the Christmas feels we're strongest in this one compared to any other book I read this holiday season. The town of Silver Falls went all out with holiday games at local establishments, a Christmas party at the inn, and general cheer for the season.
I ended up reading most of the story the day after Christmas, so I was happy to see that it did stretch well beyond Christmas Day.
Overall
This was a classic, somewhat cheesy but always Christmassy, holiday story from Hale! Some early parts of the story weren't my favorite, like the introduction of so many characters and townspeople all at once, but the Silver Falls and White Oaks Inn settings were excellent.


---

Related Posts