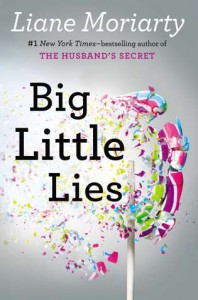 Big Little Lies
by
Liane Moriarty
Genres:
Adult
,
Women's Fiction
Published by
Penguin
on July 29th 2014
Also by this author:
The Husband's Secret
,
What Alice Forgot
,
Truly Madly Guilty
,
Nine Perfect Strangers
Format:
Audiobook
Source:
Audible
Goodreads
•
Sometimes it's the little lies that turn out to be the most lethal. . . .
A murder… . . . a tragic accident… . . . or just parents behaving badly?
What's indisputable is that someone is dead.   But who did what?
Big Little Lies follows three women, each at a crossroads:   Madeline is a force to be reckoned with. She's funny and biting, passionate, she remembers everything and forgives no one. Her ex-husband and his yogi new wife have moved into her beloved beachside community, and their daughter is in the same kindergarten class as Madeline's youngest (how is this possible?). And to top it all off, Madeline's teenage daughter seems to be choosing Madeline's ex-husband over her. (How. Is. This. Possible?).
Celeste is the kind of beautiful woman who makes the world stop and stare. While she may seem a bit flustered at times, who wouldn't be, with those rambunctious twin boys? Now that the boys are starting school, Celeste and her husband look set to become the king and queen of the school parent body. But royalty often comes at a price, and Celeste is grappling with how much more she is willing to pay.   New to town, single mom Jane is so young that another mother mistakes her for the nanny. Jane is sad beyond her years and harbors secret doubts about her son. But why? While Madeline and Celeste soon take Jane under their wing, none of them realizes how the arrival of Jane and her inscrutable little boy will affect them all.
Big Little Lies is a brilliant take on ex-husbands and second wives, mothers and daughters, schoolyard scandal, and the dangerous little lies we tell ourselves just to survive.

I generally don't read adult books because I relate better to young adult books. (By the way, you can expect a discussion post on this exact topic within the next few weeks!)  This book was certainly a perfect example of that. The main characters in this book are all parents of kids in kindergarten, who were dealing with domestic abuse, ex-spouses, being a single parent, and schoolyard politics. It was difficult for me to completely relate to the characters but I did find it pretty interesting. Frankly books with such a grim outlook on adulthood are not normally fun for me. At least with young adult books dealing with heavier topics I can be happy I'm through with that point in my life. I'm not married yet, I don't have kids, and I certainly don't want to think about the potential of divorce or domestic abuse in my life! REGARDLESS, this book was overall an enjoyable read for me. The story follows Madeline, Jane, and Celeste as they deal with all of the aforementioned issues. The book is written in chapters from each of their perspectives with little police interviews intermixed (more on the writing style later). The book begins with the understanding that a parent dies at the school's upcoming trivia night, and then backtracks through the months leading up to the trivia night. The story itself was surprisingly funny, considering it dealt with some pretty heavy issues. I loved each of the characters, flaws and all. Liane Moriarty's novels, from a plot perspective, are definitely unique. I was impressed by the overall story even though I felt like not much really happened. I couldn't imagine how all of the events could actually lead to a death. EXCEPT for the major fact that…. I predicted everything. This happened a little bit with The Husband's Secret, but I only made one connection in the whole mystery for that book. Unfortunately with Big Little Lies, a lot of the mysteries (or lies that people were covering up), I saw coming from a mile away. Ugh. I'm normally not the type to make guesses in mystery books, but it felt obvious to me for some reason. The ending was not what I was hoping for. Sorry to continue comparing this book to The Husband's Secret, but I can't help it – this ending didn't measure up. The epilogue of The Husband's Secret completely slayed me. It took everything I thought I knew and figured out throughout the book and turned everything upside down. Big Little Lies…not so much. I was expecting another gripping and jaw-dropping epilogue that would make it all worth it.

Madeline felt like our main character for some reason. She was strong, hilarious, and loyal to her friends. I absolutely loved her relationship with Ed; it was nice to have a normal-ish relationship in this book. She spent a lot of her time being angry about her ex-husband and their daughter, which was understandable to me. Madeline was ironically the "normal" one out of her friends, even though she was a bit louder and more quick tempered than they were.
Celeste was dealing with a lot of secrets about her life. Her husband, Perry, was a rich businessman who loved posting their perfect life on Facebook. Celeste did a shit-ton of second guessing herself even though she gorgeous and seemed to have an amazing life. Her and Madeline's friendship was certainly of an "opposites attract" variety. She was more quiet and reserved while Madeline tended to be overdramatic.
Jane and her son move to their town for mysterious reasons that the reader won't learn until the very end. She is plain, young, and often flustered. She was taken under the wing of Celeste and Madeline when a chance encounter brings her in touch with Madeline in the beginning of the book. She was definitely the most secretive of everyone and her story was slowly revealed.

God Liane Moriarty you are too good. This author knows exactly what format/style to write her books in; she always complements the story itself so perfectly. As I said before, the book alternated chapters between our three main characters, while mixing in different police interviews with other parents at the school. All of these messages are supposed to lead you to assume and wonder which parent will die at the trivia night. Those were funny and interesting – exactly what I would expect to hear from people in that circumstance. There's something about Moriarty's writing style that has me interested no matter what. Even though this book didn't meet my expectations, I never stop being impressed by her ability to tell a story.
Hmm.. I guess I wouldn't exactly recommend it to fans of The Husband's Secret because it wasn't quite as good or shocking. If you generally like all of her books and appreciate a great narrative voice with multiple characters, definitely give it a try. I don't recommend it to people who almost exclusively read YA like I do; it wasn't an easy book to relate to because the characters were all older parents dealing with issues I'd rather not think about. They were funny and relatable in other ways, but not a good crossover book for YA fans. People who like mysteries and books with complex character should give it a shot!

I hate to say I was disappointed in this one, but I was. It's hard for me to rate this anything more than a 3 or 3.5 because I had expected something much more. I was hoping that all of my theories would be proven incorrect (they weren't) and that my jaw would drop at the very end and/or in an epilogue (it didn't). That's what I was hoping all of her books were like. Regardless, I enjoyed getting to know the characters despite the differences between myself and them. The book was definitely funny, interesting, and engaging…even though not much happened until the end. The whole book reads kind of like a chick lit pseudo-mystery, which isn't what I was looking for. I don't regret listening to this one, though – I think the narrator did an amazing job and I loved her accent 🙂  Liane Moriarty's other books are still on my lists, but unfortunately I won't hold them to the same standard as The Husband's Secret. Overall, an impressing book from a lot of different perspectives. I think I just hyped it up too much for myself and managed to predict everything that was going to happen. The ending was really a disappointment, too.
Related Posts