I thought it would be appropriate to put my reviews for my last read of 2016 and the first read of 2017 together. I ended up cutting it very close with my Goodreads goal because I decided to be lazy with my final book. I ended up finishing it 20 minutes before I had to leave for New Jersey for my NYE plans… whoops. That's what happens when you tell yourself to meet your Goodreads goal exactly – no more, no less.
I started my first book of 2017 on New Years' Day while Chris and I were hanging out at home before bed. I was hoping to spend a good portion of the day reading but I ended up watching lots of football (duh). In any case, here are the books that ended one year and started another!

The Night Circus
by
Erin Morgenstern
Genres:
Adult
,
Fantasy
Published by
Knopf Doubleday
on September 13th 2011
Format:
Audio/eBook
(400 pages) •
Source:
Scribd
,
Overdrive
Goodreads
•
Amazon
•
Barnes & Noble

The circus arrives without warning. No announcements precede it, no paper notices plastered on lampposts and billboards. It is simply there, when yesterday it was not.

Within these nocturnal black-and-white striped tents awaits an utterly unique, a feast for the senses, where one can get lost in a maze of clouds, meander through a lush garden made of ice, stare in wonderment as the tattooed contortionist folds herself into a small glass box, and become deliciously tipsy from the scents of caramel and cinnamon that waft through the air.

Welcome to Le Cirque des Rêves.

Beyond the smoke and mirrors, however, a fierce competition is under way--a contest between two young illusionists, Celia and Marco, who have been trained since childhood to compete in a "game" to which they have been irrevocably bound by their mercurial masters. Unbeknownst to the players, this is a game in which only one can be left standing, and the circus is but the stage for a remarkable battle of imagination and will.

As the circus travels around the world, the feats of magic gain fantastical new heights with every stop. The game is well under way and the lives of all those involved--the eccentric circus owner, the elusive contortionist, the mystical fortune-teller, and a pair of red-headed twins born backstage among them--are swept up in a wake of spells and charms.

But when Celia discovers that Marco is her adversary, they begin to think of the game not as a competition but as a wonderful collaboration. With no knowledge of how the game must end, they innocently tumble headfirst into love. A deep, passionate, and magical love that makes the lights flicker and the room grow warm whenever they so much as brush hands.

Their masters still pull the strings, however, and this unforeseen occurrence forces them to intervene with dangerous consequences, leaving the lives of everyone from the performers to the patrons hanging in the balance.

Both playful and seductive, The Night Circus, Erin Morgenstern's spell-casting debut, is a mesmerizing love story for the ages.
I had pretty high expectations for this book. It ends up on a LOT of people's all-time-favorites lists. I bought this on Scribd forever ago with one of my credits, solely because it was narrated by Jim Dale. The story itself intrigued me because I find circus settings to be fascinating, but I really only went through with the purchase because of Jim Dale. He is perfection. His narration did end up being a major highlight for me. It was jarring at times because he used similar voices to the Harry Potter characters (like one character in this book sounded a lot like Dumbledore) and the book had some similar words I don't hear as often, like "headmistress" and other magical things. I switched over to the ebook copy from Overdrive once I was a little over halfway through and had no time to listen to the rest.
I honestly didn't feel like there was as much conflict as I generally expect from books, if that makes sense. There was a plot that spanned many years, so that was fun, but for some reason I wasn't as connected to what was happening. The atmosphere and setting of the circus were AMAZING. Without that, I totally wouldn't have bothered. The characters were interesting but a little hard to connect with. This could be because there were two main characters plus lots of side characters. I just never got to know anyone as much as I'd like to.
Overall, I'm so glad I read this book. The audiobook was perfect and it was otherwise a fairly quick read. The setting should be the number one draw to this story. I loved imagining the circus and pretending I was there watching it. So much magic and intrigue! The plot itself was pretty good and the characters were average for me, but I think the setting overpowers those drawbacks.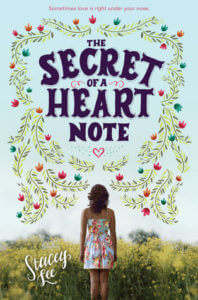 The Secret of a Heart Note
by
Stacey Lee
Genres:
Young Adult
,
Contemporary
,
Magical Realism
Published by
Harper Collins
on December 27th 2016
Format:
Hardcover
(384 pages) •
Source:
Purchased
Goodreads
•
Amazon
•
Barnes & Noble

An evocative novel about a teen aroma expert who uses her extrasensitive sense of smell to mix perfumes that help others fall in love while protecting her own heart at all costs

Sometimes love is right under your nose. As one of only two aromateurs left on the planet, sixteen-year-old Mimosa knows what her future holds: a lifetime of weeding, mixing love elixirs, and matchmaking—all while remaining incurably alone. For Mim, the rules are clear: falling in love would render her nose useless, taking away her one great talent. Still, Mimosa doesn't want to spend her life elbow-deep in soil and begonias. She dreams of a normal high school experience with friends, sports practices, debate club, and even a boyfriend. But when she accidentally gives an elixir to the wrong woman and has to rely on the lovesick woman's son, the school soccer star, to help fix the situation, Mim quickly begins to realize that falling in love isn't always a choice you can make.

At once hopeful, funny, and romantic, Stacey Lee's The Secret of a Heart Note is a richly evocative coming-of-age story that gives a fresh perspective on falling in love and finding one's place in the world.
I was incredibly eager for this book from the moment I saw the cover, then read its synopsis. I knew I was going to love it. The idea of aromateurs who can make "love potions" and smell peoples feelings just sounded so unique and interesting to me. Also, focus again on that COVER please.
It took me a while to get going on this one, to be honest. I spent the first 30% of the book somewhat struggling. I just wasn't able to focus and let it hold my attention, even though I was intrigued by it. I felt like a lot happened quickly and I wasn't sure what was going to happen for the rest of the book or something. Mim and her mom had an interesting relationship. The rules of being an aromateur (what you can eat, that you can't fall in love, etc.) felt so restrictive to me and her mom just didn't even care if Mim had other plans.
Court was a cute love interest. I felt their chemistry from the beginning, even though I honestly didn't see the appeal of Mim right away. She was definitely weird but also confident enough to be herself. I definitely liked her more and more as the book went on, even as she made lots of mistakes and tried to fix them in the wrong ways.
I love when contemporary books manage to surprise me with some kind of twist! I don't want to spoil what happens near the end of the book, but when certain people came around and certain things were revealed… I was so happy! The book seriously picked up for me once I hit the 60% mark and I ended up just blazing through it in one night. Even though it took me longer to read than I expected, this was a really beautiful and atmospheric story. I felt like I could actually smell everything they were talking about. I love how the author gave certain feelings, emotions, and reactions distinct smells.
Related Posts