I received this book for free (hey, thanks!) in exchange for an honest review. I promise that this does NOT affect my opinion of the book or the content of my review. For real.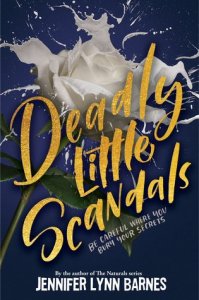 Deadly Little Scandals
by
Jennifer Lynn Barnes
Series:
Debutantes #2
Genres:
Young Adult
,
Contemporary
,
Mystery/Thriller
Published by
Disney-Hyperion
on November 5, 2019
Also by this author:
The Fixer
,
The Long Game
,
Little White Lies
,
The Lovely and the Lost
,
The Inheritance Games
,
The Hawthorne Legacy
,
The Final Gambit
,
The Naturals
,
Killer Instinct
,
All In
,
Bad Blood
,
The Brothers Hawthorne
Format:
ARC
(352 pages) •
Source:
Borrowed
Goodreads
•
Amazon
•
Barnes & Noble

"Think of the White Gloves like the Junior League-by way of Skull and Bones?"

Reluctant debutante Sawyer Taft joined Southern high society for one reason and one reason alone: to identify and locate her biological father. But the answers Sawyer found during her debutante year only left her with more questions and one potentially life-ruining secret. When her cousin Lily ropes her into pledging a mysterious, elite, and all-female secret society called the White Gloves, Sawyer soon discovers that someone in the group's ranks may have the answers she's looking for. Things are looking up... until Sawyer and the White Gloves make a disturbing discover near the family's summer home--and uncover a twisted secret, decades in the making.

No one is quite who they seem to be in this twisty, soapy, gasp-inducing sequel to Jennifer Lynn Barnes' unputdownable Little White Lies.
I have loved every Jennifer Lynn Barnes book I've read, even including the ones that were not necessarily up my alley synopsis-wise. I still have to read THE NATURALS series and I can't wait to be blown away by those too! In any case, I was sure to read this one relatively quickly to continue the story I loved so much.
I didn't remember that much from the first book but Barnes did a good job of recapping without overdoing it or feeling like an actual recap. I think the biggest issue with these books, which became even more of a problem in this one compared to the first, is that there are SO many characters. I could never keep anyone straight! The book, like the first one, also has chapters in the present and small flash-forward chapters that you're working up to timeline-wise. This book additionally had some chapters set 25 years in the past, with the parents of all of the main characters. I was constantly trying to remember who was who. On top of the amount of characters, there are so many secrets around everyone's parentage and family lineage too. Just when you think you've figured out who gave birth to someone or is related to someone else, everything changes again. I can't say much more without being spoilery so I'll just try to leave it at that. Overall though, this made it challenging to follow the story. There were a lot of big reveals though.
I still really loved these characters – Sawyer, Campbell, Lily, and Sadie-Grace. The romance is not fully necessary for me, but I do like Nick. It just was an added layer to an already complicated story, but it's not like it added any complication really. The White Glove Society addition to their world was fascinating and a great way to continue their story. It brought new characters in that connected to everyone else and opened it up for new plot points.
Overall, I have loved these books so far – I'm not sure if there's going to be a third but like with THE FIXER series, I sure as hell hope so.
---
I received this book for free (hey, thanks!) in exchange for an honest review. I promise that this does NOT affect my opinion of the book or the content of my review. For real.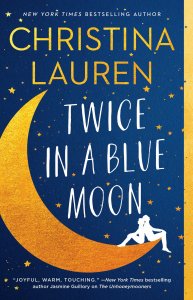 Twice in a Blue Moon
by
Christina Lauren
Genres:
Adult
,
Contemporary
Published by
Simon and Schuster
on October 22, 2019
Also by this author:
The Unhoneymooners
,
The Honey-Don't List
,
In a Holidaze
,
The Soulmate Equation
,
Something Wilder
,
The True Love Experiment
,
The Honeymoon Crashers
Format:
eARC
(368 pages) •
Source:
Publisher
Goodreads
•
Amazon
•
Barnes & Noble

As an adventurous send-off to her childhood, eighteen-year-old Tate Jones travels with her grandmother from their small town in Northern California to London. But the vacation of a lifetime is wonderfully derailed by the appearance of two charming Vermont farmers: grandfather Luther and his handsome grandson Sam.

Sam and Tate fall hard and fast. For two glorious weeks, the couple share their hopes, dreams, and secrets. Sam admits he suspects his grandfather is dying and that this could be the last trip they take together, and Tate reveals that she is the hidden daughter of one of the biggest film stars in the world—a secret she's never told anyone before.

But when Tate is exposed by a crush of cameras and reporters, she knows she's been betrayed by the one person she thought she could trust. She is forced to decide whether she will return to her quiet life or embrace being in the public eye. So when Sam reappears in her world more than a decade later, can Tate forgive the past and rekindle the passion they shared on their magical trip abroad? And does she even want to?
I chose TWICE IN A BLUE MOON quite easily for the #ReadForGrace event I organized on 10/14. I wanted to read something from her TBR and a book by one of her favorite author duos. I'm really glad I did, but it makes me sad to think of the discussions I would have liked to have with her on this story when we both finished instead.
I really enjoyed this! I think early reviews have been a bit mediocre so I didn't have the highest hopes. I also should probably mentioned that this is only my second book by Christina Lauren – the first being THE UNHONEYMOONERS – so I don't have much to compare it to. I know that many people who have read more of their backlist have been disappointed by the lighter books (meaning less steamy) lately, but that's all I've known… and I've enjoyed them both! Their earlier series (like the Bastard books) aren't necessarily up my alley so I think I'll continue with these new books as they come out instead of diving TOO far into the backlist. Maybe some like JOSH & HAZEL or other recent ones.
Anyways, I do think this book focused a bit too much on the couple themselves without fleshing out AS much when it comes to side characters. Quite insular. Family dynamics were important to the plot but the story essentially takes place over two chunks of time and not much else is developed, if that makes sense. Overall, enjoyed the romance, settings, and Hollywood-orientation. I'm a sucker for those books! I don't want to say much about that piece though, as the summary for the book primarily focuses on the early chapters instead of the other 3/4 of the story.
Related Posts