I received this book for free (hey, thanks!) in exchange for an honest review. I promise that this does NOT affect my opinion of the book or the content of my review. For real.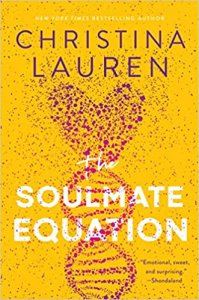 The Soulmate Equation
by
Christina Lauren
Series:
The Soulmate Equation #1
Genres:
Adult
,
Contemporary
Published by
Simon and Schuster
on May 18, 2021
Also by this author:
The Unhoneymooners
,
Twice in a Blue Moon
,
The Honey-Don't List
,
In a Holidaze
,
Something Wilder
,
The True Love Experiment
,
The Honeymoon Crashers
Format:
Audio/eARC
(368 pages) •
Source:
Publisher, Scribd
Goodreads
•
Amazon
•
Barnes & Noble

Single mom Jess Davis is a data and statistics wizard, but no amount of number crunching can convince her to step back into the dating world. Raised by her grandparents--who now help raise her seven-year-old daughter, Juno--Jess has been left behind too often to feel comfortable letting anyone in. After all, her father's never been around, her hard-partying mother disappeared when she was six, and her ex decided he wasn't "father material" before Juno was even born. Jess holds her loved ones close, but working constantly to stay afloat is hard...and lonely.

But then Jess hears about GeneticAlly, a buzzy new DNA-based matchmaking company that's predicted to change dating forever. Finding a soulmate through DNA? The reliability of numbers: This Jess understands. At least she thought she did, until her test shows an unheard-of 98% compatibility with another subject in the database: GeneticAlly's founder, Dr. River Pena. This is one number she can't wrap her head around, because she already knows Dr. Pena. The stuck-up, stubborn man is without a doubt not her soulmate. But GeneticAlly has a proposition: Get to know him and we'll pay you. Jess--who is barely making ends meet--is in no position to turn it down, despite her skepticism about the project and her dislike for River. As the pair are dragged from one event to the next as the "Diamond" pairing that could make GeneticAlly a mint in stock prices, Jess begins to realize that there might be more to the scientist--and the science behind a soulmate--than she thought.

Funny, warm, and full of heart, The Soulmate Equation proves that the delicate balance between fate and choice can never be calculated.
I won't bore you to death with my usual story about Christina Lauren books, but just know that I've really enjoyed all of the ones I've read (and yes they all fall into the "recently published rom-com" category instead of their previous series). I tend to not love books involving kids as much so I wasn't sure how I'd feel about this one, but I ended up really enjoying that aspect.
Jess is a single mother and freelance statistician with excellent grandparents who help her out whenever needed. When she and her friend Fizzy are recruited to join an up-and-coming dating app based on DNA matches, she is shocked to find that she is a top-level match with the owner and founder of the company, River. She also hasn't had the best experiences with him so far, so she's really unsure of how this would ever work. They offer to pay her a lot of money to just spend time with River and see how things go. You can guess what happens from here, I'm sure!
I thoroughly enjoyed this one. Many are comparing it to Christina Lauren's older books, which I haven't read, but I think this is on par with all of their books that I've read. I tend to just love the characters' chemistry and their easy, addicting writing style. I was able to mostly read this via audiobook while doing stuff around the house and it really kept my attention. That's genuinely hard to do with audiobooks lately.
I don't know how I didn't see the "black moment" coming, or figure out what it would be, but it was logical and not really related to "miscommunication" (my least favorite kind). I believed in their chemistry and loved them as a couple, but I wish there was a liiiiitle more? Almost like the book needed 2-3 more scenes of them being ~on the same page~ or just building it up a bit more. It didn't really feel rushed, per se, but verging on it.
Overall, I loved Juno and Jess and River and Fizzy and the grandparents. Everyone was lovely and this book was exactly what I needed.
---
I received this book for free (hey, thanks!) in exchange for an honest review. I promise that this does NOT affect my opinion of the book or the content of my review. For real.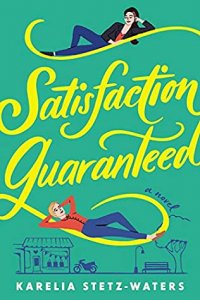 Satisfaction Guaranteed
by
Karelia Stetz-Waters
Genres:
Adult
,
Contemporary
Published by
Hachette
on June 1, 2021
Also by this author:
Behind the Scenes
Format:
eARC
(336 pages) •
Source:
Publisher
Goodreads
•
Amazon
•
Barnes & Noble

For fans of Casey McQuiston and Abby Jimenez comes a bold, hilarious, and out-of-the-box novel about mixing business with battery-operated pleasure . . .

When it comes to her career, Cade Elgin has it all figured out. Only "professional talk" has become her default mode, relationships are nonexistent, and don't even mention the word "orgasm." All work and no play makes Cade a dull human. But when she inherits a sex toy store, Cade is caught between business and a store filled with every imaginable kind of pleasure—including her infuriatingly irresponsible and deliciously sexy new co-owner.

Selena Mathis learned the hard way that she can have too much of a good thing. Which is precisely why she's taken an oath of celibacy and is focusing on how to make Satisfaction Guaranteed a success. She won't mess this up. Not this time. But once again, Selena's emotions are getting in the way, and tempting her with a serious attraction to buttoned-up Cade.

But the shop isn't exactly vibe-ing, and Cade and Selena are on the verge of losing both their income and the possibility of love. Can they find a way to work together . . . before Satisfaction Guaranteed runs out of batteries?
I really need to read more sapphic romances because this was a lot of fun! I'm a big fan of the books that Forever Romance publishes, so I was excited to get to this one.
I almost DNFed this within the first two chapters though – for some reason the main characters didn't click for me. I was a bit confused about what was happening during the funeral because Selena had a lot of friends right off the bat. I think it was more that I was sleepy when I started reading, read like 2% of the book, and couldn't remember much of the intro portions when I started reading it again. I'm so glad I stuck with it though.
When Ruth Elgin passes away in Portland, Oregon, her niece and her roommate/coworker end up getting joint ownership of Ruth's house and sex toy shop. The only problem? Cade is a gallery owner with her parents in NYC and doesn't want to live in Portland for a month… especially because the sex toy shop is majorly in debt. She may be a brilliant businesswoman, but it seems beyond the point of saving. Selena, on the other hand, is committed to turning things around in honor of Ruth's memory. She's also out of a place to live if Ruth's house gets taken away as well.
Cade and Selena feel sparks starting to fly as the work together to see if they can fix the abysmal state of the sex toy shop. They both have reasons for hesitating on beginning a romance and luckily there was a good amount of communication between the two throughout. I liked how in tune with each other they were and how much chemistry they had. Both of them had personal issues to deal with as well, so they felt like fully fleshed-out characters with lives outside of their budding relationship. It was very much an "opposites attract" kind of romance, which I am ALL for.
For some reason, I even cried at the end of this one. It was just a super sweet story where I slowly fell for the characters as they fell for each other. I really wanted them to be happy and make it.
Related Posts