I received this book for free (hey, thanks!) in exchange for an honest review. I promise that this does NOT affect my opinion of the book or the content of my review. For real.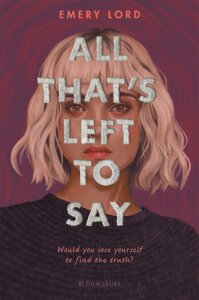 All That's Left to Say
by
Emery Lord
Genres:
Young Adult
,
Contemporary
,
General/Issue
Published by
Bloomsbury
on July 18, 2023
Also by this author:
Open Road Summer
,
The Start of Me and You
,
When We Collided
,
The Names They Gave Us
,
Meet Cute: Some People Are Destined to Meet
,
Toil & Trouble: 15 Tales of Women & Witchcraft
,
The Map from Here to There
Format:
eARC
(400 pages) •
Source:
Publisher
Goodreads
•
Amazon
•
Barnes & Noble

A poignant and powerful story of a grieving girl willing to risk everything, perfect for fans of Robin Benway and Jandy Nelson.

On prom night, Hannah MacLaren sits in the headmaster's office in her fanciest dress, soaked to the bone. She pulled the fire alarm right as the queen was about to be crowned, and she's in huge trouble. But Hannah had her reasons for ruining the biggest night of everyone's lives.

One year ago, her cousin Sophie, who was also her best friend and the person she loved most in the world, died of an overdose. Drowning in grief, Hannah became obsessed with one question: Who gave Sophie those pills? Then she concocted a plan: enroll at her cousin's fancy private school with a new look and a mouthful of lies, and find out the truth once and for all.

But she didn't expect all the lines to blur. She didn't expect Sophie's friends to be so complicated. She didn't expect to fall for her longtime enemy. Now, she has a choice: let herself really mourn Sophie and move on, or see her search through to its explosive end--even if it means destroying herself.
Emery Lord has been one of my favorite authors since I first started my blog in 2014. It's kind of alarming to see how underrated this book is (literally, there are only a few hundred reviews and ratings on Goodreads!). Remember when she was the top author in YA?? I feel like some of my fellow YA comrades have fallen off a bit (which I understand) but she'll be an auto-buy forever for me. I joined some reading sprints on booktube the other day and people didn't even really know Emery Lord when I mentioned this was my current read. I MUST EDUCATE EVERYONE.
As you can see, I'll read her books immediately regardless of topic. This book is about very fresh and unexpected grief, which is not something I like to read about. I don't pick up sad books on purpose and just try to escape to a happier place when I read (or solve a murder mystery – nothing more or less!). Reading about the opioid crisis was even harder. However, as always, Emery Lord treated the topic with care and created a very emotional and powerful story.
In ALL THAT'S LEFT TO SAY, Hannah is reeling from losing her cousin Sophie to an extremely unexpected overdose. Perfect, vivacious Sophie would never take pills on purpose! The story features her immediate grief and how she decides to get to the bottom of what happens to her. This includes transferring to Sophie's school and trying to track down where she got the pills, as well as what really happened the night she died.
I've been really enjoying the genre of "contemporary fiction/romance with a little bit of mystery in it." It's definitely not a full-blown mystery by any means but obviously Hannah is trying to investigate Sophie's death further, while going through the motions of her daily life. It features an amazing romance with a cute, caring boy. Usually I'd think there wasn't room in this kind of book for a romance subplot but as usual, Lord knocks it out of the park. It's woven seamlessly into the narrative as expected.
The only reason this is 4.5 stars for me instead of 5 is because of the dual timelines. While I liked this format in theory, it didn't work super well in execution. It flashes back to right before Sophie died through the immediate aftermath of her death (junior year) and alternates with her senior year. I think it was important to have both timelines but unfortunately they blended together a lot and it was hard to remember which timeline I was reading from at times.
Overall, I can still fully trust Emery Lord to write an amazing story that pushes me out of my reading comfort zone, teaches me something, and is compulsively readable.
---
I received this book for free (hey, thanks!) in exchange for an honest review. I promise that this does NOT affect my opinion of the book or the content of my review. For real.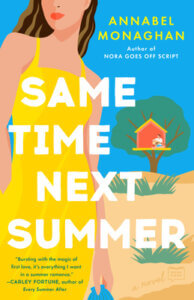 Same Time Next Summer
by
Annabel Monaghan
Genres:
Adult
,
Contemporary
Published by
Penguin
on June 6, 2023
Format:
eARC
(320 pages) •
Source:
Publisher
Goodreads
•
Amazon
•
Barnes & Noble

The ultimate summer nostalgia read, about an engaged woman who comes face to face with her first love who she hasn't seen in fourteen years, but who she spent every summer with from age five to seventeen when he broke her heart, calling into question everything she thought she knew about their love story, and herself.

Beach Rules: Do take long walks on the sand. Do put an umbrella in every cocktail.Do NOT run into your first love.

Sam's life is on track. She has the perfect doctor fiancé, Jack (his strict routines are a good thing, really), a great job in Manhattan (unless they fire her), and is about to tour a wedding venue near her family's Long Island beach house. Everything should go to plan, yet the minute she arrives, Sam senses something is off. Wyatt is here. Her Wyatt. But there's no reason for a thirty-year-old engaged woman to feel panicked around the guy who broke her heart when she was seventeen. Right?

Yet being back at this beach, hearing notes from Wyatt's guitar float across the night air from next door as if no time has passed—Sam's memories come flooding back: the feel of Wyatt's skin on hers, their nights in the treehouse, and the truth behind their split. Sam remembers who she used to be, and as Wyatt reenters her life their connection is as undeniable as it always was. She will have to make a choice.
I was really looking forward to reading this book but kept putting it off for unknown reasons. I thought it could be the perfect way to finish up my summer reading and it really was – I finished it right on August 31st, which is the last day of summer in my personal opinion 😉
The story follows Sam, who is engaged to a perfectly nice and pretty boring dude named Jack. They head to her family's beach house for a week to start planning their wedding but her summer love from when she was a kid (through teenager) is there too. Cue all the feelings.
This book totally crept up on me! I thought it was going to be a four star, easy contemporary romance to finish the summer with and it ended up becoming a favorite of the year. I'm sure many people won't like the "love triangle" or whatever but it just felt like a real, messy story to me. It was pretty clear (and I don't think this is a spoiler if you're a romance reader) that Jack was a fine dude but there was some magic missing. It was clear throughout the entire story (even pre-Wyatt) that the two of them were not the best pair. She hid parts of herself and her family from him because he was so buttoned up.
SAME TIME NEXT SUMMER is a really quick read. I read the vast majority in one sitting but basically finished it in two. It was truly exactly what I wanted it to be. The writing was excellent and like I said, it really crept up on me how much I was enjoying the book. I definitely need to rad Monaghan's previous work and anything else she writes in the future.
I wish there was a LITTLE more oomph during certain parts but I think it's kind of beautiful in its simplicity. I don't have any real complaints except that it's missing that five-star feeling for me, but still really loved it. Highly recommend to anyone intrigued by the premise.
Related Posts