I received this book for free (hey, thanks!) in exchange for an honest review. I promise that this does NOT affect my opinion of the book or the content of my review. For real.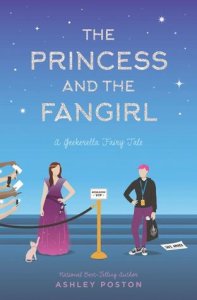 The Princess and the Fangirl
by
Ashley Poston
Series:
Once Upon a Con #2
Genres:
Young Adult
,
Contemporary
,
Fairytale Retelling
Published by
Penguin Random House
on April 2, 2019
Also by this author:
Geekerella
,
The Dead Romantics
Format:
eARC
(320 pages) •
Source:
Publisher
Goodreads
•
Amazon
•
Barnes & Noble

The Prince and the Pauper gets a modern makeover in this adorable, witty, and heartwarming young adult novel set in the Geekerella universe by national bestselling author Ashley Poston.

Imogen Lovelace is an ordinary fangirl on an impossible mission: save her favorite character, Princess Amara, from being killed off from her favorite franchise, Starfield. The problem is, Jessica Stone—the actress who plays Princess Amara—wants nothing more than to leave the intense scrutiny of the fandom behind. If this year's ExcelsiCon isn't her last, she'll consider her career derailed.

When a case of mistaken identity throws look-a-likes Imogen and Jess together, they quickly become enemies. But when the script for the Starfield sequel leaks, and all signs point to Jess, she and Imogen must trade places to find the person responsible. That's easier said than done when the girls step into each other's shoes and discover new romantic possibilities, as well as the other side of intense fandom. As these "princesses" race to find the script-leaker, they must rescue themselves from their own expectations, and redefine what it means to live happily ever after.
Initial Excitement & Summary
I adored GEEKERELLA and was SO excited to see a companion sequel. I already need there to be a million books in this series. The first book was basically a love letter to being a fan, attending cons, and geek culture as a whole. I'm not QUITE as into fandom things (for anything really) as many of my friends, but I totally get it.
While the first book was a Cinderella retelling, this was a Princess and the Pauper retelling – the classic situation where two people look like each other and switch lives for a few days. In this case, the actor who plays Princess Amara in Starfield (Jess) switches place with Imogen (a Starfield fan and leader of the "Save Amara" movement). The two switch lives so Jess can track down who leaked the new Starfield script.
Storytelling & Characters
Just like the first book, this was filled with geeky references that I loved. (Sometimes it feels like a little too much, but not bad! – I liked that Jess was not really a geeky character so the references were only during one of the POVs.) The Princess and the Pauper trope was really well done and super fun to follow in a con setting. I enjoyed both Jess and Imogen as main characters. Jess was hard to get used to in the beginning because she didn't like Starfield; it was off-putting to hear her grouchy inner monologue. This definitely changed throughout the book though. Imogen was hilarious and enjoyable from the start.
The romances for both characters were great – one was F/F and the other was hate-to-love M/F. UGH SO GOOD. One of my favorite tropes for a reason. I always found myself wanting more from them but I think it's mostly because the book was dual-POV and therefore our time with each girl/couple was split in half. I could have read a lot more pages of this book for sure. On that note, Imogen's family members were wonderful and I would definitely been interested in learning more about them too.
TL;DR?
If you read and enjoyed GEEKERELLA, I can't imagine that you'd be disappointed with this read! I enjoyed it just as much as the first – in some ways I liked it even more. The characters were great and the premise was so fun. This felt like a REAL scenario where the Princess and Pauper trope made sense or could be used successfully. If you haven't read the first book yet, I'd start there so you can enjoy the easter eggs. Anyone who likes cons or is a part of some kind of geek culture will definitely appreciate all the references too.
Thoughts in a Gif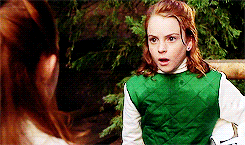 Rating Breakdown
| | |
| --- | --- |
| Plot & Premise | |
| Characters | |
| Writing Style | |
| Pacing & Flow | |
| Feels or Swoons | |
| Addiction Level | |
| Overall: | 4.4 |
Related Posts