I received this book for free (hey, thanks!) in exchange for an honest review. I promise that this does NOT affect my opinion of the book or the content of my review. For real.
Geekerella
by
Ashley Poston
Series:
Once Upon a Con #1
on April 4th 2017
Also by this author:
The Princess and the Fangirl
,
The Dead Romantics
,
The Seven Year Slip
(320 pages) •
Goodreads
•
Amazon
•
Barnes & Noble

Cinderella goes to the con in this fandom-fueled twist on the classic fairy tale.

Geek girl Elle Wittimer lives and breathes Starfield, the classic sci-fi series she grew up watching with her late father. So when she sees a cosplay contest for a new Starfield movie, she has to enter. The prize? An invitation to the ExcelsiCon Cosplay Ball, and a meet-and-greet with the actor slated to play Federation Prince Carmindor in the reboot. With savings from her gig at the Magic Pumpkin food truck (and her dad's old costume), Elle's determined to win unless her stepsisters get there first.

Teen actor Darien Freeman used to live for cons before he was famous. Now they re nothing but autographs and awkward meet-and-greets. Playing Carmindor is all he's ever wanted, but the Starfieldfandom has written him off as just another dumb heartthrob. As ExcelsiCon draws near, Darien feels more and more like a fake until he meets a girl who shows him otherwise.

Part romance, part love letter to nerd culture, and all totally adorbs, Geekerella is a fairy tale for anyone who believes in the magic of fandom."
Initial Excitement
I heard a bit of buzz about this one early on from some bloggers, so I immediately requested it… then started it that same night! I'm not AS fandom-y as a lot of my friends (minus a couple of things) but I had a feeling this book would resonate with me anyways. I've only been to one Comic Con but love the feel of cons. I love that people can be themselves and geek out without being judged. I'm also a big sucker for Cinderella retellings!
Quick Summary
Elle is in the classic Cinderella situation – her stepmom is terrible and her stepsisters are just as bad, her dad (and much earlier, mom) passed away, and she's constantly forced to do things around the house. She and her dad bonded like crazy over Starfield, a sci-fi TV show, and she has a popular-ish blog about the series. There's a new movie reboot coming out and she's not very happy with the main character's casting, but that doesn't stop her from entering a cosplay contest at ExcelsiCon (a con that her dad created). There were countless connections between Elle and the lead actor in the Starfield movie, Darien, without them actually knowing each other. LOTS OF CUTE THINGS HAPPEN.
Storytelling, Setting, and Feels
I loved how fandom-centric this book was. I haven't read many "geek" books like this but my sister has (you bet your ass I preordered this for my sister). I have to say, it covered pretty much every aspect of fandom and I LOVED that. It even featured a key scene where Elle was accused of not knowing the fandom and just being a "geek girl" to be cute and get guys. Nope, sorry. Not having it. I also loved how she defended her fandom to her stepmom. Who cares if something isn't real? You can still love it and learn life lessons from it. There's nothing wrong with enjoying a fantasy world.
All of the memories she shared about her dad made my heart break. He seemed like such a great person and their relationship was so cute! I felt like I really got to know him even though he wasn't physically around in the story. Soooo many family feels.
AND the friend feels were so good. Elle starts the story as somewhat of a loner, but grows closer to her coworker in the food truck, Sage. She helps Elle with the costumes and they grow to have a very real friendship. I loved seeing them navigate their relationship throughout the course of the summer and have candid conversations about how to make their friendship work, if that makes sense. I like when disagreements are real and handled in a way that's true to life. Lots of solid friend vibes from this story <3
The romance was pretty great. I loved the texting conversations that the two of them had throughout the story, and the tension that kept building up. Part three (at the con itself) had me on the edge of my seat. I was racing to finish the story at 1 AM on a Sunday night and just couldn't stop. I'm a huge fan of how their relationship developed and all the connections they made later in the story without even realizing.
The parallels to Cinderella were fantastic, from the pumpkin-themed food truck that drove her places, to losing the shoe, to having a friend who whipped up costumes for her, to the evil step-people in her house, to the curfews being broken… it was all there in such a fun way!
Negative Stuff
I saw a quick review on Goodreads that said it was "adorkable" and "infuriating" like Cinderella can be. Cinderella is such a hard story to read because you get so MAD about how people treat the Cinderella-like character. Elle was treated like garbage the whole book and I just knew there'd be some sabotage scene relating to the stepsisters, so I was hurting a lot while reading it. I love Cinderella retellings in general but yeah, they can be tough to read!
There were a few other things that stopped this from being a five star read for me, even though I sincerely loved it. Some of the miscommunication was very eye-rolly at times because you just wanted to shake Darien to make the right decision instead of being a turd. It was predictable at times and frustrated me.
Ending Feels
UGH SO GOOD. I loved the ending of this book. It was split into three parts, and the last part was definitely my favorite. I loved reading about the con itself and getting all fandom-excited! (Of course I was also waiting for the two characters to finally meet and make me happy.) Again, a little bit of frustration and missed connections happened but it was still such a solid ending. <3
TL;DR?
If you're a fan of ANYTHING, you can find something to relate to in this book. I think anyone who has ever loved a character or book or movie or TV show or comic book to the point of obsession will find something to click with here. The geeky vibes were overwhelming but NATURAL. I could tell the author was experience with cons, fanfiction, and fandom. I love that it didn't feel forced. Major geek girl power vibes too. I highly, highly recommend this book!
Thoughts in a Gif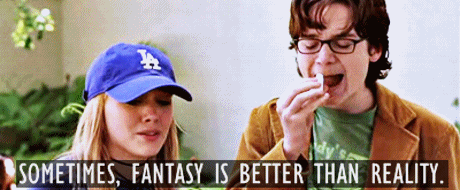 Rating Breakdown
| | |
| --- | --- |
| Plot & Premise | |
| Characters | |
| Writing Style | |
| Pacing & Flow | |
| Feels or Swoons | |
| Addiction Level | |
| Overall: | 4.5 |
Related Posts