I received this book for free (hey, thanks!) in exchange for an honest review. I promise that this does NOT affect my opinion of the book or the content of my review. For real.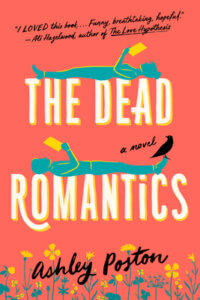 The Dead Romantics
by
Ashley Poston
Genres:
Adult
,
Contemporary
,
Magical Realism
Published by
Penguin Random House
on June 28, 2022
Also by this author:
Geekerella
,
The Princess and the Fangirl
,
The Seven Year Slip
Format:
eARC
(368 pages) •
Source:
Publisher
Goodreads
•
Amazon
•
Barnes & Noble

A disillusioned millennial ghostwriter who, quite literally, has some ghosts of her own, has to find her way back home in this sparkling adult debut from national bestselling author Ashley Poston.

Florence Day is the ghostwriter for one of the most prolific romance authors in the industry, and she has a problem—after a terrible breakup, she no longer believes in love. It's as good as dead.

When her new editor, a too-handsome mountain of a man, won't give her an extension on her book deadline, Florence prepares to kiss her career goodbye. But then she gets a phone call she never wanted to receive, and she must return home for the first time in a decade to help her family bury her beloved father.

For ten years, she's run from the town that never understood her, and even though she misses the sound of a warm Southern night and her eccentric, loving family and their funeral parlor, she can't bring herself to stay. Even with her father gone, it feels like nothing in this town has changed. And she hates it.

Until she finds a ghost standing at the funeral parlor's front door, just as broad and infuriatingly handsome as ever, and he's just as confused about why he's there as she is.

Romance is most certainly dead . . . but so is her new editor, and his unfinished business will have her second-guessing everything she's ever known about love stories.
Man – this was excellent. I really enjoyed the initial books in the GEEKERELLA series but still have to finish the series off. I haven't read Poston's fantasy books or anything else but I think I'll have to. I believe this was her adult debut as well?
This story is about Florence and her family as they navigate the loss of their larger-than-life father. She escaped her small town to NYC 10 years prior without ever returning, and now she's forced to face it all head-on. The Day family has run a funeral home for many generations in their community and Florence and her father even have a special connection to the dead – they both can see and communicate with ghosts. They're able to help people with unfinished business pass into the afterlife. When Florence heads home for the funeral services and to help out her mom and siblings, she encounters the ghost of Ben – a man she just started working for at the publishing house. The two of them can't figure out why he's there but he helps her get through the difficult week at home.
There are lots of things going on in this story that I loved. I mean, is she really going to fall in love with a ghost? This can't end well! The family vibes were excellent – I loved reading about Florence's mom and two siblings. (There may even be a hint of a companion novel involving her sister…?!) Funeral homes definitely creep me out but this story made me see them in a slightly different light.
Aside from the dead-guy-romance, there wasn't a lot of relationship drama, which I enjoyed. I've seen some reviews feel like there was too much focus on the romance and not enough on the family stuff, but I personally found there to be a good mix of both.
In a time where my reading life is crap, I really NEEDED this book. I started it on vacation and then didn't have time to keep reading, but the second time I picked this up, it was the last. I couldn't put it down and read it all evening to completion. I loved Poston's writing style and she has clearly proven she can write stories for all ages and genres.
---
I received this book for free (hey, thanks!) in exchange for an honest review. I promise that this does NOT affect my opinion of the book or the content of my review. For real.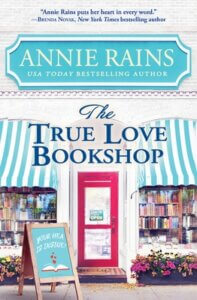 The True Love Bookshop
by
Annie Rains
Series:
Somerset Lake #3
Genres:
Adult
,
Contemporary
Published by
Hachette
on July 5, 2022
Also by this author:
Christmas on Mistletoe Lane
,
Springtime at Hope Cottage
,
Snowfall on Cedar Trail
,
Starting Over at Blueberry Creek
,
Sunshine on Silver Lake
,
Season of Joy
,
Reunited on Dragonfly Lane
,
The Summer Cottage
,
The Christmas Village
,
The Good Luck Cafe
Format:
eARC
(352 pages) •
Source:
Publisher
Goodreads
•
Amazon
•
Barnes & Noble

She's ready to start a new chapter in her life…

For Tess Lane, owning Lakeside Books is a dream come true, but it's the weekly book club she hosts for the women in town that Tess enjoys the most. The gatherings have been her lifeline over the past three years since her husband's mysterious death. Tess has tried to move on, but when River Harrison shows up on her doorstep, all her lingering questions come rushing back.…

River, a former marine turned private investigator, was her husband's best friend, and seeing him again is a reminder of everything Tess lost. At first, she tries to ignore him, but Tess comes to realize that this is her chance, once and for all, to find the answers that have troubled her for years.

With the support of her friends, Tess joins River on a journey of discovery that leads them to the edges of Somerset Lake and on a road trip down the Carolina coast. Although their adventure isn't always easy, Tess starts to find the joy in life again. But when secrets surrounding her husband's death are finally revealed, can Tess find it in her heart to forgive the mistakes of the past … and maybe even open herself up to love again?
Reading an Annie Rains book feels like coming home at this point. I can always count on her. I've had some issues lately with sugary sweet romance novels and had to DNF two books I truly wasn't expecting. Thank goodness for Rains bringing me back!
I really enjoyed reading about Tess and River. The bookstore setting was obviously a major plus too. Tess is still reeling from the loss of her husband a few years ago and the last person she expects to get into a relationship with (or even consider a friend!) is her deceased husband's ex-BFF… the guy who tried to ruin their wedding day. The more she gets to know River, the more she learns about her husband (unfortunately).
The book focuses a lot around getting through grief and loss, and how everyone follows a different path. And sometimes those who die aren't the perfect people you remember or want them to be. I enjoyed the addition of the self-help/loss book and author coming to visit the town as well. Each character had a lot going on in their lives and it made for a well-rounded story.
I thought Tess and River had great chemistry without being overly cheesy. Yes, some parts were a bit repetitive, and the "black moment" was obvious, but this was a really strong romance novel. The reasons they struggled as a couple were logical and not made up for the sake of the plot.
I'm dying for more books in Somerset Lake because we neeeeed a Moira book (and a Lara book, if I can get greedy). Please get going on those announcements, thank you!
Related Posts