I received this book for free (hey, thanks!) in exchange for an honest review. I promise that this does NOT affect my opinion of the book or the content of my review. For real.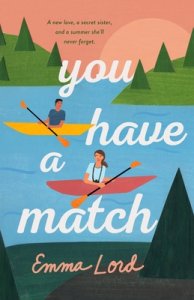 You Have a Match
by
Emma Lord
Genres:
Young Adult
,
Contemporary
Published by
Macmillan
on January 5, 2021
Also by this author:
Tweet Cute
,
When You Get the Chance
,
Begin Again
Format:
eARC
(320 pages) •
Source:
Publisher
Goodreads
•
Amazon
•
Barnes & Noble

From the beloved author of Tweet Cute comes Emma Lord's You Have a Match, a YA novel of family, friendship, romance and sisterhood…

When Abby signs up for a DNA service, it's mainly to give her friend and secret love interest, Leo, a nudge. After all, she knows who she is already: Avid photographer. Injury-prone tree climber. Best friend to Leo and Connie…although ever since the B.E.I. (Big Embarrassing Incident) with Leo, things have been awkward on that front.

But she didn't know she's a younger sister.

When the DNA service reveals Abby has a secret sister, shimmery-haired Instagram star Savannah Tully, it's hard to believe they're from the same planet, never mind the same parents—especially considering Savannah, queen of green smoothies, is only a year and a half older than Abby herself.

The logical course of action? Meet up at summer camp (obviously) and figure out why Abby's parents gave Savvy up for adoption. But there are complications: Savvy is a rigid rule-follower and total narc. Leo is the camp's co-chef, putting Abby's growing feelings for him on blast. And her parents have a secret that threatens to unravel everything.

But part of life is showing up, leaning in, and learning to fit all your awkward pieces together. Because sometimes, the hardest things can also be the best ones.
I absolutely adored TWEET CUTE (and pestered my sister endlessly until she finally read it and loved it as much as me). I was a huge fan of the ship, the characters, the setting, and the unique plot. I compared YOU HAVE A MATCH a lot while reading it because it's always hard to bring a sophomore novel to top the debut, which was a five-star read. Both books are kind of complicated, to be honest – there are so many different story threads to follow along with, yet it never feels like the author is taking on too much.
YOU HAVE A MATCH follows Abby as she deals with the fallout from finding out that she has an older sister who was clearly adopted about a year and a half before she was born. How could her parents keep this kind of secret? What happened!? Savvy, her newfound sister, and Abby go to the same summer camp to get to know each other and try to determine how this all went down. Abby's best-friend-turned-crush Leo is there working in the cafeteria, while Savvy is dealing with relationship drama of her own.
I loved learning about Abby's friendship with Connie and Leo, while also seeing her sisterhood/friendship develop with Savvy (after some very rocky patches and fights at the start!).The camp setting was a lot of fun and led to some great moments with Abby's photography. I loved that she was exploring different options instead of college, or considered community college instead of rushing into a four-year school.
I'm a sucker for best-friends-turned-to-more storylines so her whole thing with Leo was right up my alley. Big fan. There was a TON of miscommunication (or lack of communication) to push the drama out further, which is usually not my favorite way to handle a romance, but parts of it made sense. I wasn't overly frustrated with it but there were plenty of moments I wanted to make them just talk. It was so obvious to the reader what was happening between them!
The resolution on the whole "what the hell happened with this adoption" was really intriguing and satisfying. I enjoyed learning about the relationships of all people involved, adults included, and seeing how everyone chose to move forward in the end.
There are honestly a ton of things I could touch on with this story and all of the characters but I think I'll let you read it yourself 🙂
Related Posts