I received this book for free (hey, thanks!) in exchange for an honest review. I promise that this does NOT affect my opinion of the book or the content of my review. For real.
Unclaimed Baggage
by
Jen Doll
Genres:
Young Adult
,
Contemporary
Published by
Macmillan
on September 18, 2018
Format:
ARC
(384 pages) •
Source:
Borrowed
Goodreads
•
Amazon
•
Barnes & Noble

Doris--a lone liberal in a conservative small town--has mostly kept to herself since the terrible waterslide incident a few years ago. Nell had to leave behind her best friends, perfect life, and too-good-to-be-true boyfriend in Chicago to move to Alabama. Grant was the star quarterback and epitome of "Mr. Popular" whose drinking problem has all but destroyed his life. What do these three have in common? A summer job working in a store called Unclaimed Baggage cataloging and selling other people's lost luggage. Together they find that through friendship, they can unpack some of their own emotional baggage and move on into the future.
This book was great! A quiet, heartwarming, and quirky story. I had high hopes for this one because I love when people meet in weird circumstances and come together to be friends/fall in love/etc. One flavor of this overall trope is when people meet at a job. Working at a grocery store throughout high school definitely brought me closer to the most random people from my high school that I otherwise wouldn't have talked with as much… so you could say this "genre" has a special place in my heart.
I loved the main characters so much and that only grew with every page. Grant, Doris, and Nell were fast friends and it felt so natural. Not gonna lie, they weren't my favorite at the start of the book. They truly did grow on me with every chapter, as they also grew closer to each other and softened a little bit. The setting of the "lost luggage store" was amazing; I wish there was even more time at the Unclaimed Baggage. I loved how some of the luggage-related threads were woven together eventually. The author covered a lot of serious issues while keeping the book lighthearted overall. The southern setting definitely came into play a lot, with racism, religion, and more having a big effect on the story.
Overall, I highly enjoyed this story and would definitely recommend it if you thought the premise sounded interesting. Learning what random shit people carry in their luggage was incredibly fun and the characters around the store were even better.

I received this book for free (hey, thanks!) in exchange for an honest review. I promise that this does NOT affect my opinion of the book or the content of my review. For real.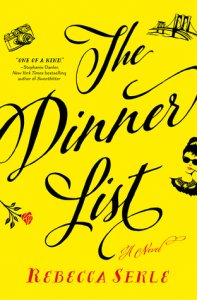 The Dinner List
by
Rebecca Serle
Genres:
Adult
,
Contemporary
Published by
Macmillan
on September 11th 2018
Also by this author:
Famous in Love
,
In Five Years
,
One Italian Summer
Format:
eARC
(288 pages) •
Source:
Publisher
Goodreads
•
Amazon
•
Barnes & Noble
For fans of Me Before You and ONE DAY comes a wondrous novel of first love, loss, and the dinner of a lifetime.

When Sabrina Nielsen arrives at her thirtieth birthday dinner she finds at the table not just her best friend, but also her favorite professor from college, her father, her ex-fiance, Tobias, and Audrey Hepburn.

At one point or another, we've all been asked to name five people, living or dead, with whom we'd like to have dinner. Why do we choose the people we do? And what if that dinner was to actually happen? These are the questions Sabrina contends with in Rebecca Serle's utterly captivating novel, The Dinner List, a story imbued with the same delightful magical realism as Sliding Doors, and The Rosie Project.

As the appetizers are served, wine poured, and dinner table conversation begins, it becomes clear that there's a reason these six people have been gathered together, and as Rebecca Serle masterfully traces Sabrina's love affair with Tobias and her coming of age in New York City, The Dinner List grapples with the definition of romance, the expectations of love, and how we navigate our way through it to happiness. Oh, and of course, wisdom from Audrey Hepburn.

Delicious but never indulgent, sweet with just the right amount of bitter, The Dinner List is a modern romance for our times. Bon appetit.
I didn't love my other foray into the work of Rebecca Serle, but the adult fiction shift for this story definitely appealed to me. The overall concept of the book – actually having that "who are the five people you'd want to have dinner with – dead or alive?" dinner – fascinated me. How would the story be written? Would we get background information about all of the people? It ended up alternating chapters between this dinner and a timeline of her relationship with Tobias. The five people she chose to meet with are Audrey Hepburn, her father (who wasn't a part of her life) Robert, Tobias, her favorite professor Conrad, and her old roommate Jessica. They all talk about different topics while always heading back to the relationship between Tobias and Sabrina.
There was a surprising twist in the middle of the book that really set things in motion; the first half was a slow build. For a book that focused deeply on characters instead of plot, I didn't feel completely connected to the main couple. It showed their ugly parts and really dove deep into their relationship, which I appreciated, but I never fully shipped them as a result. Was I supposed to ship them anyways? It's hard to tell.
"You act like being with him is winning some kind of prize," Jessica would say to me later—much later. "That's not what relationships are about."

But weren't they? Wasn't love about feeling like the luckiest woman on the planet? Wasn't it feeling like the whole world was conspiring for your happiness, and yours alone? (ARC, 31%)
The chapters were short and went back and forth quite frequently, which made it a quick and easy read. I think some of the writing (and characters) were too pretentious for my tastes overall. There were a lot of deep life lessons and topics being discussed, which is fair given the premise of the story, but I just felt like they were trying to hard to be meaningful. I can sniff that out a little too quickly in books though. This had a very ~literary fiction~ kind of feel, which isn't my jam most of the time.
I have to give this a good rating overall because I enjoyed the experience of reading it. This should definitely be a movie, in the same vein as The Five People You Meet in Heaven. Seeing how someone like Audrey Hepburn would interact with your father or your favorite college professor would be fascinating, and that whole element was discussed quite a bit.
Related Posts