I received this book for free (hey, thanks!) in exchange for an honest review. I promise that this does NOT affect my opinion of the book or the content of my review. For real.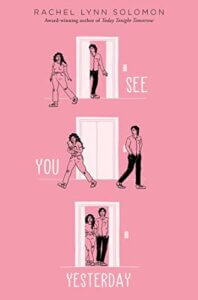 See You Yesterday
by
Rachel Lynn Solomon
Genres:
Young Adult
,
Contemporary
Published by
Simon and Schuster
on May 17, 2022
Also by this author:
Today Tonight Tomorrow
,
The Ex Talk
,
We Can't Keep Meeting Like This
,
Weather Girl
Format:
eARC
(432 pages) •
Source:
Publisher
Goodreads
•
Amazon
•
Barnes & Noble

Barrett Bloom is hoping college will be a fresh start after a messy high school experience. But when school begins on September 21st, everything goes wrong. She's humiliated by the know-it-all in her physics class, she botches her interview for the college paper, and at a party that night, she accidentally sets a frat on fire. She panics and flees, and when she realizes her roommate locked her out of their dorm, she falls asleep in the common room.

The next morning, Barrett's perplexed to find herself back in her dorm room bed, no longer smelling of ashes and crushed dreams. It's September 21st. Again. And after a confrontation with Miles, the guy from Physics 101, she learns she's not alone—he's been trapped for months.

When her attempts to fix her timeline fail, she agrees to work with Miles to find a way out. Soon they're exploring the mysterious underbelly of the university and going on wild, romantic adventures. As they start falling for each other, they face the universe's biggest unanswered question yet: what happens to their relationship if they finally make it to tomorrow?
Rachel Lynn Solomon DOES NOT MISS. She really doesn't. Is this what I start all of my reviews for her books with?? Maybe. Whether she's writing YA or adult, I end up loving it. Add in the fact that this book featured one of my favorite tropes, and I was sold.
I love books where people are stuck in a time loop, repeating the same day over and over again. Usually there's some kind of message or lesson they need to learn and they try to go through each day differently to figure out what it is. The first one I read and loved was BEFORE I FALL and I will pick them up every dang time. In this story, there were quite a few twists to the typical Groundhog Day story that made it a winner.
Barrett begins her first day of college with a physics class and ends it with burning down a frat house. When she wakes up the next morning and realizes she's reliving the same day again, she's eager to right those wrongs. She soon learns that the boy sitting next to her in physics, Miles, is also stuck in the time loop with her. I've never read one like this before! It was a unique take on the story because they were able to work together to figure out how to get out of it.
These stories can admittedly get a little repetitive. Sometimes hearing the same dialogue bits or repeating scenes with slight differences can get a bit tiresome. I like that Solomon really had Barrett and Miles doing genuinely different, unique things each day to try to get out of it. They traveled, they saw different people, they tried different approaches to getting out… there was very little repetition.
I shipped these two pretty hard for most of the book and kept thinking that their connection was the reason for the Groundhog Day phenomenon. As always with Solomon's books, each character has a ton going on in their backstory. Miles and Barrett both had some trauma to deal with, shitty high school experiences, unique family situations… the list goes on. And, as always, Solomon does a great job of balancing all those things and creating a well-rounded book that doesn't feel like it's taking on too much.
My one complaint is that there are certain threads that the characters explore somewhat early in the story and then get dropped in pursuit of other theories. It became a bit obvious that this particular theory or thread could be what solves the time loop issue but it was casually pushed aside for a bit to allow for more plot and story between the two characters. I'm not totally mad about it because the book overall was lovely to read, but I wish that this part was introduced later so they could have just pursued it and finished everything off. I don't know how to discuss it without being too spoilery, so I'll leave it at that!
I thought it was interesting that this book was a bit more science-heavy than others I've read with this trope. Usually there's something magical about the time loop and the characters don't have to think about the physics of time travel or parallel universes in order to get out of it. So, again, a bit more unique here!
Overall, this was an excellent read, which I have come to expect from RLS! I'll happily add this to my list of Groundhog Day/parallel world/time travel/etc. book recommendations. Solomon's signature strong romance and character development with a twist.
Related Posts