One of my biggest read-bait keywords/phrases in a book synopsis is the Groundhog Day scenario – the Bill Murray movie where he relives the same day over and over again, trying to figure out how to escape. I love books involving time loops and alternate universes, and I definitely view this as a subsection of that "genre." Countless YA books and other fictional stories have centered around this plotline as a "retelling" of sorts, and I'm here today to chat about them!
Tried & True Favorite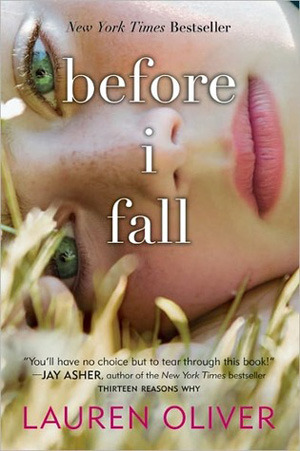 The book that started it all for me is obviously Before I Fall by Lauren Oliver. A mean girl dies in a car accident but keeps waking up the next morning to relive the day over again. She tries to right her wrongs and figure out what it will take to break out of this loop, so she can move on to the afterlife in peace. I loved every single element of this book and Lauren Oliver's writing. It remains a favorite even after rereading it last year and 'm so glad it held up for me.
I loved seeing how she lived each day a little differently, taking advantage of this "extra time" by doing things she normally wouldn't do. She got all sorts of things out of her system, that's for sure! It definitely was reminiscent of the movie version because it involves a "bad person" learning from their mistakes and hopefully making amends for things they've done wrong. The fact that she dies each night definitely sets it apart from the movie (because Bill Murray's character just goes to sleep and wakes up again instead), but added another layer to the story – will she right her wrongs so she can avoid her death, or is her death inevitable no matter how she lives that day?
On the TBR
Birthdays and Death Days
The 7½ Deaths of Evelyn Hardcastle by Stuart Turton | "How do you stop a murder that's already happened? At a gala party thrown by her parents, Evelyn Hardcastle will be killed–again. She's been murdered hundreds of times, and each day, Aiden Bishop is too late to save her. Doomed to repeat the same day over and over, Aiden's only escape is to solve Evelyn Hardcastle's murder and conquer the shadows of an enemy he struggles to even comprehend–but nothing and no one are quite what they seem. Deeply atmospheric and ingeniously plotted, The Seven Deaths of Evelyn Hardcastle is a highly original debut that will appeal to fans of Kate Atkinson and Agatha Christie."
The First Fifteen Lives of Harry August by Claire North | "No matter what he does or the decisions he makes, when death comes, Harry always returns to where he began, a child with all the knowledge of a life he has already lived a dozen times before. Nothing ever changes. Until now. As Harry nears the end of his eleventh life, a little girl appears at his bedside. 'I nearly missed you, Doctor August,' she says. 'I need to send a message.' This is the story of what Harry does next, and what he did before, and how he tries to save a past he cannot change and a future he cannot allow."
11 Birthdays by Wendy Mass | "It's Amanda's 11th birthday and she is super excited — after all, 11 is so different from 10. But from the start, everything goes wrong. The worst part of it all is that she and her best friend, Leo, with whom she's shared every birthday, are on the outs and this will be the first birthday they haven't shared together. When Amanda turns in for the night, glad to have her birthday behind her, she wakes up happy for a new day. Or is it? Her birthday seems to be repeating iself. What is going on?! And how can she fix it? Only time, friendship, and a little luck will tell…"
---
High School on Repeat
A Week of Mondays by Jessica Brody | "Sixteen-year-old Ellison Sparks is having a serious case of the Mondays. She gets a ticket for running a red light, she manages to take the world's worst school picture, she bombs softball try-outs and her class election speech (note to self: never trust a cheerleader when she swears there are no nuts in her bake-sale banana bread), and to top it all off, Tristan, her gorgeous rocker boyfriend suddenly dumps her. For no good reason! As far as Mondays go, it doesn't get much worse than this. And Ellie is positive that if she could just do it all over again, she would get it right. So when she wakes up the next morning to find she's reliving the exact same day, she knows what she has to do: stop her boyfriend from breaking up with her. But it seems no matter how many do-overs she gets or how hard Ellie tries to repair her relationship, Tristan always seems bent set on ending it. Will Ellie ever figure out how to fix this broken day? Or will she be stuck in this nightmare of a Monday forever?"
Pretty in Punxsutawney by Laurie Boyle Crompton | "A mashup of Groundhog Day and Pretty in Pink, the book stars a senior who is forced to relive the first day at her new school in an endless loop. Andie is convinced she needs true love's kiss to break the curse, but instead discovers how a high school filled with cliques and misfits can find common ground despite everyone's differences."
Related Posts