In an effort to cut down on posts and burnout, my Review Roundups will feature 2-4 books I've read or listened to recently. Sometimes they're newer releases and sometimes they're all backlist titles. My ARC reviews usually get the solo treatment. Enjoy the mini reviews!
---
I received this book for free (hey, thanks!) in exchange for an honest review. I promise that this does NOT affect my opinion of the book or the content of my review. For real.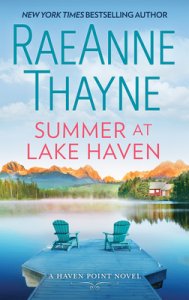 Summer at Lake Haven
by
RaeAnne Thayne
Series:
Haven Point #11
Genres:
Adult
,
Contemporary
Published by
Harlequin
on June 23, 2020
Also by this author:
Snow Angel Cove
,
The Cottages on Silver Beach
,
Season of Wonder
,
Coming Home for Christmas
,
The Sea Glass Cottage
,
Christmas at Holiday House
,
Sleigh Bells Ring
Format:
eBook
(384 pages) •
Source:
Purchased
Goodreads
•
Amazon
•
Barnes & Noble
They both thought they knew what the future held—until the summer they crossed paths in Haven Point…

Samantha Fremont has been struggling with the weight of her mother's expectations for years. But now that her mother has passed away, it's time for Sam to be bold and finally establish the fashion design business she's always dreamed of. And the perfect opportunity has fallen into her lap. Her friend's getting married and has asked Sam to create her wedding dress. It's an honor—and something that could launch Sam's career…if only she could avoid the bride's infuriating brother, who's temporarily the boy next door.

Ian Somerhill knows a sabbatical in Haven Point is exactly what he and his children need to recover from their mother's death. His romantic relationship with his ex-wife may have ended years ago, but caring for her throughout her illness broke his heart. All he wants is to watch his little sister walk down the aisle and to see his kids smile again. And somehow his lovely new neighbor is instrumental in both. But as their uneasy truce blossoms into a genuine friendship and eventually into something more, Ian has obligations in England he can't ignore—and a secret that threatens the fragile trust he and Sam have built.
I'm always thrilled to return to Haven Point! I started this one and then realized there was a prequel novella about the leading man's sister that should be read first, so I paused and finished that up quickly. Ian is in town for his sister Gemma's wedding. He rents a house next to Samantha and she's immediately smitten with his two cute kids. The kids, in turn, are smitten with the puppies she's temporarily taking care of!
Ian and Samantha get off on the wrong foot but they grow to be friends (and then more) throughout the story, of course. I'll be honest – they were super dry and boring. Their conversations were repetitive and offered too much information about Ian's research on salmon (yup). I was always a bit tired of them talking, which isn't what you need from main characters you're supposed to be rooting for in a romance!
As always, the charming Haven Point setting won major points for me. The two of them were on Lake Haven and went hiking to see some waterfalls, which led to some nice scenery descriptions. The rest of the town and the Helping Hands group were always excellent too.
I won't spoil the ending, but it was so neat to see that it was a little different than usual! I'll say that Ian is from England and has some interesting elements to go along with that, so the usual Haven Point ending to the story didn't exactly happen. But, don't worry, it was a happy one!

I received this book for free (hey, thanks!) in exchange for an honest review. I promise that this does NOT affect my opinion of the book or the content of my review. For real.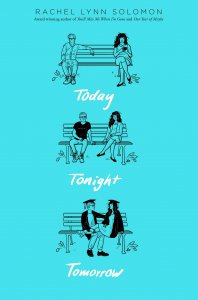 Today Tonight Tomorrow
by
Rachel Lynn Solomon
Genres:
Young Adult
,
Contemporary
Published by
Simon and Schuster
on July 28, 2020
Also by this author:
The Ex Talk
,
We Can't Keep Meeting Like This
,
Weather Girl
,
See You Yesterday
,
Business or Pleasure
Format:
eARC
(364 pages) •
Source:
Publisher
Goodreads
•
Amazon
•
Barnes & Noble

Today, she hates him.
It's the last day of senior year. Rowan Roth and Neil McNair have been bitter rivals for all of high school, clashing on test scores, student council elections, and even gym class pull-up contests. While Rowan, who secretly wants to write romance novels, is anxious about the future, she'd love to beat her infuriating academic nemesis one last time.
Tonight, she puts up with him.
When Neil is named valedictorian, Rowan has only one chance at victory: Howl, a senior class game that takes them all over Seattle, a farewell tour of the city she loves. But after learning a group of seniors is out to get them, she and Neil reluctantly decide to team up until they're the last players left—and then they'll destroy each other.
As Rowan spends more time with Neil, she realizes he's much more than the awkward linguistics nerd she sparred with for the past four years. And, perhaps, this boy she claims to despise might actually be the boy of her dreams.
Tomorrow . . . maybe she's already fallen for him.
I'm a sucker for any book that takes place in the course of one day, especially if that date is around the last day of high school or graduation. There were plenty of other tropes and plot points I fell for in the synopsis, so it was awesome that this book exceeded my expectations!
Rowan and Neil have been enemies throughout high school, constantly competing for the eventual valedictorian slot. When Rowan uncovers a plot against both of them during the senior's final game together, they decide to team up and win the whole thing together. Rowan soon realizes that maybe Neil isn't as bad as she thought…
Our high school had "senior assassination" during the final few months of school, which is similar to this – there's involved ripping armbands off the person they were secretly assigned AND following a scavenger hunt around Seattle. The first person to complete the hunt and survive the assassination attempts wins a huge cash prize. It was such a fun concept that also helped me learn more about Seattle landmarks! Really fun. Like I said, books involving the last day of school and moving on from high school always get me too. I remember those days like they were yesterday!
I'm a big fan of enemies-to-lovers and the super slow realization that they actually are starting to like each other. They had such amazing chemistry and some adorable heart-to-hearts, even when they were still in enemy mode. This book was genuinely YA contemporary perfection. I can't think of anything I would change about it. Yes, it had some classic lack-of-communication moments but they weren't as bad as other books.
I'm pretty sure I smiled the entire time I was reading this. I took my dog out at 2am and couldn't sleep, so I picked up the book, only to spend the next hour and a half completely blazing through it. I wish I could adequately form words for how much I loved this one but please take my word for it – READ IT!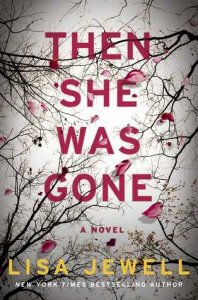 Then She Was Gone
by
Lisa Jewell
Genres:
Adult
,
Mystery/Thriller
Published by
Simon and Schuster
on April 17, 2018
Also by this author:
None of This Is True
Format:
Audio/eBook
(359 pages) •
Source:
Scribd
Goodreads
•
Amazon
•
Barnes & Noble
THEN

She was fifteen, her mother's golden girl. She had her whole life ahead of her. And then, in the blink of an eye, Ellie was gone.

NOW

It's been ten years since Ellie disappeared, but Laurel has never given up hope of finding her daughter.
And then one day a charming and charismatic stranger called Floyd walks into a café and sweeps Laurel off her feet.
Before too long she's staying the night at this house and being introduced to his nine year old daughter.
Poppy is precocious and pretty - and meeting her completely takes Laurel's breath away.
Because Poppy is the spitting image of Ellie when she was that age. And now all those unanswered questions that have haunted Laurel come flooding back.
What happened to Ellie? Where did she go?
Who still has secrets to hide?
I've been trying to read more mysteries because they tend to grab my attention better than other genres during this shitty reading period. I started this on a whim because Scribd had both the audiobook and ebook, which proved helpful in reading it within a reasonable amount of time 😉 Lisa Jewell is one of those authors I've seen around a ton and was curious about her books.
This story follows Laurel, whose daughter went missing at age fifteen. It's years later and she's kind of, sort of, starting to move on with her life. She has a new boyfriend and is growing close to his daughter Poppy. The story brings in some chapters set in the past (from her daughter's point of view) and a few other folks later on that I won't say for spoiler reasons.
While it was a somewhat addicting story, I had 95% of it figured it out within the first few chapters. I say this a lot with mysteries but it felt more, to me, like a thrilling-ish story instead of a mystery? It seemed really, really clear what had happened. There was maybe one more twist toward the end but the overarching plot was as I thought.
I enjoyed the reading experience and Laurel as a character, but I don't think it'll stick with me that long. I will definitely try more of her books though and hopefully they'll surprise me!
Related Posts