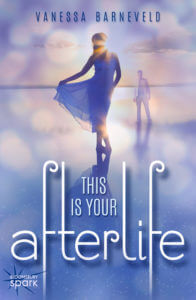 This Is Your Afterlife
by
Vanessa Barneveld
Genres:
Young Adult
,
Paranormal
Published by
Bloomsbury
on October 21st 2014
Format:
eBook
(194 pages) •
Source:
Owned
Goodreads
•
Amazon
•
Barnes & Noble
When the one boy you crushed on in life can't seem to stay away in death, it's hard to be a normal teen when you're a teen paranormal.

Sixteen-year-old Keira Nolan has finally got what she wanted—the captain of the football team in her bedroom. Problem is he's not in the flesh. He's a ghost and she's the only one who can see him.

Keira's determined to do anything to find Jimmy's killer. Even it if means teaming up with his prickly-yet-dangerously-attractive brother, Dan, also Keira's ex-best-friend. Keira finds that her childish crush is fading, but her feelings for Dan are just starting to heat up, and as the story of Jimmy's murder unfolds, anyone could be a suspect.

This thrilling debut from Vanessa Barneveld crosses over from our world to the next, and brings a whole delightful new meaning to "teen spirit".
I had no idea this book was less than 200 pages when I started reading, so that was actually a pleasant surprise! I was on a roll reading at the time and was damn happy to keep the reading going. I ended up finishing it up within two sittings on the same day. It was really fun and easy to read!
When I added it to my Must Read in 2016 Challenge TBR, I think I completely forgot what the premise was and mixed it up with The Catastrophic History of You and Me (seriously look at the covers and you can see why I made this mistake!). So, needless to say, the book wasn't what I expected when I started reading. This wasn't a bad thing! I really enjoyed the premise. Reading about spirits, communicating with the dead, tarot cards, and seances was REALLY interesting. I don't have a lot of experience with this outside of witch-related books.
The characters were pretty fantastic in my opinion. I liked Keira a lot and Jimmy was excellent too. Dan was okay and the romance aspect was fine. I always root for best-friends-to-more and in this case it was ex-best-friends-to-more… so that's fun! I could have totally read about them in a longer story and/or sequel.
I am apparently getting much better at predicting whodunnit in YA mysteries. I knew who the killer was within the first half of the book. I did dampen my enjoyment a little bit because I was hoping it was a red herring. Was it obvious to anyone else who read this? I haven't seen a lot of reviews. I would overall recommend this book because it was quick, fun, and different than books I've personally read before. I hope you don't predict the ending like I did though!

The Burning Sky
by
Sherry Thomas
Series:
The Elemental Trilogy #1
Genres:
Young Adult
,
Fantasy
Published by
Harper Collins
on September 17th 2013
Format:
Audiobook
(449 pages) •
Source:
Hoopla
Goodreads
•
Amazon
•
Barnes & Noble
It all began with a ruined elixir and a bolt of lightning.

Iolanthe Seabourne is the greatest elemental mage of her generation—or so she's been told. The one prophesied for years to be the savior of The Realm. It is her duty and destiny to face and defeat the Bane, the most powerful tyrant and mage the world has ever known. This would be a suicide task for anyone, let alone a reluctant sixteen-year-old girl with no training.

Guided by his mother's visions and committed to avenging his family, Prince Titus has sworn to protect Iolanthe even as he prepares her for their battle with the Bane. But he makes the terrifying mistake of falling in love with the girl who should have been only a means to an end. Now, with the servants of the tyrant closing in, Titus must choose between his mission—and her life.

The Burning Sky—the first book in the Elemental Trilogy—is an electrifying and unforgettable novel of intrigue and adventure.
Okay soooo clearly I'm the black sheep here. This is NOT a bad book and I can totally see why people love it so much. I'm actually kind of excited to read more in the series at some point. I just didn't 100% love this one. I'm picky about fantasy books and it's really hard to make me continuously interested and engaged throughout an entire book. (Clearly that's true or it wouldn't have taken me over a month to read Queen of Shadows and Heartless.)
Part of my low-ish rating is because I honestly got kind of distracted while listening. Will I ever learn not to listen to fantasy books via audio? Because I always get sidetracked and realized I missed a few things. (However, I did go onto Recaptains and actually didn't miss anything…)
The other part is that I really don't feel like much happened? When I went to read the book summary to make sure I didn't miss anything, I realized that there really weren't a lot of major events. I have a tendency of feeling this way when I listen to audiobooks as well. For some reason action and the plot's climax seem less…huge…? when I'm listening instead of reading. I don't know why, but it's true.
I really did enjoy this book… but just not as much as everyone else. I'm a huge fan of the ship and think they have a lot of chemistry. (So much that I actually rounded up my rating just because of the ship feels. Sorry not sorry.) The world-building was really cool and I loved the boarding school setting too. I can't wait to see where it goes!
Related Posts