At the end of ever year, I think about all of the books I didn't get around to reading. Some books I was SO EXCITED for and maybe even preordered, but didn't read them. Sometimes other books get in the way or my mood isn't right. Sometimes I genuinely have no idea why I didn't read the book yet. I tweeted this the other day and I wish I had a dollar for every person who agreed or related.
I'm gonna make a list of all the books I was really really excited for in 2015 and still haven't read. THEN READ THEM

— Lauren (@bookmarklit) December 30, 2015
THEN AN IDEA WAS BORN. There are other challenges out there that aim to get your TBR pile down (backlist books and/or books you already own) that I plan on partaking in. There are some readathons coming up that can help you wipe the slate clean for 2016 as well (more info later in the post!). But what I wanted was a super casual link-up where you just decide I'M GOING TO READ THESE BOOKS OR ELSE. Introducing…

There are really no rules for this. I almost wanted to just call this a book tag because it really only involves writing ONE POST. Here's what I'm thinking for this ridiculously easy and (can I just say the word again?) CASUAL challengey link-up:
1. Write a blog post or create a Goodreads shelf that shows what books you were HYPED for last year but somehow never got around to. It doesn't have to be 2015 releases – just any book you discovered and got excited about, but never read.
(PSSST, see the idea section below – there's a TTT in January that you could use as your post!)
2. Link your post up here if you like. We can check in with each other after six months and again at the end of the year. Just for motivation's sake!
…and that's it. You can be as involved or uninvolved as you want. Some people may want to be held accountable for millions of books and make monthly check-ins, which is fine! Some people may want to just write a post and link over here, and that's fine too! This is the challenge for people who don't like or care about challenges.
This is not a TBR pile challenge. This is not a 2015 release challenge.
This is a link-up to motivate you to read books you were excited about but didn't get to.
You don't even have to "sign up" or use a button or track your progress every month.
Just decide what books you hope to (finally!) read… and read them!
A few ideas if you need more motivation or structure:
Bout of Books starts TOMORROW and goes through the 10th. As usual, it's a readathon that happens multiple times per year where you motivate yourself to read more than you generally would during that timeframe. This challenge would be great to join in with whenever they have it (January, May, August) to get some of these books out of the way.
There's a wonderful readathon hosted by Novel Ink, Lost in Lit & Latte Nights Reviews called the Clean Slate Read-a-Thon from January 10th through the 17th. The goal is to read books you didn't get to in 2015 to start 2016 with a clean slate for new releases.
There's a Top Ten Tuesday post scheduled for January 12th that involves the "Top Ten 2015 Releases I Meant To Get To But Didn't." You can definitely use this as your sign-up list for this particular challenge, if it makes your life easier! Why duplicate posts within the same month?
Use the hashtag #MustRead2016 on Twitter and Instagram if you want me to keep up with your progress!
So what books do I plan on reading in 2016?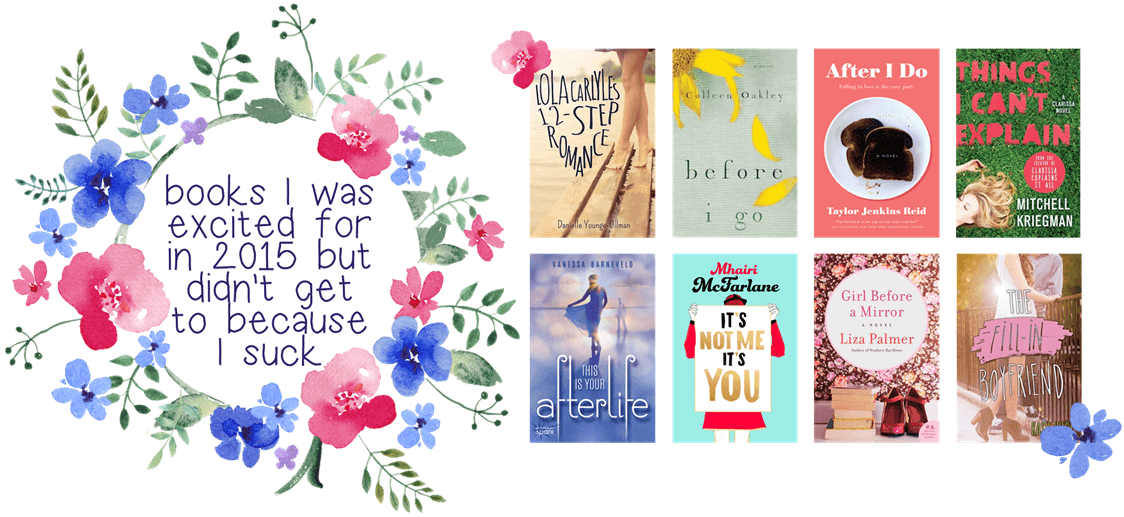 ---
That's it, folks. Join in if you'd like, with the linky below. I also have some buttons and instructions if you want to include them in your blog somewhere. Please just link to your LIST of books, not blog homepage URL.
A Giveaway for Participants!
If you feel like grabbing a button:
If you feel like sharing the "instructions" easily on your blog: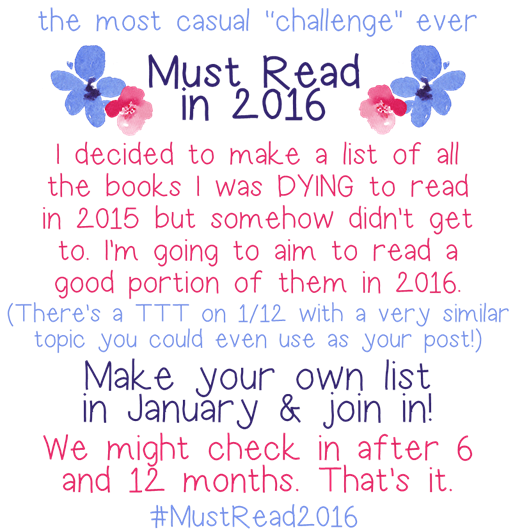 ---
Related Posts