Top Books on my Spring TBR
Top Ten Tuesdays are hosted by The Broke and the Bookish, where we make lists of our top ten books (or something else!) based on that week's prompt. The topics are provided ahead of time and can be found here. Book links bring you to Goodreads or my review.
I love planning out my TBRs for Top Ten Tuesday because it's something I rarely do. I've already given a glimpse at the books I planned to read in March [at the very bottom of the post] and later this week, I'll be sharing some other books I'm really excited for. This TTT helps me think of what I'll be reading between the end of March and probably end of May. (I start my summery reads ASAP in June! I can't resist a beachy story once the weather warms up.) Wow, I digress. HERE WE GO:
So my TBR this spring is a mix of a few things. I want to focus on reading a few books that are being published this spring, because they sound super cute. (I couldn't resist sneaking Morgan Matson's new book on here even though I feel like it's been on every list I've made for 2016 so far!) I'm also definitely planning on cranking through a few ARCs I got from ALA Midwinter, because their pub dates are coming soon (if they haven't happened already) and I'm SO BAD about reading books I get from conferences. Can we talk about the fact that I read TWO books out of my huge BEA stack? Yeah. I suck. Aaaand finally, I definitely want to make progress on my Must Read in 2016 Super Casual Link-Up Challenge for People Who Need to Get Going on Reading Books. So there will be a few of my must read books too.
The Unexpected Everything by Morgan Matson • I am very jazzed up about this book and can't wait to read it immediately upon its release. I just need it in my life because Morgan Matson.
26 Kisses by Anna Michaels • Brittany already read this one and really enjoyed it, so I'm even more excited to check it out. It just seems like a ME book and that cover is very cute.
Love & Gelato by Jenna Evans Welch • Here's another that's been on many of my "I'M SO EXCITED" lists so far this year. (Sorry for the repetition.) It sounds cute and now I want gelato for lunch.
No Love Allowed by Kate Evangelista • I am readyyyy for the fake dating feels. I've only read a handful of this kind of book, even though it's one of my very favorite romance tropes.
The Last Boy and Girl in the World by Siobhan Vivian • I've only read one of Vivian's books and it was so-so for me. I have some more on my TBR, but this one seems ridiculously up my alley. Gimmmeee.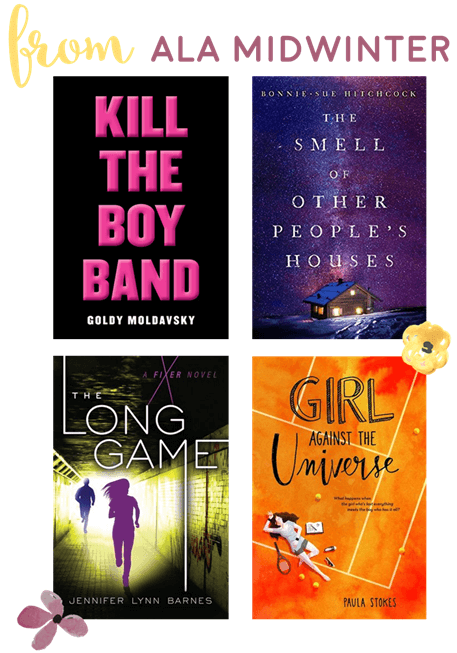 Kill the Boy Band by Goldy Moldavsky • This seems like a fun, far-fetched contemporary. I was happy to see it at ALA and it already published… so get going Lauren.
The Smell of Other People's Houses by Bonnie-Sue Hitchcock • This will sound weird (or not, because you guys love books too), but the FEEL of this ARC is just glorious. I need to read it and hold it.
The Long Game by Jennifer Lynn Barnes • I luckily finished The Fixer only a few days before going to ALA – otherwise I wouldn't have picked this up! I was SO HAPPY when I saw it there.
Girl Against the Universe by Paula Stokes • Literally ALL of her books are on my TBR and they sound great…but I just haven't read them yet! (I am reading one for my IRL book club this month though.)
Lola Carlyle's 12-Step Romance by Danielle Young-Ullman
Before I Go by Colleen Oakley
This Is Your Afterlife by Vanessa Barneveld
These books are three from my Must Read in 2016 challenge that I'm hosting, so I've already explained how badly I need and want to read them this year!
Related Posts