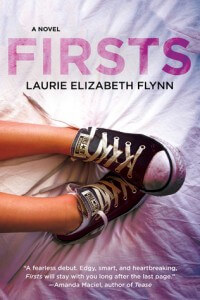 Firsts
by
Laurie Elizabeth Flynn
on January 5th 2016
Also by this author:
Last Girl Lied To
,
The Girls Are All So Nice Here
(320 pages) •
Goodreads
•
Amazon
•
Barnes & Noble

Seventeen-year-old Mercedes Ayres has an open-door policy when it comes to her bedroom, but only if the guy fulfills a specific criteria: he has to be a virgin. Mercedes lets the boys get their awkward, fumbling first times over with, and all she asks in return is that they give their girlfriends the perfect first time- the kind Mercedes never had herself.

Keeping what goes on in her bedroom a secret has been easy- so far. Her absentee mother isn't home nearly enough to know about Mercedes' extracurricular activities, and her uber-religious best friend, Angela, won't even say the word "sex" until she gets married. But Mercedes doesn't bank on Angela's boyfriend finding out about her services and wanting a turn- or on Zach, who likes her for who she is instead of what she can do in bed.

When Mercedes' perfect system falls apart, she has to find a way to salvage her reputation and figure out where her heart really belongs in the process. Funny, smart, and true-to-life, FIRSTS is a one-of-a-kind young adult novel about growing up.

This book was definitely one of the ones I was most looking forward to for 2016. I saw countless early reviews of people who said "this book doesn't sound like something I'd normally like," but it sounded right up my alley. I like tougher topics in YA, especially if it tackles sex and slut-shaming and all that other realistic stuff. So, when I went to The Strand last week and saw an early copy on the shelf, I bought it immediately! And, of course, I read it immediately. I wanted to post this review also immediately because I figured I may as well treat it like an ARC and try to beef up the buzz for it right before it actually comes out this week.
This book was everything I was hoping it would be, and more. The concept itself was really refreshing and different, and the execution was nearly perfect. A lot of things could have gone wrong with this plotline, but Flynn made it so easy to relate to this girl (that most people usually wouldn't relate to). Mercedes's actions made you feel more sympathetic to her than judgmental. There was definitely a sense of foreboding throughout – a sticky feeling that made you uncomfortable and nervous for when everyone inevitably finds out what she's been doing.
There were really a lot of different factors that probably impacted Mercedes into making this choice – a teaching service for virgins, to make sure their girlfriends have way better first times than she did. It sounds part-thoughtful and part-terrible. She's literally sleeping with other people's boyfriends before they can! She had good intentions, but obviously the actually act isn't the best idea.
"Virginity is supposed to be something a girl gives up only when she is ready and feels comfortable, something a girl discusses at length with her friends and flip-flops over a million times in her mind before actually doing it. A guy is expected to be born ready.

But what I realized after Tommy is that they're not. They're just as scared as their girlfriends, maybe even more so because the onus is on them to be gentle, make it last, make it memorable. And most of them haven't a clue."
Guys are expected to take charge of the whole first-time thing, but it's a lot of pressure for them too. Girls are supposed to hem and haw over it, talk about it with friends, and ultimately make the final decision. Both parties involved have weird expectations and responsibilities through the whole thing. Mercedes just wanted to make everyone's first times special.
She kept mentioning a guy named Luke, who was evidently her first time and first boyfriend. What happened with him is pretty unclear until the end and the mystery of it started to grate on me a little bit. I wanted to know what happened! I really felt for her when I found out what did.
Mercedes has a few very different but equally wonderful friends who don't know what she's been up to. Angela is her super religious childhood best friend who is debating if she should finally sleep with her boyfriend, even though she's waiting for marriage. Luke is her "buddy" and wants to be her boyfriend. Faye is the new girl in town who has so much confidence and forges a friendship with Mercedes and Luke. They were each so important to the story and to Mercedes's growth.
Probably a lot of people will view this book and its main character as a trainwreck they can't look away from. While I somewhat agree with this, I think the book has so many complexities and blurred lines. I really did feel for Mercedes after learning about her life and backstory. Also, everyone makes mistakes. I have to emphasize this because she's in high school and her life has barely started. I wish I had a dollar for every terrible, selfish thing I did during high school. I would be super rich. And I turned out just fine! This is why I love reading about flawed characters. I see their futures and know they won't turn into terrible people. They'll learn from mistakes and grow as people.
Obviously this book covered so many sex-related topics, which I also think is super important! Reading a contemporary romance where the characters in high school don't even discuss having sex just feels weird to me. I know there are PLENTY of people who didn't have sex in high school, but I know that most people were at least thinking about it or considering it. It seems odd to leave it out, and I hope this trend of sex positivity continues. It also includes virginity/religion, slut-shaming, absent parents, love, and college. It felt like such a realistic story, even though the idea behind it may not seem that way.
I won't spoil anything specifically about how it ended, but I had a FEW mixed feelings with how everything was resolved. Some things were tied up neatly – maybe a little TOO neatly to be considered realistic? – but other things were left open. View Spoiler »I was curious about Mercedes parents! Did they end up together? Did her relationship with her dad work itself out somehow?Otherwise, things wrapped up really perfectly with ALL of her friends, except the lingering slut-shaming from the school. I figured it would have taken a bit more time for Angela to get back to BFF territory. « Hide Spoiler
Overall, this book is honest and real and raw and true. I'm so, so glad I read it. It'll make you simultaneously uncomfortable and sympathetic. The uniqueness of this story makes it incredibly important, and people looking for a heavier YA story should definitely check this out. (Especially if you enjoyed 99 Days!)

| | |
| --- | --- |
| Plot & Premise | |
| Characters | |
| Writing Style | |
| Pacing & Flow | |
| Feels or Swoons | |
| Addiction Level | |
| Overall: | 4.8 |
Related Posts