Ten Books Every Feminist Should Read
Top Ten Tuesdays are hosted by The Broke and the Bookish, where we make lists of our top ten books (or something else!) based on that week's prompt. The topics are provided ahead of time and can be found here. Book links bring you to Goodreads or my review.
Today we're sharing Ten Books Every X Should Read (up to you! Examples: every history nerd, memoir lover, ballet lover, feminist, college student, etc etc.). This is a tough one to pin down because DAMN I am into so many of these suggested topics. However, of course, one of these hits me right in the heart. Today you shall seeeee…
I decided to split this into two general sections – YA novels featuring feminist themes or badass feminist main characters, and nonfiction/memoirs. I've enjoyed all of the works below and think that they encompass some great feminist themes and topics; they're informative and entertaining at the same time. (If you'd like to see some thoughts on feminism in YA and slut-shaming, feel free to check out my post on the topic!)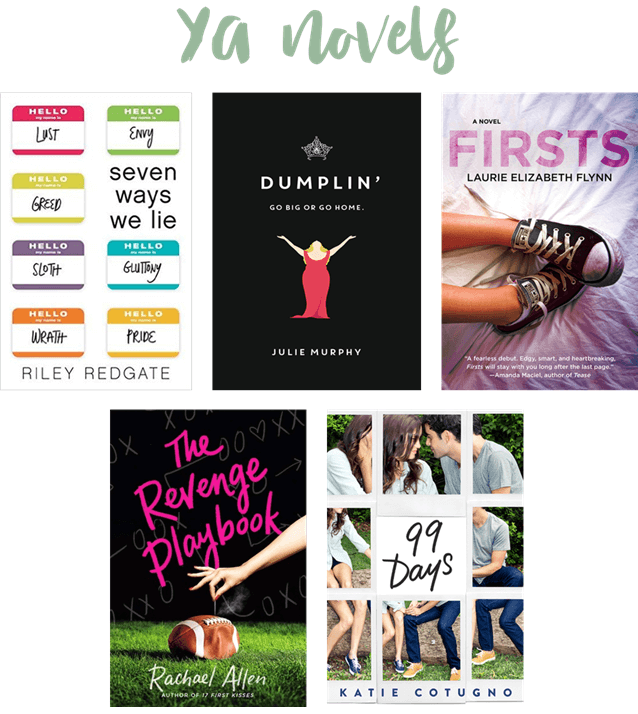 Seven Ways We Lie by Riley Redgate • slut-shaming, pansexuality
I like when books feature more than just the more common types of sexuality. I realize that the inclusion of pansexuality in this book isn't, in and of itself, doesn't make it a feminist book… but I just want to point it out. It's refreshing. Anyways, this book has a main character who is pretty empowered sexually. She deals with a lot of slut-shaming and people assuming things about her, and I thought she was a badass for doing whatever SHE wanted.
Dumplin' by Julie Murphy • fat-shaming, traditional beauty norms
This book is about a fat girl entering a beauty pageant and working with other girls who are not "traditionally beautiful." I loved the message in this story and really connected with a lot of the characters. It's really unlike any book I've read before and will recommend it forever.
Firsts by Laurie Elizabeth Flynn • slut-shaming, sexuality, virginity
I've seen reviews for this book go either way. Mercedes was a sexually active character who helped virgin boys get the first time out of their system, in order to make sure that their girlfriends had a better time with them. Clearly this kind of toes the line of what's right and what's wrong, but I loved the juxtaposition of Mercedes and her super religious best friend, too. I think it is a feminist story and was really loved by it in the end. Flawed characters, for the win!
The Revenge Playbook by Rachael Allen • patriarchy, sexuality, virginity, victim blaming
Ah man, when I think of feminist YA fiction – this is THE first book that comes to mind. The girls come together and defeat the boys at their own game! They're all dealing with complex backstories and have different motivations for getting revenge, but this story was damn near perfect. The feminism is fierce, y'all.
99 Days by Katie Cotugno • slut-shaming, patriarchy, double standards
Another flawed character for the win. This book was very hard to read at times, but I really loved every second of it. There are plenty of feminist themes, in my opinion, but the biggest issue for me was the double standard. After everything that went down, of course the GIRL was the only one shamed for the decisions they made. The guy was never held accountable for his actions and it was pretty infuriating and powerful.
Bossypants by Tina Fey • getting ahead in your career
I listened to the audiobook for this and loved learning more about Tina Fey. I've always been an Amy Poehler fan and was generally interested in Tina Fey by extension, but didn't really know much about her. This book was a fun glimpse into her life that also featured great advice and feminist conversations. Most of the book was about SNL and careers, but it was eye-opening and funny at the same time.
We Should All Be Feminists by Chimamanda Ngozi Adichie • general feminism
I just finished this one last week. It's a quick read you could easily do in one sitting, but boy is it powerful. I highlighted so many paragraphs. It really takes nearly all of the complexities of feminism and condenses everything into a bite size piece. I agree with the tite wholeheartedly, and think everyone (especially those who don't understand or agree with feminism) should read this.
Yes Please by Amy Poehler • careers, motherhood
Another all-encompassing book from a powerful woman in Hollywood! I love Amy so much and this book was like having a conversation with her. I alternated between the audiobook (that she reads) and the physical copy (it has a scrapbook-y style to it). I loved learning her opinions about motherhood, being a woman in comedy/Hollywood, and how she rose to fame. Lots of feminist conversations in this one too.
Full Frontal Feminism by Jessica Valenti • general feminism
I bought this book years ago and finally read it in 2015. During college, I was frequently in Women, Gender, and Sexuality classes, writing research papers on women artists, and thinking aggressively about feminism. I missed that time and felt out of touch with my beliefs, so I read this book over the course of a couple of months. It is SUCH an important "guide" (as the subtitle suggests) to feminism for young people. It's important as fuck.
After the Revolution: Women Who Transformed Contemporary Art • women artists
I read this one for my directed study in college, where I wrote a paper on women artists and feminism. It was a cool reference point and I love seeing the different works of art that these women did. It's a random choice for this list, but I miss looking at art lately.

Related Posts