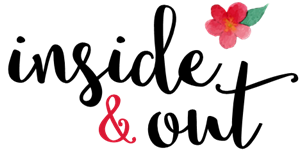 Admiring book covers and bookmarks, shared by you!
Welcome to INSIDE AND OUT. This feature includes two of my absolute favorite book-related things: bookmarks (inside) and book covers (out)! I've invited guest posters to share their favorite book covers and bookmarks here on the second Monday of each month. Sign-ups are always open (see bottom of post)! Check out past posts here.
---

Twitter: @StefaniSloma| Instagram: @stefanisloma
Tell me a little about yourself: Hi! My name is Stefani, and I've been blogging for 2 years over at Caught Read Handed. I'm a Young Adult Librarian in Mississippi, a literary agency intern, a wanderer, and a nerd. When I've not got my nose buried in a book, I can usually be found on the road traveling to a concert, a book event, or a place I've never been.
Talk about your blog (what you blog about/kinds of books, features, etc.):  My blog was created to talk to other people about our mutual love of books and reading. I mostly read young adult books (but also MG and picture books sometimes; as a librarian, I have to and I love it!), so my blog and its reviews really reflects this. I also talk about book to movie adaptations, the music I've been listening to, the road trips I go on and the book festivals I attend. My blog is me, so it's a little bit of everything.
Favorite genre: Definitely fantasy, but I've also gotten super into contemporary – particularly, diverse contemporary – in the past few years.

Three books you recommend most often and why:
MOSQUITOLAND by David Arnold
THE YOUNG ELITES by Marie Lu
THE HUMANS by Matt Haig

What book do we have here? The Gracekeepers by Kirsty Logan.
Have you read it yet? If so, how was it? If so, how was it? YES! It's incredible. It's magical and lyrical and full of beautiful prose, interesting, flawed characters, and a bear. It feels like a fairy tale from start to finish, and I really loved it. Plus, I'm pretty obsessed with Scotland – that's where I got my Master's – and The Gracekeepers weaves in some Scottish folklore and mythology which I adored.
What makes this cover a favorite?  I mean, just look at it! It's gorgeous! The waves at the bottom are actually silver foil too, which just adds another element to the cover. This is actually the UK cover; I loved it so much that one of my friends got me a copy and mailed it over. But the US cover is gorgeous too! Kirsty got super lucky with cover designers. This book is even beautiful naked!
What kind/style of covers do you usually pine over (script fonts, bright colors, realistic, etc.)?  I really love covers that play with typography, covers that are drawn/painted (Made You Up by Francesca Zappia is one), covers that actually use real things and then are photographed (The Sun is Also a Star by Nicola Yoon is the most recent example), and I'm super obsessed with covers like Illuminae that use the physical book and then have another cover on top that works with that (go look Illuminae up on Instagram or Google and just look at how beautiful that book is). I really like funky, quirky covers that use art or the elements of a cover in a fun, artsy way.

What bookmark did you chose? I chose my magnetic Captain Hook bookmark. I was looking for my magnetic coffee cup one but couldn't find it. 🙁
What makes this one special to you?  My friend Brandie (Brandie is a Book Junkie) got me a whole set of Peter Pan magnetic bookmarks as a present and I just love them. I use all of them but I've been using Hook more often lately. I'm a big fan of villains in general, so that's probably why. But, I mean, look how cute he is!
Where's it from? It's a HappyHelloCo magnetic bookmark!
What kind of bookmarks do you prefer (paper, magnetic, quotes, etc.)?  When I remember to grab a bookmark, it's a magnetic one 9 times out of 10 these days. They stay on the page and are just easier to use all around. Plus, you can get so many cute characters! When I don't remember a bookmark, I just grab whatever I can find – a receipt, a scrap piece of paper, some sticky flags, whatever is near. For example, right now I'm rereading The Raven Boys and I'm just got the sticky flags I'm using to mark my favorite quotes as a bookmark. Whatever works. 🙂
Thanks for having me, Lauren!
---
Thanks so much for joining Inside & Out, Stefani! That book is insanely gorgeous; I see why you picked it! And I love Happy Hello bookmarks.
---
Join in the fun!
Sign-ups are OPEN! The feature is officially monthly now – the second Monday of each month. If you fill this out, I will get back to you as soon as I can with your posting date and the survey.
Related Posts