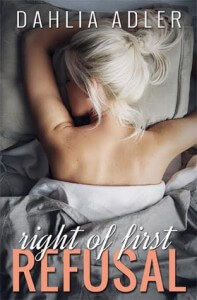 Right of First Refusal
by
Dahlia Adler
Series:
Radleigh University #2
on March 15th 2016
Also by this author:
Behind the Scenes
,
Under the Lights
,
Just Visiting
,
Last Will and Testament
,
Out On Good Behavior
,
His Hideous Heart
(340 pages) •
Goodreads
•
Amazon
•
Barnes & Noble

On the lacrosse field, Cait Johannssen gets what she wants. Off the field is another story. Because what she wants is the school's hot new basketball student-coach, Lawrence Mason, who also happens to be the guy who broke her heart in sports camp two years earlier.

But it's Cait's new roommate who's got him.

Cait and Mase agree it's best to keep their past a secret, but she doesn't expect him to completely ignore their history...or how much it'll hurt when he does. So when a friend on the basketball team asks her to pose as his girlfriend for a night, Cait can't turn down the opportunity for distraction. (Okay, and a little spite.) But what starts as an evening of fun turns into a fake relationship with more lies than the usually drama-free Cait can handle, and it's only keeping her from the one truth that's nagged at her for years: Why did Mase cut her out of his life to begin with?

And is it really too late to get him back?

Dahlia Adler has literally never let me down. I've thoroughly enjoyed all of her books (and now I have officially read ALL of them) and I can't see it changing any time soon.
This is the second in her Radleigh University NA series and I liked it even more than the first book. Every book by Dahlia is so well-rounded, covering every important topic in a young person's life, without feeling like it's "too much." This book had strong friendships, romance, family issues, and – of course – a few sexytimes. Every single thing you could want in a book, really.
Our main girl
Cait was fierce and I fucking loved it. She wasn't afraid to go after what she wanted and be super intense doing what she loved: playing lacrosse. I LOVED that she prioritized it above a lot of other things, because it shows how dedicated she was. She never let anyone tell her otherwise; she didn't care if they didn't get it. I really loved how strong she was.
Friends & family
Lizzie (from book one) and Frankie (book three coming next, eeeeek) were, as usual, fantastic, supportive friends. They had Cait's back, even when she kept things from them to protect someone else. I love their relationship so, so much. I could probably go on about it all day. Their personalities are so distinct and fleshed out. I have to say though, the best part is the constant sexual innuendos 😉 Those are my people!
Her sister, Cammie, was a pretty important part of the book too. I LOVED HER. I literally fist pumped in my bed during a certain scene. She said EXACTLY what was on my mind throughout the whole book and didn't care who she pissed off. Maybe not the best way to go, but it made me happy that Cammie and Cait were not afraid to stand up for themselves – especially to their father. It's never easy (especially in YA books, apparently) to tell your parents off. Most characters cower and end up resenting their parents when they do something to piss them off. These ladies always said how they felt and I loved it. LOOOOVED IT.
On that note, the whole plotline with her dad made my blood boil. I totally could not see his point of view. I think it was fucked up that of all the days for his wedding, he chose the O N E where she may have a championship. It wasn't fair that he prioritized other things over his daughter, especially because he was previously so supportive of her lacrosse playing. Maybe it sounds stupid because of course a wedding is important too, but THAT can be scheduled any time. ANY. TIME. (Especially in this situation, since it was kind of last minute anyways.) So yeah, very glad my girls Cait and Cammie told it like it is.
Romance!
Ah, yes. Second chance romance. My fucking favorite. I think that unfortunately this romance MAY not appeal to all readers because of the circumstances. If you read the synopsis and it sounds like something you'd be okay with, READDD this book. I just know that a lot of people are maybe uncomfortable with the idea of her roommate dating him "first." Some romance spoilers if you're interested in seeing how it plays out: View Spoiler »There's no cheating involved. It's obvious that Mase and Cait have chemistry throughout the story, but they don't act on anything. When Mase breaks up with Andi, the two of them hook up almost immediately. They keep it from her until it's eventually revealed towards the end. « Hide Spoiler So yeah, I really loved the romance overall. I shipped them within minutes. Mase was so fucking attractive too. I think I love him even more than Connor from book one. Every time he was described… just gah. *fans self*  Also, YAY for interracial romance! I have read sooo few of these, which is kind of stupid considering I'm currently one half of an interracial couple. I need to get on that. (Recs??)
My one issue is that I WANT MORE SEXYTIMES. The nature of the story prevents them from really getting together until much later, so there weren't as many sex scenes as book one. Don't get me wrong, when they were there… good lord. *fans self again*
Overall feels
Yep, this book was fantastic. I really loved it from start to finish. As I said above, I really could have enjoyed more sexytimes but that's really my one complaint. And honestly, I can't really complain – because man, they were good.

| | |
| --- | --- |
| Plot & Premise | |
| Characters | |
| Writing Style | |
| Pacing & Flow | |
| Feels or Swoons | |
| Addiction Level | |
| Overall: | 4.5 |

Related Posts