I received this book for free (hey, thanks!) in exchange for an honest review. I promise that this does NOT affect my opinion of the book or the content of my review. For real.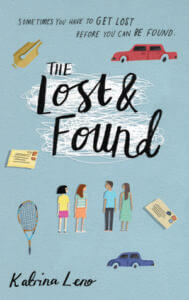 The Lost & Found
by
Katrina Leno
Genres:
Young Adult
,
Contemporary
Published by
Harper Collins
on July 5th 2016
Format:
ARC
(352 pages) •
Source:
Around the World ARC Tours
Goodreads
•
Amazon
•
Barnes & Noble

A charming and imaginative new novel about getting lost before you can be found.

LOST:
Frannie and Louis met in an online support group when they were both younger. They have never met face-to-face. They don't even know each other's real names. All they know is that they both have a mysterious tendency to lose things. Well, not lose them, exactly. Things just seem to…disappear.

FOUND:
They each receive news in the mail that sets them off on a road trip to Austin, Texas, looking for answers—and each other. Along the way, each one begins to find, as if by magic, important things the other has lost. And by the time they finally meet in person, they realize that the things you lose might be things you weren't meant to have at all, and that you never know what you might find if you just take a chance.

The Lost & Found is a bighearted novel about connections (missed and found), family (the kind you're born with and the kind you make for yourself), and unexpected journeys (on the road, and of the heart), from an author who Publishers Weekly called "a fierce new presence."

I kind of just sat here and stared at my screen until I thought of words. This book was really, truly fantastic. If you like character-driven novels with adorable side characters too, read it. If you love road trip stories, read it. If you're a fan of light magical realism, read it. If you're a book blogger who can relate to internet friendships becoming real, read it. Honestly… I could go on like this for days.
Frannie and Louis are online pen pal-type friends who met on a virtual support group website. They both end up on trips to Austin, TX (for different reasons, but also to see each other for the first time). As a special note of magical realism, the two of them are constantly losing things. They literally just disappear. Frannie has lost letters, photos, super soakers; Louis has lost tennis rackets, fabric, money. They start finding each other's items as they travel towards each other, as if by magic.
The entire story was just so endearing. I LOVED Frannie and Louis, and I almost equally loved their "partners" in the story. Frannie travelled with her cousin, Arrow, and Louis went with his twin sister, Willa. They all had such interesting backstories. Plus, diversity! Arrow was adopted from Vietnam, Willa lost her legs in an accident, and Louis/Willa were half Indian. All of these aspects were so seamlessly integrated into the story and discussed organically; it didn't feel like diversity for the sake of diversity. Each character was their own person and I loved it.
Road trip stories are always so fun and it got me very excited about an impending road trip I was going to take. (I will have already gone on this trip by the time this posts, LOL) Each pair heads off to the center of the country from their respective coasts. Both main characters were seeking potentially life-changing T H I N G S in Austin. This may not really be a spoiler (it's not in the synopsis but you learn about each thing early in the story), but here's why they were going: View Spoiler »Louis was accepted at UT Austin and was visiting to see if he'd want to go there. Frannie was looking for her "real father." Her mom had claimed in her letters (written from a mental health facility) that her real father was a famous actor. He happened to live in Austin. « Hide Spoiler So yeah, big stuff! And, of course, the fact that they'd be meeting each other for the first time too.
I know I've talked a bit about the characters but I want to emphasize that while this story also had a great plot, I'm obsessed with the characters. It's really a story about all of their different relationships, and the families behind them too. I loved every single side character and the dynamics between everyone. Relationships were strengthened. Families were tested a little bit. It was just real and great. (It's funny to say this book is "real" because a lot of the plot is magical instead of realistic.)
I did see a couple of "twists" coming, but then THOSE things had another second twist that totally surprised me. By the end of this book, I was head over heels. I LOVED the ending! Everything about it was perfect and swoony and cute and surprising and just fantastic.
There were small details that occasionally bugged me during the story. Very random, small details that mean nothing in the grand scheme of how much I enjoyed this story.

I received this book for free (hey, thanks!) in exchange for an honest review. I promise that this does NOT affect my opinion of the book or the content of my review. For real.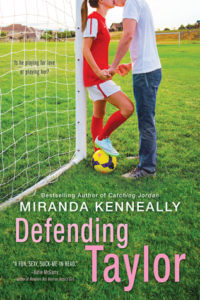 Defending Taylor
by
Miranda Kenneally
Series:
Hundred Oaks #7
Genres:
Young Adult
,
Contemporary
Published by
Sourcebooks
on July 5th 2016
Also by this author:
Breathe, Annie, Breathe
,
Catching Jordan
,
Jesse's Girl
,
Stealing Parker
,
Things I Can't Forget
,
Racing Savannah
,
Coming Up for Air
,
Four Days of You and Me
Format:
eARC
(304 pages) •
Source:
Publisher
Goodreads
•
Amazon
•
Barnes & Noble

There are no mistakes in love.

Captain of the soccer team, president of the Debate Club, contender for valedictorian: Taylor's always pushed herself to be perfect. After all, that's what is expected of a senator's daughter. But one impulsive decision-one lie to cover for her boyfriend-and Taylor's kicked out of private school. Everything she's worked so hard for is gone, and now she's starting over at Hundred Oaks High.

Soccer has always been Taylor's escape from the pressures of school and family, but it's hard to fit in and play on a team that used to be her rival. The only person who seems to understand all that she's going through is her older brother's best friend, Ezra. Taylor's had a crush on him for as long as she can remember. But it's hard to trust after having been betrayed. Will Taylor repeat her past mistakes or can she score a fresh start?

I always get excited about new Miranda Kenneally books! Some of the books in the middle of the series were hard for me because I don't like reading about religion, and some of the people were very close-minded. There was good character development but it was hard to read. I do love that her characters are never perfect – they make mistakes, deal with the consequences, learn, and grow. So, as usual, I had high expectations for this new book!
As always, the cameos were the best part of the book. I loved seeing a bunch of old characters again (or even just hearing about them). Jack (and kind of Savannah) were somewhat the most important old characters in this book. They weren't my favorite from past books but I'm still happy to see them, of course!
The sex positive aspect was absolutely perfect and realistic. I love when characters do what's best for them and are open about how they're feeling or what they're comfortable with. There were other issues besides sex that got a lot of page time, which I liked! It felt really well-rounded on "issues" without being an "issue book."
I'm not a soccer fan but I do love how her books center around certain sports and hobbies. I'm always open to learning more about them. (Of course her first book will always have my heart because FOOTBALL.) The soccer team definitely grew on me as the girls finally gave Taylor a chance. It was nice seeing the teamwork and camaraderie finally happen.
Taylor's family situation was frustrating and a lot of the characters in the book were terrible for the first half. No one listened to her or respected her. Taylor's dad literally cut her out of campaign videos because of the issues she dealt with at her old school. I just felt like no one supported her at all. The new soccer coach didn't care about the team or how the girls treated her at first either. She had no help from anyone and then she just kind of forgave everyone without getting real apologizes from all of them! I would have not let that shit slide AT ALL. It took a really long time for her to stand up for herself but she did a great job when it happened.
For the love interest, Ezra was pretty fantastic. I love the "old flame returning to her life" trope so A++++ for that. They had a cute relationship that I was here for right from the start. He may be one of my favorite love interests.
Overall, a good addition to the Hundred Oaks family!
Related Posts