I received this book for free (hey, thanks!) in exchange for an honest review. I promise that this does NOT affect my opinion of the book or the content of my review. For real.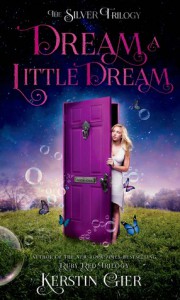 Dream a Little Dream
by
Kerstin Gier
Series:
Silver Trilogy #1
Genres:
Fantasy
,
Young Adult
Published by
Macmillan
on April 14th 2015
Also by this author:
Ruby Red
,
Dream On
,
Just Dreaming
,
A Castle in the Clouds
Format:
ARC
(336 pages) •
Source:
Around the World ARC Tours
Goodreads
•
Amazon
•
Barnes & Noble

Mysterious doors with lizard-head knobs. Talking stone statues. A crazy girl with a hatchet. Yes, Liv's dreams have been pretty weird lately. Especially the one where she's in a graveyard at night, watching four boys conduct dark magic rituals. The strangest part is that Liv recognizes the boys in her dream. They're classmates from her new school in London, the school where she's starting over because her mom has moved them to a new country (again). But what's really scaring Liv is that the dream boys seem to know things about her in real life, things they couldn't possibly know—unless they actually are in her dreams?  Luckily, Liv never could resist a good mystery, and all four of those boys are pretty cute....
The Story
The main premise of this story revolves around Liv and her extremely vivid dreams. Her family, which consists of her mother and sister (Mia), has moved around quite a bit over the recent years to follow different university jobs for her professor mother. They make their "final" move to London because her mom has landed her dream job at Oxford. Enter her mom's new boyfriend, Ernest, and his two children, Grayson and Florence. The new blended family joins together in Ernest's house and adjust to their lives together. Meanwhile, Liv's dreams are getting crazy. She's seeing people from school, including her new stepbrother and his friends, and they seem to recognize her too.
I was a huge fan of the different worlds going on in this book: the dreams and reality. I didn't expect some of the events or main parts of the plot to be as dark as they were, though! That was a bit much for me but I'm excited to see what happens. The book itself was VERY introductory. I cut the first book in a series some slack because it often is more informational than action-packed, but this was definitely an extreme example of that. This book was purely setting the stage for the other two books in the series. I enjoyed reading it but felt like nothing was happening. There wasn't a lot of action at all; it was mostly explaining how things worked and learning about the characters. The Goodread synopsis doesn't give a lot of information about the book's actual premise, so I'll leave out a lot of spoilers here. View Spoiler »The books alternated between Liv's dreams and her reality. She learned that the boys' can all meet up with her and each other in their dreams, and they all remember what happens. The idea that each person had their own door to enter their dream world was so cool. I loved learning about how the dream world worked and the weird demonic happenings that led to their whole situation. Nothing has been explained fully yet, so I hope the rest of the series actually explains HOW it's all possible. « Hide Spoiler I don't want to say which boy ends up being the ~love interest~ but let me tell you that he View Spoiler »(Henry) « Hide Spoiler was so cute and I wanted to smooch him.
The Characters
Liv and Mia were amazing characters. They were clever, funny, and snarky. They always had a sarcastic remark to share and it was incredible entertaining. I feel like Mia was an important character at the beginning and then faded away a bit as the book went on, which was a shame. Their mom was amazing – so honest and funny; not like a lot of parents out there. (She actually reminded me of my parents a little bit!) I'm definitely interested to learn more about these girls and the rest of their new family in the next two books. Grayson, Henry, Jasper, and Arthur kind of blended together to me. Arthur and Jasper were impossible for me to keep straight until the very end of the book. I'm looking forward to learning more about them as individuals as the series goes on. The one "character" I didn't really understand was Secrecy. The school has a gossip blog run by this Secrecy person (it felt like Gossip Girl). There were about 5 pages dispersed through the book that showed a little snapshot of the website with the gossip. I honestly didn't see the point of it. I hope there's a good reason for it in the later books!
The Writing
The writing style for this book was a bit different right off the bat. I don't think I've ever read a book that was translated into English from another language; maybe that's the issue? Regardless, the style of writing and the dialogue made the book have the feel of a historical fiction. I literally assumed this book took place 100 years ago, until they mentioned an iPhone. Liv and Mia had pretty sophisticated vocabularies for people not even in high school. I'm sure part of that had to do with the fact that their mom was an English professor, but it just felt a little odd.
The Ending
The ending of this book was two things: shocking and rushed. There was definitely a twist at the end that I didn't see coming. However, the action didn't start building until there were literally 30 pages left in the book. I was basically anticipating a HUGE cliffhanger ending. There kind of was one, but not too bad. It left me wondering what's next and wanting to read the next one, however I'm not on the edge of my seat waiting for it. I liked the twist but the ending was incredibly rushed. As I said, nothing major happened until it was the very end; all sorts of things were packed into 30 pages. It wasn't developed enough so I didn't really have any time to react or think of WHY *that* happened. View Spoiler »*That* meaning the fact that Anabel lied about sacrificing herself to kill Liv in her place! Umm, what?? Did not see that coming! Beyond that, I still don't understand her motivations. Clearly, based on the way the book ends, that will be discussed a bit more in the coming books. « Hide Spoiler Aside from that, I was definitely expecting there to be some reveal about Secrecy at the end, or at least some inkling as to WHY this person even exists in the book.
Overall
This one teeters on the verge of 4 stars but I think is more like 3.75. I enjoyed it for sure, but it pretty much only set the stage for the next two books. There was not much action…and then the ending was rushed. I'm excited for the next book but not completely dying to get my hands on it. I hope there's even more of Liv and Mia's snarkiness and more love between her and the cute boy. Essentially this book does a great job of setting up a new trilogy. I hope I get some answers ASAP though, because I'm really damn curious about how all of this craziness plays out.. and why!

SERIOUSLY what does this all mean??
Related Posts