Inspired by my recent organizational acquisitions (and posts by Hannah), I wanted to share some information about how I keep myself organized – primarily for blogging and reading, but also a little about my personal organization, too.
Part Two: What's Inside My Traveler's Notebook
In the first part of this series, you saw what's inside my book bag. Today I'll give you a little tour of what's inside my Foxy Fix traveler's notebook! (The company was previously referred to as Foxy Dori, but she recently posted on Instagram that she's hoping to keep her brand away from the original company name – Midori – and go by Foxy Fix.) Again, Hannah's post is probably the best overview you can get, but I'll try my best to include what's in my notebook. I know they can kind of be confusing.
Ordering a Foxy Dori
After seeing Hannah's post, I bought one within days. I wrote up what I purchased in my last post, but here's a refresher in case you'd like to know:
Colorful Foxy Dori in Dragon Fruit | Wide Size | Quadruple Binding | Black Strap | Stamp #13 (Heart)
What does that mean? I ordered the "Colorful Foxy Dori" option, which is made of leather and available in different colors. I chose Dragon Fruit, which is a pretty pink (of course). I got the wide size because it can best hold May Designs notebooks, which is a popular insert option. The quadruple binding means that there are four elastic bands that are used to hold notebooks inside. Four notebooks or inserts, obviously. I also chose the black strap to keep the whole thing closed up. Last, I picked a little heart-shaped stamp to go in the bottom right corner on the front cover. 
There are lots of size, color, strap, binding, and stamp options; you can really personalize it. I knew I needed pink and needed the most amount of straps to hold multiple notebooks. Again, Hannah has a post on the cover and ordering a Foxy, too!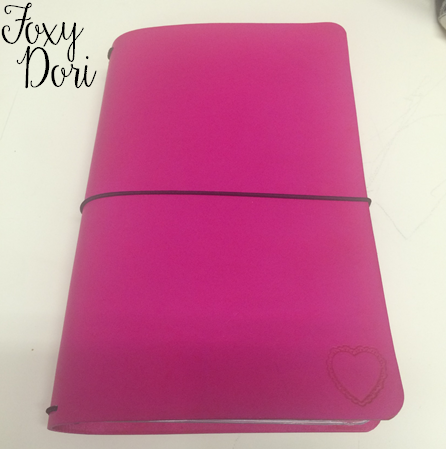 ---
Inside My Foxy Dori
Now for the good stuff! I gave brief overview of the notebooks and inserts I have in my Foxy in my last post, but now you can check out each element and learn a bit more about them. Because I have the quadruple binding, I'm able to put in four inserts (or six, in my case, since I have two inserts inside my dashboard that share an elastic with it). Hannah also wrote a great post about inserts!
Notebook for Book Notes
I used to carry around a book journal but it was kind of bulky for everyday use. I prefer this slimmer May Designs journal because I can keep it in my Foxy and bring it along with the rest of my stuff. I don't keep information about the publisher or book format while I read, and my book journal previously had too many things to fill in per book. I'd rather keep it simple: title, author, day I started, and day I finished. The rest of the page is for taking notes as I read so I can better write my review. At the bottom, I'll put how many stars I'd give it. Super easy and to the point! My OTSP Secret Sister got me this one. It's the Mint Rose print and has lined paper inside. She customized it to say Bookmark Lit on the front cover, too!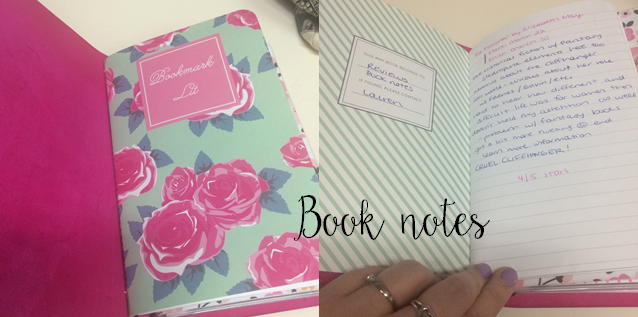 ---
 Dashboard with Zipper Pocket and Business Card Holder
This is a pretty fun element! I haven't completely filled mine in with stuff yet, but I have some basic organization going that works for now. I bought a dashboard from Martha Plans, and it's essentially a folder without pockets. I chose the wide size with pink and yellow flowers on one side and stripes on the back. The dashboard is there to hold a bunch of things; a lot of people use it to store sticky notes and actually stick them to the dash itself. I use mine just as a basic cover and keep things inside of it. I have the Midori business card pocket folders and Midori clear zipper pocket. I keep post-it notes and Craftedvan bookmarks in the business card slots and random paper bookmarks in the zipper pocket. I decorated it by cutting scrapbook paper and inserting it into each business card pocket, so you can't see through to the other side.
---
Notebook for Blog Post Planning and Notes
I bought this May Designs journal in the Tea Nagina print with graph paper, because who knows what kinds of planning I'll need to do! I figured graph paper was a bit more flexible than lined paper 😉 I added my blog name for customization. I haven't really used this one much yet, but I have a list of the books I've purchased or received this month. I always forget and have to check Amazon when I do my book haul segment in the monthly wrap-up. I hope to use this more when random inspiration strikes me.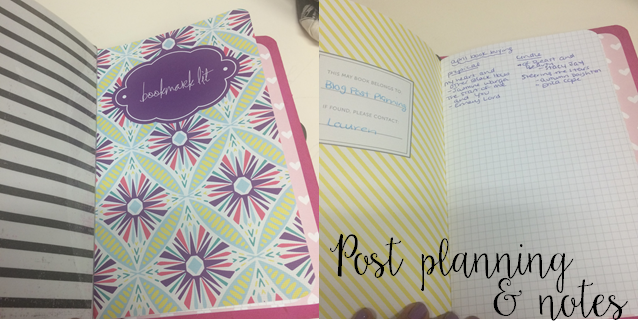 ---
Notebook for Favorite Quotes
I have been trying to integrate quotes more in my reviews; what better way than keeping a notebook of them? So far it only contains quotes from Emmy & Oliver, but I'm sure more will come soon! It's also handy when I need to reference them for other posts. My OTSP Secret Sister got me this notebook as well. It's another May Designs journal – this time with the Pink Hearts print. It has my name customized on it, too!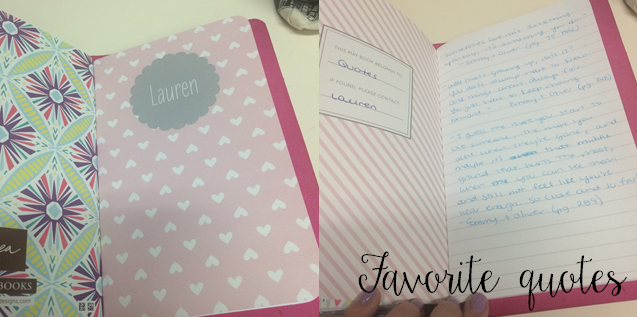 ---
Anyone still confused about the Foxy? Hannah previously shared a helpful (quite long) video from The Reset Girl that shows you how to set it up, decorate inserts, and more! I recommend checking it out if you have some time.
Did you get bitten by the Foxy Dori bug?
How do you keep organized?
Related Posts