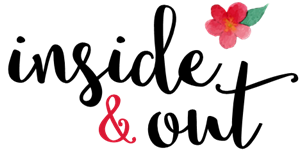 Admiring book covers and bookmarks, shared by you!
Welcome to INSIDE AND OUT. This feature includes two of my absolute favorite book-related things: bookmarks (inside) and book covers (out)! I've invited guest posters to share their favorite book covers and bookmarks here on the second and fourth Mondays of each month. Sign-ups are always open (see bottom of post)! Check out past posts here.
---

Twitter: @girlinthepages | Instagram: @girlinthepages
Tell me a little about yourself: Hi I'm Cristina and I run the Young Adult book blog Girl in the Pages! I was an English major and college and wanted to create a space where I could keep writing after I graduated, and so my blog was born! My love of reading started before I could even read (I used to flip through picture books and make stories up out loud) and my love of YA started around age 8 when I discovered Harry Potter and The Princess Diaries. I finally got to merge my love of scholarship and YA literature together by writing my senior thesis on Harry Potter! When I'm not blogging or reading I'm traveling, watching the Food Network, going on adventures with my boyfriend, or planning some sort of Disney trip!
Talk about your blog (what you blog about/kinds of books, features, etc.): My blog was mainly created as a space where I could merge my love of Young Adult literature and academic scholarship, which for some reason many people find mutually exclusive! I think there's so many fantastic themes and important topics going on in YA books right now, so I focus my blog on deconstructing some of these issues through my feature "Cristina's Close Look." I also like to take a look at fairytale retellings and their origin stories through my "Fairy Tale Friday" posts, and you can find me fangirling in my "I Will Go Down With My Ship" Feature. I also, of course, feature plenty of reviews of YA books (and occasionally New Adult or Adult fiction), participate in blog challenges, and co-host an every-other month feature called "Book Buddies" with Lauren from Bookmark Lit herself!
Favorite genre:   Young Adult Paranormal (such as the Mara Dyer Trilogy) followed by Fantasy (such as The Winner's Curse) and College Based Contemporary (such as Fangirl). I love books that deal with older YA characters, as I think that 18-22 age range is not explored enough but definitely still constitutes the young adult age range! I'd love to see more books in all YA genres feature characters in that age range and dealing with life transitions between the teenage years and adulthood.
Three books you recommend most often and why:  Aside from the Harry Potter books, you mean? 🙂 I would have to go with The Unbecoming of Mara Dyer because it really gets under your skin with the psychological elements mixing with the paranormal! Secondly, I'd have to recommend Trial by Fire by Josephine Angelini because it revives the classic paranormal characters of witches in a way that blends with science it's practically believable! Lastly, I just finished The Wrong Side of Right by Jenn Marie Thorne and I know I'll be pushing it on everyone for the rest of 2015 because it was such an intelligent and fun read that gives such a cool behind the scenes look at what the life of the kids of politicians is like!
---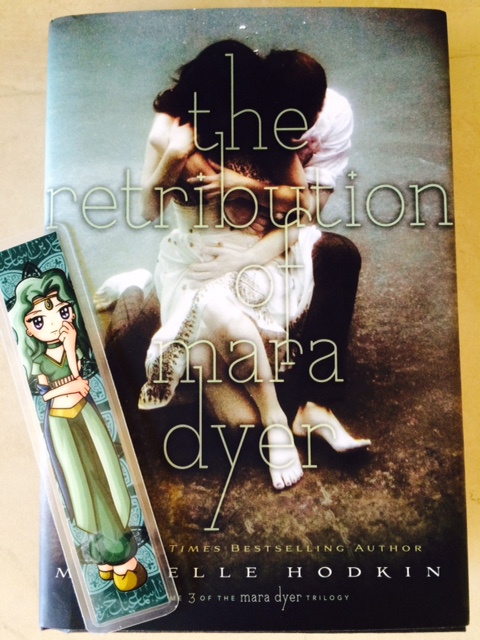 What book do we have here? The Retribution of Mara Dyer, the third and last installment in the Mara Dyer trilogy my Michelle Hodkin.
Have you read it yet? If so, how was it? Yes, I read it right when it came out! It was a fantastically eerie and action-packed ending to the trilogy, but it still left a lot of questions and open-ended possibilities for the characters!
What makes this cover a favorite? I love that it's aqua (blues, especially turquoise and mint tones are my favorite colors!) and how it's faded and looks like an old photograph. I also love the eerie feeling the cover conveys with the placement of the cover models, it matches perfectly with the book!
What kind/style of covers do you usually pine over (script fonts, bright colors, realistic, etc.)?  I love covers that fade in color or have the ombré effect, and I love when the font is subtly distinct (such as this cover, where the title isn't too bold but you can see the little nuances in the crosses over the i's and the elongated y's and f's). I usually don't love real people on covers, but if you can't see their faces I usually don't mind (that way I can construct the way the characters look inside my head on my own). I also love when covers really match the tone of the book, and this one definitely does!

What bookmark did you chose?  I chose a bookmark that my boyfriend gifted me as part of a set he found on Etsy years ago. They're based on the Sailor Scouts from the Sailor moon anime/manga. This particular bookmark features Sailor Neptune, the Sailor Scout of Water. Each Sailor Scout has a specific associated color so I can match my bookmarks to the covers of the books I'm reading!
What makes this one special to you? Sailor Neptune is one of my favorite Sailor Scouts.
Where's it from? An Etsy store, purchased about 3 years ago. I tried looking up the store but it seems to no longer be there, unfortunately.
What kind of bookmarks do you prefer (paper, magnetic, quotes, etc.)? These are laminated and they're nice and sturdy, so I really like them. I've always wanted to try magnetic ones as well!
Thanks for sharing your cover and bookmarks, Cristina! I definitely need to get going on that trilogy; I've heard great things!
---
Join in the fun!
Important: Sign-ups are always open, but are scheduled through to summertime at this point. If you sign up, you'll receive a confirmation and tentative month, but won't receive the full questionnaire (unless you plan on just sending yours in ASAP – just let me know when you reply). I don't want to risk planning for someone's post that's eight months away and then have them bail at the last minute. I will send the questionnaire two months before you're scheduled to post and you can confirm if you're still interested and set for that date.
Related Posts