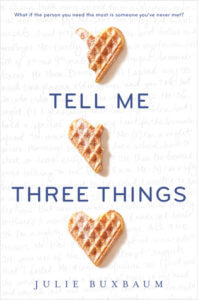 Tell Me Three Things
by
Julie Buxbaum
on April 5th 2016
Also by this author:
What to Say Next
,
Admission
(336 pages) •
Goodreads
•
Amazon
•
Barnes & Noble

Everything about Jessie is wrong. At least, that's what it feels like during her first week of junior year at her new ultra-intimidating prep school in Los Angeles. Just when she's thinking about hightailing it back to Chicago, she gets an email from a person calling themselves Somebody/Nobody (SN for short), offering to help her navigate the wilds of Wood Valley High School. Is it an elaborate hoax? Or can she rely on SN for some much-needed help?
It's been barely two years since her mother's death, and because her father eloped with a woman he met online, Jessie has been forced to move across the country to live with her stepmonster and her pretentious teenage son.
In a leap of faith—or an act of complete desperation—Jessie begins to rely on SN, and SN quickly becomes her lifeline and closest ally. Jessie can't help wanting to meet SN in person. But are some mysteries better left unsolved?
Julie Buxbaum mixes comedy and tragedy, love and loss, pain and elation, in her debut YA novel filled with characters who will come to feel like friends.

So yes of course I'm going to take the obvious review style here and tell you three things about this extremely wonderful book that landed on my favorites shelf…
Thing #1: Super realistic and relatable
While some things about the main character, Jessie, bugged me, it really felt like a realistic portrayal of the inside of a teenage girl's head. She wasn't perfect and was a bit too judgmental about those around her in her new school, a lot of it felt like a defense mechanism. She moved across the country essentially on a whim and was reacting honestly to what she saw around her. I usually like there to be some kind of character growth around this, but I have previously loved books where this happened too. I think it's a story worth telling because some mean girl situations ARE real and the people DON'T change. Aside from Jessie's internal monologue, I really just felt like the book was so enjoyable and, again, REAL. I loved her voice overall.
Thing #2: Adorable romance
I shipped her and SN from the beginning… and knew who SN was from the beginning. Jessie did frustrate me as it got further and further into the book and she STILL didn't know. HOW? It was so obvious to me! It did involve some of those classic annoying things were she assumes it's someone else with zero evidence and is a dummy about it for way too long. Oh well. Regardless, I LOVED reading about the two of them and seeing their relationship grow. I love the plot device of emails or IMs or texts getting the relationship started, so that was a huge win for me.
Thing #3: Friends and family feels
The book has some heavy stuff going on. Jessie and her dad move to LA because he suddenly gets married to a woman he met online, after Jessie's mom died. She is mad at him for uprooting their lives and doesn't appreciate the lack of attention he gives her once they move. I totally saw her side on that, but obviously because she's a teenager she could have handled it a little better. She's still reeling from the loss of her mom and the big move, but adding in new family members (a loud stepmom and rude stepbrother), a new school with mean girls galore, and missing her best friend… she was in for a ride. Her emotions were very real to me and I loved seeing her develop new friendships/relationships. The girls she befriended seemed like perfect fits for her and all of that seemed to progress naturally.
Bottom line: I loved this book. Jessie was often too quick to judge, but it did make her feel real to me (given her current situation). The romance was adorable and I loved getting to know SN. Lots of friend, family, and love feels in this book. I would definitely reread this in the future!

| | |
| --- | --- |
| Plot & Premise | |
| Characters | |
| Writing Style | |
| Pacing & Flow | |
| Feels or Swoons | |
| Addiction Level | |
| Overall: | 4.4 |

Related Posts