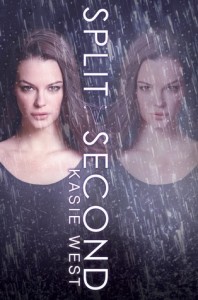 Split Second
by
Kasie West
Series:
Pivot Point #2
Genres:
Paranormal
,
Young Adult
Published by
Harper Collins
on February 11th 2014
Also by this author:
The Distance Between Us
,
Pivot Point
,
On the Fence
,
The Fill-In Boyfriend
,
P.S. I Like You
,
Lucky in Love
,
Listen to Your Heart
,
Snow in Love
,
Maybe This Time
Format:
Paperback
(368 pages) •
Source:
Purchased
Goodreads
•
Amazon
•
Barnes & Noble

Addie has always been able to see the future when faced with a choice, but that doesn't make her present any easier. Her boyfriend used her. Her best friend betrayed her. So when Addie's dad invites her to spend her winter break with him in the Norm world, she jumps at the chance. There she meets the handsome and achingly familiar Trevor. He's a virtual stranger to her, so why does her heart do a funny flip every time she sees him? But after witnessing secrets that were supposed to stay hidden, Trevor quickly seems more suspicious of Addie than interested in her. She wants to change that.

Laila, her best friend, has a secret of her own: she can restore Addie's memories . . . once she learns how. But there are powerful people who don't want this to happen. Desperate, Laila tries to manipulate Connor, a brooding bad boy from school—but he seems to be the only boy in the Compound immune to her charms. And the only one who can help her.

I read Pivot Point back in January and absolutely loved it. Kasie West is probably my #1 auto-buy author. There are two reasons it took me so long to read this book: (1) I preordered the paperback version so my set would match, which meant it wouldn't arrive until two months after reading the first book, and (2) This is the last published Kasie West book I could read! I didn't want to run out 🙁
I didn't realize this book was going to feature dual POV's between Addie and Laila; the first book had two POVs but it was the two different timelines of Addie's search. I was happy to see some more time with Laila, even though things were kind of awkward after what happened in the previous book. In dual-POV books you can sometimes expect that you'll prefer one person's storyline to the others; I found myself enjoying both perspectives equally for the most part! Laila did frustrate me at times because I felt like she wasn't making the right decisions. Her relationship in this one was a hate-to-love situation that took her SO LONG to figure out. I was okay with their banter but didn't ship them as hard as I usually would in that kind of relationship trope.
Even though the book was split between Addie and Laila, Addie is still the "main character." I felt like her personality wasn't as developed in this book for some reason. I missed that. The same thing goes for Trevor: I totally fell for him and added him to my list of book boyfriends. He wasn't as developed in this one either, but I still shipped them… especially after the ending of the last book!
The premise of the first book in the series was an intricate paranormal mystery; this book's plot wasn't as high stakes (as in, with murder involved), but I was totally invested. I loved the complexities of the memory erasing and returning. It was beneficial to have Laila's perspective for all of that and I'm glad she set it up that way. Learning more about the limits and rules the compound set was really cool. I thought there were a few other interesting aspects, like Duke still being involved and learning more about Laila's brother, Eli, and his ability.
Even though there were a few things that bugged me with the characters, this book is pretty darn close to perfect. I read it in one day and was dying to find out how it all ended. I liked the ending and felt like things wrapped up well!












(If I could give this book a 4.75 out of 5, I totally would.)
Related Posts