In an effort to cut down on posts and burnout, my Review Roundups will feature 2-4 books I've read or listened to recently. Sometimes they're newer releases and sometimes they're all backlist titles. My ARC reviews usually get the solo treatment. Enjoy the mini reviews!
---
The Goose Girl
by
Shannon Hale
Series:
The Books of Bayern #1
Genres:
Young Adult
,
Fantasy
,
Fairytale Retelling
Published by
Bloomsbury
on May 1, 2005
Format:
Audio/eBook
(383 pages) •
Source:
Hoopla
,
Scribd
Goodreads
•
Amazon
•
Barnes & Noble

Anidora-Kiladra Talianna Isilee, Crown Princess of Kildenree spent the first years of her life listening to her aunt's incredible stories, and learning the language of the birds. Little knowing how valuable her aunt's strange knowledge would prove to be when she grew older. From the Grimm's fairy tale of the princess who became a goose girl before she could become a queen, Shannon Hale has woven an incredible, original and magical tale of a girl who must understand her own incredible talents before she can overcome those who wish her harm.
When planning out my books for the retellings challenge this year, I knew I needed to attempt THE GOOSE GIRL. This is a classic fantasy novel that everyone seems to love. It reminded me a bit of ELLA ENCHANTED or STARDUST when it got started, with the princess/girl heading out on some kind of adventure/quest/etc. It honestly took me a little while to get into this and see what all the fuss was about, but it was worth it. I should also mention that I started with the audiobook, which has a full cast (!!) and was pretty adorable as a result.
The latter half of the book was pretty fantastic, honestly. I'm glad I wasn't fully aware of the original Brothers Grimm story, or else I wouldn't have gasped as much as I did LOL. I didn't see certain things coming and was honestly on the edge of my seat, deciding to finish the book off as an ebook instead of an audiobook.
Ani was a great character to watch grow up and learn about life outside of being a princess. Her experience as a goose girl definitely shaped her into a more well-rounded person. I loved the bit of romance, even though it definitely wasn't a major area of focus IMO. Her friendships with the other workers were so cute too! I smiled like a jackass at the end of the book and it really just left me with the squishiest feelings, so I had to give this one a top rating.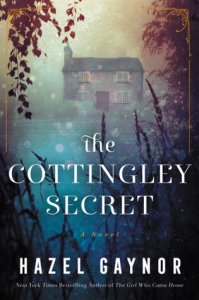 The Cottingley Secret
by
Hazel Gaynor
Genres:
Adult
,
Historical Fiction
,
Magical Realism
Published by
Harper Collins
on August 1, 2017
Format:
Audio/eBook
(383 pages) •
Source:
Hoopla
,
Owned
Goodreads
•
Amazon
•
Barnes & Noble

The author of The Girl Who Came Home turns the clock back one hundred years to a time when two young girls from Cottingley, Yorkshire, convinced the world that they had done the impossible and photographed fairies in their garden. Now, in her newest novel, international bestseller Hazel Gaynor reimagines their story.

1917… It was inexplicable, impossible, but it had to be true—didn't it? When two young cousins, Frances Griffiths and Elsie Wright from Cottingley, England, claim to have photographed fairies at the bottom of the garden, their parents are astonished. But when one of the great novelists of the time, Sir Arthur Conan Doyle, becomes convinced of the photographs' authenticity, the girls become a national sensation, their discovery offering hope to those longing for something to believe in amid a world ravaged by war. Frances and Elsie will hide their secret for many decades. But Frances longs for the truth to be told.

One hundred years later… When Olivia Kavanagh finds an old manuscript in her late grandfather's bookshop she becomes fascinated by the story it tells of two young girls who mystified the world. But it is the discovery of an old photograph that leads her to realize how the fairy girls' lives intertwine with hers, connecting past to present, and blurring her understanding of what is real and what is imagined. As she begins to understand why a nation once believed in fairies, can Olivia find a way to believe in herself?
At first glance, this must seem so far out of my wheelhouse! Many of the reviews I've seen for this one were from readers who were unfamiliar with the real story of the fairies in the photographs (that this book is based on). I, on the other hand, have always been fascinated by and obsessed with it. I was bound to love this book even more, as the topic touches a special place in my heart. I've always been partial to stories/movies about fairies, with Cicely Mary Barker's Flower Fairies as the theme of one of my childhood bedrooms. I still like current fae books about more ~cunning faeries~ but it's just not the same as the cute little ones I loved in childhood. There's also an adorable kids movie, FairyTale: A True Story, about this whole thing as well (my sister and I checked the DVD out from the library REPEATEDLY). Now that you know all the backstory, on to the book itself…
I started the audiobook through Hoopla and decided to finish with the ebook I bought earlier this year. The story goes back and forth between the contemporary story happening today with Olivia and the manuscript/memoir that she finds (reading like a historical fiction novel). Olivia inherits her grandfather's bookshop after he passes away and has to make difficult decisions about her future, while visiting her ailing grandmother and reading the memoir to her (to see if it sparks memories). She learns how her story is connected to the one she's reading, and honestly? It's super magical and excellent. I was swept right into her tale, as well as the one she was reading about.
The real story that happened in our world turned out to be a "hoax," where the girls fabricated the photos. That is ALSO the case in this book, but there are some fun twists involved too. I genuinely loved going back and forth between each time period and hearing so much about fairies. It made me feel nostalgic and so happy. I know that this story resonated with me specifically because of the subject matter (and half being more contemporary fiction instead of just 100% historical), but I hope others love it too.

Everything Must Go
by
Jenny Fran Davis
Genres:
Young Adult
,
Contemporary
Published by
Macmillan
on October 3, 2017
Format:
Audio/Physical
(416 pages) •
Source:
Owned
,
Hoopla
Goodreads
•
Amazon
•
Barnes & Noble

Flora Goldwasser has fallen in love. She won't admit it to anyone, but something about Elijah Huck has pulled her under. When he tells her about the hippie Quaker school he attended in the Hudson Valley called Quare Academy, where he'll be teaching next year, Flora gives up her tony upper east side prep school for a life on a farm, hoping to woo him. A fish out of water, Flora stands out like a sore thumb in her vintage suits among the tattered tunics and ripped jeans of the rest of the student body. When Elijah doesn't show up, Flora must make the most of the situation and will ultimately learn more about herself than she ever thought possible.

Told in a series of letters, emails, journal entries and various ephemera, Flora's dramatic first year is laid out for all to see, embarrassing moments and all.
I won't lie: I really did not enjoy this book (or the main character, Flora) at first. She was bizarre and unrelenting in her obsession over this turd of a guy – to where she followed him to a school he didn't even end up going to – so I was really afraid this would continue throughout the story. It didn't, thank god. I definitely will warn you to keep pushing through if she is annoying at the beginning lol but honestly I could completely understand. I've been that weird obsessive way about guys before. Man, it's hard to read that though!
I love epistolary formats and don't read nearly enough of them. This read as somewhat of a scrapbook, with the MC reflecting back on her time with a whole lot of hindsight and a new perspective. I enjoyed reading the physical copy the most so I could see all of the details in this format. The audiobook was quite good, in terms of narration, but I always get annoyed at hearing people's addresses, or email addresses, or subject lines, too often. It's easy to breeze over them in the physical copy; I probably only listened to 1-2 hours of the audio for this reason.
This was a super quirky book, mostly because of the setting of the Quare School. Flora was a great character who experienced a lot of changes throughout the story, while still feeling true to herself and her experiences. I liked seeing all of the other pieces of her life and how she interacted with different people via snail mail, email, etc. Overall, this book was a pleasant surprise (after the beginning didn't grab me right away)! I didn't love the ending but it wasn't terrible.
Related Posts