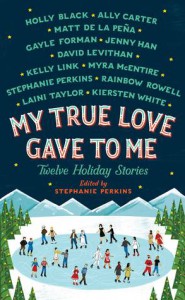 My True Love Gave To Me by Ally Carter, David Levithan, Holly Black, Kelly Link, Kiersten White, Laini Taylor, Matt de la Pena, Myra McEntire, Rainbow Rowell, Stephanie Perkins
Genres: Holiday, Young Adult
Published by Macmillan on October 14th 2014
Also by this author: I'd Tell You I Love You, But Then I'd Have to Kill You, Cross My Heart and Hope to Spy, Don't Judge a Girl by Her Cover, Only the Good Spy Young, All Fall Down, Out of Sight, Out of Time, United We Spy, See How They Run, Take the Key and Lock Her Up, Not If I Save You First, The Blonde Identity, Dash & Lily's Book of Dares, Sam & Ilsa's Last Hurrah, The Twelve Days of Dash and Lily, The Darkest Part of the Forest, The Cruel Prince, The Wicked King, The Modern Faerie Tales: Tithe, Valiant, and Ironside, The Queen of Nothing , How the King of Elfhame Learned to Hate Stories, The Stolen Heir, Eleanor & Park, Landline, Fangirl, Anna and the French Kiss, Lola and the Boy Next Door, Isla and the Happily Ever After, Summer Days & Summer Nights, There's Someone Inside Your House, The Woods Are Always Watching
Format: Hardcover (336 pages) • Source: Purchased
Goodreads • Amazon • Barnes & Noble


If you love holiday stories, holiday movies, made-for-TV-holiday specials, holiday episodes of your favorite sitcoms and, especially, if you love holiday anthologies, you're going to fall in love with My True Love Gave to Me: Twelve Holiday Stories by twelve bestselling young adult writers (Holly Black, Ally Carter, Matt de La Peña, Gayle Forman, Jenny Han, David Levithan, Kelly Link, Myra McEntire, Rainbow Rowell, Stephanie Perkins, Laini Tayler and Kiersten White), edited by the international bestselling Stephanie Perkins.  Whether you celebrate Christmas or Hanukkah, Winter Solstice or Kwanzaa, there's something here for everyone.  So curl up by the fireplace and get cozy.  You have twelve reasons this season to stay indoors and fall in love.
---
Book Buddies is a discussion-style review that takes place with one of my two buddies. (Learn more and see past reviews here) We both read the book and then have a private discussion about it. We post our discussion as a review on the last Wednesday of each month. You'll be able to see our similar/different opinions on the overall book, characters, writing style, etc. – just like a regular review. Half our discussion will take place right here, and the other half will be on Cristina's blog! (Link at the bottom)
For this particular review, because it included short stories, we alternated the stories between the two of us and shared our thoughts on all of them. Because of that, I'm featuring six stories but will share my overall rating for the other six stories at the bottom of the page.
Overall Thoughts
I absolutely loved reading this anthology. There were quite a few stories that left me wanting more, for different reasons. Some of them had such great characters that I would have loved a full story with them. Others felt kind of rushed or unfinished, which unfortunately can happen with short stories. They would have benefited from a few more pages for characterization, wrapping up the stories, or just better developing it overall. Regardless, I would highly recommend this collection of short stories to anyone who enjoys the Christmas season. At the bottom of my post, you can see some of my story recommendations!
Discussion
#2- The Lady and the Fox by Kelly Link
C: I liked how magical this story felt, and the Ghost of Christmas Past element to it, but I spent so much time being confused! The writing style was a little clunky for me and I kept being teased with interesting tidbits about the characters' backgrounds (such as WHY Miranda's seamstress mother is being held in a foreign prison) and felt that a lot of big plot elements were introduced without closure. I'm also still not sure what happened in the end…
L: I completely agree! The magic of this story was really cool, but I had no idea what happened towards the end. There were so many holes in the plot that weren't explained, didn't make sense, or didn't add to the story at all. I didn't mind the writing style and I would possibly be interested in seeing about her other books, but this one just didn't make sense enough at the end for me to fully appreciate it. Judging from other peoples' reviews, it seemed like we weren't the only confused ones!
Cristina's rating: 
    Lauren's rating: 
---
#4- Polaris Is Where You'll Find Me by Jenny Han
C: I actually liked this story more than I was expecting too! The main character came off as a bit spoiled and naive, but the concept of writing from the point of view of the North Pole (and a human trying to learn the customs and culture there) was a really interesting concept! I liked the unique take on elves and the description of the everyday details of life in the North Pole. This story got a lot of points for creativity amidst a lot of contemporary romances.
L: I'm a huge fan of Jenny Han, so it's no surprise that this one was cute and engaging for me. The setting of the North Pole and the whole plot of being adopted by Santa was too adorable and unique to not get some points. I do wish there was a little bit more to it. I also didn't understand why there would even be the issue of her not believing anymore… If I lived with Santa at the North Pole, I would never stop believing! The evidence is right in front of you! Aside from that, I really did love this story. Too unique not to love!
Cristina's rating: 

    Lauren's rating: 

---
#6- Your Temporary Santa by David Levithan
C: This story was very short, and didn't feel like it had a lot of plot or character development, though the writing style was witty and funny. I just didn't feel I connected well with the characters, but I did appreciate the inclusion of an LGBTQ couple in the anthology.
L: Completely agree! I loved that there was an LGBTQ couple. The writing style was definitely my favorite part; it was very funny and well-written. The ending felt too abrupt for me, too. There was a kind of moral/message at the end, but it seemed like it was thrown in very hastily. With a few more pages, I bet this story could have been bumped up a star or two for me.
Cristina's rating: 
    Lauren's rating: 
---
#8- What the Hell Have You Done, Sophie Roth?
C: This is my first time reading Gayle Forman and she didn't disappoint! I really loved that this story focused on college aged young adults because it's such an unexplored age in novels, and the aching homesickness and loss of belonging that one experiences that first semester was captured so spot-on in this story. I loved that Sophie was flawed and was aware of those flaws, and her romance felt awkward and sweet enough to be believable. I also liked that Sophie was Jewish and we as readers got to glimpse some Hanukkah traditions. This story also has my favorite quote from the entire anthology: "There really was no such thing as a minor miracle."
L: I was a bit hesitant because I didn't like If I Stay/Where She Went as much as others did. The one thing I did like about those books was her writing style, though! She has a beautiful way of writing. The story was developed incredibly well and I loved the characters. I was completely homesick my first semester of college so I really related to this one was well. I just loved the whole message behind it all, too. Definitely one of my favorites from the collection.
Cristina's rating: 

    Lauren's rating: 

---
#10- Welcome to Christmas, CA by Kiersten White
C: This story was really unique, as it focused on how important food is to the holidays, and the bonding and relationships that happen over the creation of meals, and the strong ties to memories and love that certain dishes cause for many, especially certain holiday dishes. Maria is a somewhat bitter but determined protagonist, and it's wonderful to see her defenses soften throughout the course of the story and to watch her allow herself to be loved, not just by a romantic interest, but by her family as well. It's a really touching tale of finding the magic and happiness in life despite poverty, and there's just the tiniest hint of magic (a magic of human intuition) that ties the whole story together.
L: On my mini status update review on Goodreads, I actually gave this one "infinity stars." I cried a little bit, too, I'll admit. This one was so great because it was about family, food, and finding yourself. Sometimes all it takes is one person to show enough Christmas spirit to get other people involved. I loved the food aspect of this story and I'd give anything to eat at that diner! I like what you said about how important food is to the holidays. I could see that that was an obvious message of the story but it didn't fully click for me until now. It's not a holiday for me without green bean casserole! My favorite part of this story was definitely about her family. It was just so heartwarming and amazing to see how her impression of them was completely wrong.
Cristina's rating: 

    Lauren's rating: 

---
#12- The Girl Who Woke the Dreamer by Laini Taylor (4 Stars)
C: Beautiful and magical and unparalleled in its prose, this story was the perfect way to end the anthology, as it really evokes a that fairy tale feeling of dreaming yourself to sleep on the tides of magic the night before Christmas. This story is set both in the human world and beyond it, on a foggy, far away isle where a girl is plagued by a ill-intentioned suitor for the annual advent courting season. As she fights for an independence society doesn't want her to have, she awakes a dreamer, a mythical figure from a long-ago pantheon of creator deities. This story was beautiful and magical and tied together with a seamless blend of magic and religion that only Laini Taylor can pull off, and her vivid imagery of the Dreamer and his manipulation- no his synthesis- with the forces of the universe was utterly breathtaking.
L: It took me a really long time to get into this one. It was confusing at first and her writing style is just not for me. I'm not 100% sold on the idea that this should be included in a Christmas story, let alone the last story in the anthology. It didn't leave me with a happy Christmas feeling that I was hoping to end on. To be honest, I may have enjoyed it better if it was nestled towards the middle of the book and the whole thing ended with something fluffier. Nonetheless, like I said, this story took  a bit too long for me to comprehend and appreciate. Within the first few pages I almost just stopped reading it. It was a cool bit of magical realism (kind of? Maybe just magic?) but it didn't click with me for some reason.
Cristina's rating: 

    Lauren's rating: 
---
Continue reading the other half of our discussion on Cristina's blog here!
Lauren Recommends
If you like Stephanie Perkins and her adorably fluffy romantic tales, definitely check out her story in this book: It's a Yuletide Miracle, Charlie Brown! I loved the banter between the characters and seeing their relationship grow quickly in a way that didn't feel fake.
If you like holiday food and stories that will make you a little misty-eyed, check out Kiersten White's story, Welcome to Christmas, CA. You'll love it if you've ever been unsure of where you want to go, had issues with your family, or would love to live in a town called Christmas!
If you like magical realism done right and/or the work of Holly Black, read her incredibly unique story Krampuslauf! This one won't be for everyone, but it's worth checking out if you want something different and magical.
Related Posts