---
I received this book for free (hey, thanks!) in exchange for an honest review. I promise that this does NOT affect my opinion of the book or the content of my review. For real.
The Villa
by
Rachel Hawkins
Genres:
Adult
,
Historical Fiction
,
Mystery/Thriller
Published by
St. Martin's Press
on January 3, 2023
Also by this author:
Rebel Belle
,
Miss Mayhem
,
Lady Renegades
,
Royals
,
Her Royal Highness
,
The Wife Upstairs
,
Reckless Girls
Format:
eARC
(288 pages) •
Source:
Publisher
Goodreads
•
Amazon
•
Barnes & Noble

The bestselling author of The Wife Upstairs returns with a brilliant new gothic suspense set at an Italian villa with a dark history.

As kids, Emily and Chess were inseparable. But by their 30s, their bond has been strained by the demands of their adult lives. So when Chess suggests a girls trip to Italy, Emily jumps at the chance to reconnect with her best friend.

Villa Aestas in Orvieto is a high-end holiday home now, but in 1974, it was known as Villa Rosato, and rented for the summer by a notorious rock star, Noel Gordon. In an attempt to reignite his creative spark, Noel invites up-and-coming musician, Pierce Sheldon to join him, as well as Pierce's girlfriend, Mari, and her stepsister, Lara. But he also sets in motion a chain of events that leads to Mari writing one of the greatest horror novels of all time, Lara composing a platinum album––and ends in Pierce's brutal murder.

As Emily digs into the villa's complicated history, she begins to think there might be more to the story of that fateful summer in 1974. That perhaps Pierce's murder wasn't just a tale of sex, drugs, and rock & roll gone wrong, but that something more sinister might have occurred––and that there might be clues hidden in the now-iconic works that Mari and Lara left behind.

Yet the closer that Emily gets to the truth, the more tension she feels developing between her and Chess. As secrets from the past come to light, equally dangerous betrayals from the present also emerge––and it begins to look like the villa will claim another victim before the summer ends.

Inspired by Fleetwood Mac, the Manson murders, and the infamous summer Percy and Mary Shelley spent with Lord Byron at a Lake Geneva castle––the birthplace of Frankenstein––The Villa welcomes you into its deadly legacy.
I've been following Rachel Hawkins for years – from her YA work to today's adult mystery/suspense fiction – and she remains a lowkey favorite of mine. This book sealed the deal for me and she is still cemented as an auto-buy author.
Some early reviews are a bit mixed but I actually liked both timelines: one takes place in the 70s during the original murder and the other is present day with two best friends staying at the villa. The book was very tense throughout, where you know something bad is going to happen in at least one timeline but probably both. I really loved the ending: it totally surprised me. It's not really a true mystery or thriller but more of a suspense novel, which is definitely still a fun ride. I couldn't put it down and was always so curious to see what would happen next.
The mashup of comps at the bottom of the synopsis ("Inspired by Fleetwood Mac, the Manson murders, and the infamous summer Percy and Mary Shelley spent with Lord Byron at a Lake Geneva castle––the birthplace of Frankenstein") all feel accurate based on m limited knowledge of those three. I would say my own personal comparison is like a much darker version of Daisy Jones and the Six haha.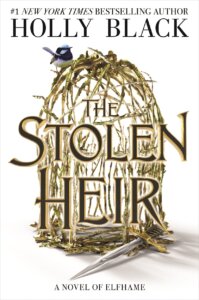 The Stolen Heir
by
Holly Black
Series:
The Stolen Heir #1
Genres:
Young Adult
,
Fantasy
on January 3, 2023
Also by this author:
My True Love Gave To Me
,
The Darkest Part of the Forest
,
The Cruel Prince
,
The Wicked King
,
The Modern Faerie Tales: Tithe, Valiant, and Ironside
,
The Queen of Nothing
,
How the King of Elfhame Learned to Hate Stories
Format:
Hardcover
(358 pages) •
Source:
Purchased
Goodreads
•
Amazon
•
Barnes & Noble

A runaway queen. A reluctant prince. And a quest that may destroy them both.

Eight years have passed since the Battle of the Serpent. But in the icy north, Lady Nore of the Court of Teeth has reclaimed the Ice Needle Citadel. There, she is using an ancient relic to create monsters of stick and snow who will do her bidding and exact her revenge.

Suren, child queen of the Court of Teeth, and the one person with power over her mother, fled to the human world. There, she lives feral in the woods. Lonely, and still haunted by the merciless torments she endured in the Court of Teeth, she bides her time by releasing mortals from foolish bargains. She believes herself forgotten until the storm hag, Bogdana chases her through the night streets. Suren is saved by none other than Prince Oak, heir to Elfhame, to whom she was once promised in marriage and who she has resented for years.

Now seventeen, Oak is charming, beautiful, and manipulative. He's on a mission that will lead him into the north, and he wants Suren's help. But if she agrees, it will mean guarding her heart against the boy she once knew and a prince she cannot trust, as well as confronting all the horrors she thought she left behind.

#1 New York Times bestselling author Holly Black returns to the opulent world of Elfhame in the first book in a thrilling new duology, following Jude's brother Oak, and the changeling queen, Suren.
I love Holly Black and her writing so much. There's truly nothing better than falling back into a familiar world, especially when you thought your time with it was over! THE STOLEN HEIR kicks off a duology featuring Jude's younger brother, Oak (now seventeen), and Wren, the child queen of the Court of Teeth. She's been living feral in the human world and Oak comes to bring her back. I really liked their history and how we got to see Wren and Oak's relationship from when they were children.
I love fantasy books where the main characters are on some kind of quest or traveling between various locations, camping out and running into issues and magical folks along the way. This book really focuses on that journey and all of the things they need to do and buy before meeting with Wren's evil mother back in the faerie world.
Yes, this was not QUITE as good as good as the previous trilogy but who can be mad about 4.5 stars? This book still had the same vibes (honestly a bit darker with some of the creepy and gross magic). Fantasy books are not usually page-turners for me, which is why I've only read a select few since my reading slump began around 2020. I sat down and enjoyed every second of reading this for a few nights before bed. In the final 1/4 of the book, I kept saying "one more chapter" until I just finished it!
This was really twisty and excellent, especially at the end – there were some wild events in here that set up for an exciting sequel. Again, similar vibes to the CRUEL PRINCE and a sliiiightly similar but toned down relationship. I cannot wait to see what happens next!

I received this book for free (hey, thanks!) in exchange for an honest review. I promise that this does NOT affect my opinion of the book or the content of my review. For real.
Lunar Love
by
Lauren Kung Jessen
Genres:
Adult
,
Contemporary
Published by
Forever
on January 10, 2023
Format:
eARC
(336 pages) •
Source:
Publisher
Goodreads
•
Amazon
•
Barnes & Noble

This sweet, enemies-to-lovers debut rom-com filled with Chinese astrology will undoubtedly prove to be a perfect match with readers of Helen Hoang, Jasmine Guillory, and Helena Hunting.

Always a matchmaker, never a match...

Olivia Huang Christenson is excited-slash-terrified to be taking over her grandmother's matchmaking business. But when she learns that a new dating app has made her Pó Po's traditional Chinese zodiac approach all about "animal attraction," her emotions skew more toward furious-slash-outraged. Especially when L.A.'s most-eligible bachelor Bennett O'Brien is behind the app that could destroy her family's legacy . . .

Liv knows better than to fall for any guy, let alone an infuriatingly handsome one who believes that traditions are meant to be broken. As the two businesses go head to head, Bennett and Liv make a deal: they'll find a match for each other—and whoever falls in love loses. But Liv is dealing with someone who's already adept at stealing business ideas . . . so what's stopping him from stealing her heart too?
Chris (my husband) made sure I read this before Lunar New Year to help me get in the spirit ahead of our celebration with his parents that weekend… I'm really glad I did! The story is about rival matchmaking businesses – one uses the Chinese zodiac in a more traditional, in-person way (Liv's family business Lunar Love) and the other riffs on the interpretation for a dating app (ZodiaCupid by Bennett). The two leads end up making a bet that they can get the other one to fall in love using their service/app before the other. Naturally, romance does ensue 😉
Liv was a very stubborn and strong-willed character. It was often frustrating being in her head because she would jump to conclusions SO quickly (and often convince herself of the opposite thing two seconds later – it was like whiplash sometimes). I could generally understand her motivations and reasons for being the way she was, or being nervous about incompatible relationship matches, but I do wish SOME of that background was explored more (like he situations with her ex-boyfriend and her friend). It was frustrating because she lashed out quite a bit or remained super set in her ways for the majority of the book. Bennett was an absolute adorable marshmallow who remained endlessly patient with her – he totally made the book for me. Their rivals-to-more relationship was engaging from the beginning and I loved following them around. The other characters, like Liv's grandmother Po Po, her other family members, and her coworkers were fun to read about too.
I couldn't put this one down honestly – I usually don't have a problem blazing through contemporary romances but something about this book made me keep reading and I finished the book pretty quickly. I loved the exploration of the Chinese zodiac and preparations around Lunar New Year – it was really a great time of year to read this one.
While this is obviously a romance, there were a lot of discussions about family and heritage too. The competing matchmaking businesses brought up so many issues around cultural identity, being mixed race, and traditions vs. modernization. It was very engaging to read about and I highly recommend it to learn more about all of these different things, and how there's not really a one-size-fits-all solution.
Related Posts