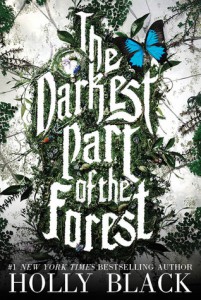 The Darkest Part of the Forest
by
Holly Black
Genres:
Magical Realism
,
Young Adult
Published by
Hachette
on January 13th 2015
Also by this author:
My True Love Gave To Me
,
The Cruel Prince
,
The Wicked King
,
The Modern Faerie Tales: Tithe, Valiant, and Ironside
,
The Queen of Nothing
,
How the King of Elfhame Learned to Hate Stories
,
The Stolen Heir
Format:
Hardcover
(336 pages) •
Source:
Purchased
Goodreads
•
Amazon
•
Barnes & Noble

Children can have a cruel, absolute sense of justice. Children can kill a monster and feel quite proud of themselves. A girl can look at her brother and believe they're destined to be a knight and a bard who battle evil. She can believe she's found the thing she's been made for.

Hazel lives with her brother, Ben, in the strange town of Fairfold where humans and fae exist side by side. The faeries' seemingly harmless magic attracts tourists, but Hazel knows how dangerous they can be, and she knows how to stop them. Or she did, once.

At the center of it all, there is a glass coffin in the woods. It rests right on the ground and in it sleeps a boy with horns on his head and ears as pointed as knives. Hazel and Ben were both in love with him as children. The boy has slept there for generations, never waking.

Until one day, he does…

As the world turns upside down, Hazel tries to remember her years pretending to be a knight. But swept up in new love, shifting loyalties, and the fresh sting of betrayal, will it be enough?
This is definitely not going to be an easy book to review! I got to the end and wasn't even sure how to pull my thoughts together enough for a rating. I mean this in a very good way, but Holly Black's books can just be so delightfully weird that half the time I don't even know if I fully understood it. This was certainly a unique read with lots of nuances and secrets; it had a slow and steady plotline that didn't really have a formal "climax" with a lot of action. I enjoyed that though. I completely forgot how much I love Black's writing style; I know it's not for some people. She is the absolute QUEEN of magical realism, this I know for sure. It gave the book an old-school folklore feel while also being set in modern day.
The Darkest Part of the Forest takes place in a very unique New England (yay!) town that happens to have faeries living in the forest. I won't get too much into the actual plot, because I feel like the action is very slow-burn and I wouldn't want to spoil any of the plot points aside from the ones in the summary. Ben and Hazel are siblings who have spent their lives in love with a horned boy that has slept forever in a glass casket in the forest. Things start getting a bit crazy around the town as the faeries, who usually leave them alone, start injuring the townspeople. The siblings try to figure out what's going on, while simultaneously keeping secrets from each other and navigating their relationship. This was really a book about their bond more so than any romantic relationships (although those did exist too!) I loved that Ben and Hazel had a best-friend-style sibling relationship. It was interesting to see how they viewed the other person though; as Jack said, they each wanted a "little piece of what the other had." Ben is very gifted with music while Hazel is fearless. They each think their sibling is special while they're average. Ben wishes he was braver while Hazel wishes she had a special talent. It was a cool dynamic that I'm sure plagues a lot of siblings.
I had pretty much no idea what to expect from this book as I flipped each page. It was so unique and unpredictable. The last 50 pages or so really threw me, in the best way possible. I won't spoil anything, but just know that a lot of things you think you've got figured out are just not true. It's hard to think of negative aspects about this book, because it was so interesting and well-written. I know a lot of people had some issues with the main characters not being AS developed as they could be, but I didn't really have that issue. I thought that the sibling bond was more than enough. Beyond that, some parts towards the end were kind of confusing. I'm not sure if I just wasn't as focused on it for some reason, but I feel like I missed some of the connections the characters were making and the plans that started unfolding. That issue faded for a little bit though and things became a bit more clear. The real end though…ugh. I don't know. View Spoiler »It feels kind of stupid and counter-intuitive that Ben would stay in the forest to "develop his music." I think he was just being a love-sick puppy at that point. It was a dumb excuse for him to just stop going to school and staying with the faeries. I figured the message of the book would have more strong "siblings stick together" vibes, but that aspect didn't help. « Hide Spoiler The epilogue was a great conclusion to the story though.
I can't lie, it's kind of refreshing that this is a standalone… but I could probably read about the town of Fairfold forever.
---


unique.

coffee in a mason jar, because they were constantly drinking it and I NEED it.

she'd be the wild one who may lie to you from time to time, but has your back when it matters most… and would kill anyone who talked shit.

people looking for an incredibly unique read.

any other books by Holly Black!
you already know you don't like Black's writing, aren't into fae stories, or are looking for something action-packed and fast-paced.
---
Related Posts