I received this book for free (hey, thanks!) in exchange for an honest review. I promise that this does NOT affect my opinion of the book or the content of my review. For real.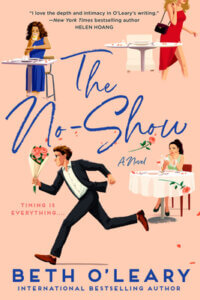 The No-Show
by
Beth O'Leary
Genres:
Adult
,
Contemporary
Published by
Penguin Random House
on April 12, 2022
Also by this author:
The Flatshare
,
The Switch
,
The Road Trip
Format:
eARC
(352 pages) •
Source:
Publisher
Goodreads
•
Amazon
•
Barnes & Noble

Three women who seemingly have nothing in common find that they're involved with the same man in this smart new rom-com by Beth O'Leary, bestselling author of The Flatshare.

Siobhan is a quick-tempered life coach with way too much on her plate. Miranda is a tree surgeon used to being treated as just one of the guys on the job. Jane is a soft-spoken volunteer for the local charity shop with zero sense of self-worth.

These three women are strangers who have only one thing in common: They've all been stood up on the same day, the very worst day to be stood up--Valentine's Day. And, unbeknownst to them, they've all been stood up by the same man.

Once they've each forgiven him for standing them up, they let him back into their lives and are in serious danger of falling in love with a man who seems to have not just one or two but three women on the go....

Is there more to him than meets the eye? And will they each untangle the truth before they all get their hearts broken?
Oh man. This was such a fascinating reading experience and not what I was expecting at all.
THE NO-SHOW story centers around Siobhan, Miranda, and Jane, as they all date Joseph Carter. They each suspect him of cheating or think he's hiding something when he doesn't show up for their Valentines Day plans. The story alternates between their three perspectives, so I expected this to be some kind of John Tucker Must Die story (like Cristina said in her review!) where they all figure out what's happening and go for the jugular with this dude.
Overall… that was kind of masterfully written. I shouldn't have doubted Beth O'Leary like I initially did. The first 3/4 of the book was honestly a little tough to get into. I mean, this dude is dating three women. Why would I want to read that? Who am I supposed to root for as a couple? Are the girls going to get together and seek revenge? Well, without spoiling anything, things certainly changed in the final act. I got very unexpectedly emotional and it was not a light or girl-power-filled "rom-com" like I thought it would be. I'll leave it at that!
It's hard to fully review this without majorly spoiling where things go. I think this was definitely worth the read and in the end, I REALLY enjoyed it. I think I could have rated it a bit higher but it was not the most fun to read for the first half or so. I liked the characters but again it was hard to really root for anyone based on the structure of the story.
---
I received this book for free (hey, thanks!) in exchange for an honest review. I promise that this does NOT affect my opinion of the book or the content of my review. For real.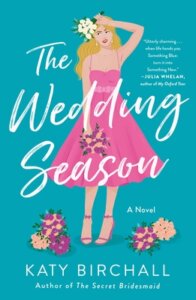 The Wedding Season
by
Katy Birchall
Genres:
Adult
,
Contemporary
Published by
Macmillan
on May 3, 2022
Format:
eARC
(384 pages) •
Source:
Publisher
Goodreads
•
Amazon
•
Barnes & Noble

Four Weddings and a Funeral meets The Wedding Party in Katy Birchall's The Wedding Season: when a recently jilted bride is forced to attend seven weddings in one summer, her friends devise a series of challenges as distraction.

Freya Scott is getting married. Her wedding to Matthew, her long-term boyfriend, is the first of eight in her calendar this year, and as someone who prides herself on being meticulously organized, Freya is intent on making it the perfect day to remember.

But when Matthew calls things off hours before they walk down the aisle, Freya's entire life plan goes up in smoke. Humiliated and heartbroken, the last thing she wants is to attend a summer of other peoples' nuptials on her own.

Fortunately, her friends have an idea: together they devise a series of outrageous challenges for Freya to complete at each event, designed to distract her from Matthew and what might have been. From getting stuck in an old church bathroom and needing to be rescued by the vicar to making out with a barman at a French chateau, Freya realizes that despite herself, she might just be having fun.

By the time the final wedding arrives, she will discover that the road to a happy ending sometimes has unexpected detours, that "I do" is only the beginning––and that perhaps her own love story isn't over just yet.
This story centers around Freya as she approaches the "wedding season" in her life, all in one summer/fall. Her wedding is due to be the first to kick it off and her best friends Leo and Ruby are getting married in the fall to finish the season. She has seven weddings to attend within this timeframe! When her fiance, Matthew, unexpectedly calls of the wedding and breaks things off with her the day before her wedding, she's sent into a tailspin. They've been together for 12 years – how is he just now realizing that maybe he doesn't want to be with her!? And, to make it all worse, she has to attend all of these weddings of her friends and family members (a) without Matthew and (b) as the girl who was stood up basically at the altar. She's dreading it until Leo and Ruby come up with a list of challenges she has to complete – one per wedding throughout the season. She decides to play along and see how the season goes with her mind focused on the list instead of her breakup.
Honestly this book wasn't what I expected! Don't go into this thinking it'll be a rom-com. There is romance and there's definitely some comedy but it's more about getting over the breakup and moving on than anything else. I thought it'd be lighter. Freya spends a ton of time going back and forth on Matthew, essentially waiting for him to come back to her and realize he messed up. I wanted to shake her a lot and make her realize that she was much better off without him.
Freya meets some great people along her journey during the wedding season and I loved seeing her growth, especially with her relationship with her mom. I absolutely loved these characters – Leo and Ruby especially were so great. I would love a prequel story about how the two of them went from best friends to dating!
I was genuinely laughing out loud a lot, which was nice for a book that's kind of sad on and off throughout. It was fun to watch her complete the challenges and the funny ways each one ended up happening. I loved this book throughout, especially once I adjusted my expectations a bit. I highly recommend it as long as you don't expect a cheery romantic comedy without its fair share of more sad/serious moments.
Related Posts