I received this book for free (hey, thanks!) in exchange for an honest review. I promise that this does NOT affect my opinion of the book or the content of my review. For real.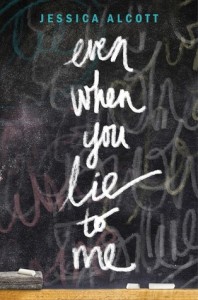 Even When You Lie to Me
by
Jessica Alcott
Genres:
Contemporary
,
Young Adult
Published by
Random House
on June 9th 2015
Format:
ARC
(352 pages) •
Source:
Borrowed
Goodreads
•
Amazon
•
Barnes & Noble
Fans of John Green's Looking for Alaska as well as Lauren Oliver and Sarah Dessen  will embrace this provocative debut novel, an exploration of taboo love set against the backdrop of a suburban high school.

Charlie, a senior, isn't looking forward to her last year of high school. Another year of living in the shadow of her best friend, Lila. Another year of hiding behind the covers of her favorite novels. Another year of navigating her tense relationship with her perfectionist mom.

But everything changes when she meets her new English teacher. Mr. Drummond is smart. Irreverent. Funny. Hot. Everyone loves him. And Charlie thinks he's the only one who gets her.   She also thinks she might not be the only one with a crush.

In this stunning debut, Jessica Alcott explores relationships--and their boundaries--in a way that is both searingly honest and sympathetic.

If you're looking for a compelling novel that "explores sexuality – and its boundaries – in a way that's both searingly honest and sympathetic," you should probably go elsewhere. That was part of the blurb on the ARC, but I noticed the word "sexuality" was replaced with "relationships" on the Goodreads synopsis. I can see why it was changed, because that word would make a lot more sense.
This was a tough one. It was compulsively readable – and really, I couldn't stop – but at the same time… boring? Not sure how that's possible, but it just was. I kept racing to see what was going to happen (more like see WHEN things were finally going to happen) but ended up disappointed by the end. This is a classic case of expectations (and a synopsis) leading to disappointment. I expected that this would be a romantic, sexual, forbidden love kind of story. It really was just about COMPLETELY self-loathing and self-conscious girl flirting with and pining over her English teacher. Things eventually get to the point you're expecting, but it takes foreeeeever and happens way too late in the book to impact me.
The main character, Charlie, is totally shy and complains about how ugly she is. This is, of course, off-set by the fact that her best friend, Lila, is the complete opposite. She's confident, loud, and attractive. Because of course. They had a really weird dynamic; I don't even know how to explain it. There was so much insecurity radiating from Charlie at all times; it really got on my nerves. The book continues to imply that her mom, who is really attractive, makes her feel inferior and is a perfectionist. Okay, fine, but WHY? This whole piece was so underdeveloped and bland. I wrote in my notes "what's the deal with her mom?" because I kept thinking there was going to be some big reveal of a traumatic experience that led them to that point. Nope. Just her mom being hyper-critical and Charlie being hyper-sensitive. HOWEVER, there were some moments where I did like Charlie. Her thoughts were often honest and blunt, and her banter with Lila and Mr. Drummond was really funny at times. But otherwise, I just didn't like her.
I did ship Charlie and Drummond right off the bat… until I realized he was just one of those creepy teachers who flirts with everyone. And it took forever to get to a point where there was something REAL to ship. And then I just felt uncomfortable. There were lots of pages of creepy description about Drummond and her admiring him from afar. They didn't interact as much as I thought, and I think it was because the book was spaced over a whole school year.
My first thought when I got to the end of the book was that it just felt unfinished in a lot of ways – not necessarily because of a cliffhanger. I think the ending was…okay..?… but the whole book felt like someone came through and dashed away some details to make it seem more ~mysterious~ or something. I don't know if that makes any sense, but it's almost like it was trying too hard to be like the authors referenced in the synopsis (John Green, Lauren Oliver, Sarah Dessen????) that it just didn't work.
I read this book and wrote the review a long time ago, but am now revisiting it. I don't remember anything about the book aside from the basics, and it's gotta get knocked down a peg for that.
Goodreads Gut Reaction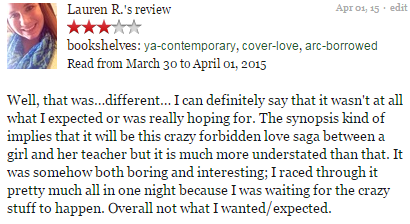 (My Goodreads Gut Reaction shows the small review that I posted on Goodreads, which is written immediately after finishing the book. It gives my overall thoughts on the book with my instant reaction and rating.)
Related Posts