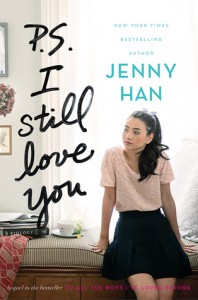 P.S. I Still Love You
by
Jenny Han
Series:
To All the Boys I've Loved Before #2
Genres:
Contemporary
,
Young Adult
Published by
Simon and Schuster
on May 26th 2015
Also by this author:
To All the Boys I've Loved Before
,
Always and Forever, Lara Jean
Format:
Hardcover
(352 pages) •
Source:
Purchased
Goodreads
•
Amazon
•
Barnes & Noble

Lara Jean didn't expect to really fall for Peter.
She and Peter were just pretending. Except suddenly they weren't. Now Lara Jean is more confused than ever.
When another boy from her past returns to her life, Lara Jean's feelings for him return too. Can a girl be in love with two boys at once?

In this charming and heartfelt sequel to the New York Times bestseller To All the Boys I've Loved Before, we see first love through the eyes of the unforgettable Lara Jean. Love is never easy, but maybe that's part of what makes it so amazing.

It's kind of impossible to review this book. I think my review of its predecessor involved a lot of flailing, since it was easily in my top 2 favorite books last year. I definitely am leaning towards the same type of review… I've been staring at this blank screen for a while.
I sincerely loved this. It completely met (and probably exceeded) my expectations. There was a LOT of pressure for this book to be spectacular! Everyone and their mother needed to know what happened next with Lara Jean and Peter. Seeing that the next book's synopsis mentioned a love triangle definitely got some people upset. BUT WE LOVE PETER, WHAT R U DOING LARA JEAN?!?! I admit I was one of those people. But honestly, this book was so sweet and real. I don't mind love triangles if they feel believable and realistic. I had been in similar situations when I was her age. Love triangles happen when you're a teenager – they really do. I looooved John and I loooooooved Peter (yes, Peter gets a few more O's for obvious reasons), so I felt like I was struggling along with Lara Jean. The whole book was just adorable. I'm not sure how else to describe it.
As usual, Kitty was my favorite. I love everything about her. After reading a lot of reviews on the first book, many people complained that Lara Jean seemed a bit too young. This didn't bother me as much in the first book for some reason and I didn't notice it. I think those people got into my head a little bit for this book because she definitely seemed kind of immature and young. It wasn't enough to actively bug me or alter my rating, but its worth noting I guess.
"There's a Korean word my grandma taught me. It's called jung. It's the connection between two people that can't be severed, even when love turns to hate. You still have those old feelings for them; you can't ever completely shake them loose of you; you will always have tenderness in your heart for them."
I think the issues with Genevieve and moving on from her childhood were also handled so well and so realistically. I loved the above quote for that reason. There are so many people in my life that it applies to. I don't want to share too much about that, but I really enjoyed it.
I tried to give this book 4.5 stars just because I didn't love it exactly as much as the first… but that just felt wrong. I had to go with a perfect score because it was just so, so good. It's exactly what I wanted and needed from Lara Jean and co. in this second book. I wish there were more in this series, but I'm super happy with the ending. A lot of people thought it was kind of open-ended, but I really thought there was a great mix of closure and openness.
I wish there was more to say about this book but I can't really put it to words. I love Jenny Han's writing style and characters. This book was adorable, sweet, and real. I related so much to Lara Jean in this book (and in the previous), which is probably why they're so high on my favorites list.
Related Posts