In an effort to cut down on posts and burnout, my Review Roundups will feature 2-4 books I've read or listened to recently. Sometimes they're newer releases and sometimes they're all backlist titles. My ARC reviews usually get the solo treatment. Enjoy the mini reviews!
---
Behind the Red Door
by
Megan Collins
Genres:
Adult
,
Mystery/Thriller
Published by
Simon and Schuster
on August 4, 2020
Also by this author:
The Winter Sister
Format:
Audio/eBook
(320 pages) •
Source:
Scribd
Goodreads
•
Amazon
•
Barnes & Noble
The author of the "suspenseful, atmospheric, and completely riveting" (Megan Miranda, New York Times bestselling author) debut The Winter Sister returns with a darkly thrilling novel about a woman who comes to believe that she has a connection to a decades old kidnapping and now that the victim has gone missing again, begins a frantic search to learn what happened in the past.

When Fern Douglas sees the news about Astrid Sullivan, a thirty-four-year-old missing woman from Maine, she is positive that she knows her. Fern's husband is sure it's because of Astrid's famous kidnapping—and equally famous return—twenty years ago, but Fern has no memory of that, even though it happened an hour outside her New Hampshire hometown. And when Astrid appears in Fern's recurring nightmare, one in which a girl reaches out to her, pleading, Fern fears that it's not a dream at all, but a memory.

Back home in New Hampshire, Fern purchases a copy of Astrid's recently published memoir—which may have provoked her original kidnapper to abduct her again—and as she reads through its chapters and visits the people and places within it, she discovers more evidence that she has an unsettling connection to the missing woman. As Fern's search becomes increasingly desperate, she hopes to remember her past so she can save Astrid in the present…before it's too late.

Featuring Megan Collins's signature "dark, tense, and completely absorbing" (Booklist) prose and plenty of shocking twists and turns, Behind the Red Door is an arresting thriller that will haunt you long after you turn the last page.
I met Megan Collins at a book signing/talk when she released THE WINTER SISTER. I didn't love that book but did enjoy her writing style. Collins is a local Connecticut author who teaches creative writing at the college Chris went to for a bit. I'll always read and support her books for these reasons! However, this one was definitely a bit disappointing for me.
Fern is headed to help her terrible father pack up his house so he can move to Florida. As a character, I enjoyed reading about her – she has major anxiety, has an amazing and thoughtful husband, and works as a social worker. When she and her husband see that Astrid Sullivan, a girl who went missing and returned somewhat unharmed as a child, has gone missing again, Fern feels like she knows her somehow. But how?
She starts to find out bits of information from her past, as well as a shared history or common locations with Astrid, when she's at home with her dad in New Hampshire. There are a ton of suspicious people and red herrings all around New Hampshire and Maine that Collins brings in to divert the reader.
There are a lot of times where I SAY that I predicted the ending of a mystery, but that usually means I had a strong prediction about the culprit but haven't 100% figured out why or how they did it. I'm not always right with that, but I feel like I do a good job of figuring out who the bad guy is. Unfortunately for this book, I literally figured out the entire ending. Multiple parts, lots of little mysteries – I figured it all out completely, leaving absolutely nothing to surprise me. It's certainly hard to recommend a mystery/thriller where the ending was so predictable, but I blazed through this – it was really addicting and I enjoyed the journey a lot.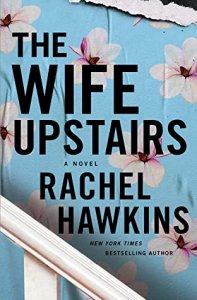 The Wife Upstairs
by
Rachel Hawkins
Genres:
Adult
,
Mystery/Thriller
Published by
Macmillan
on January 5, 2021
Also by this author:
Rebel Belle
,
Miss Mayhem
,
Lady Renegades
,
Royals
,
Her Royal Highness
,
Reckless Girls
,
The Villa
Format:
Audio/Physical
(304 pages) •
Source:
Scribd
,
Book of the Month
Goodreads
•
Amazon
•
Barnes & Noble

"Compulsively readable...a gothic thriller laced with arsenic." ––EW
One of the Most Anticipated Books of 2021: CNN • Newsweek • Vulture • PopSugar • TimeOut • Woman's Day • Goodreads • She Reads • Good Housekeeping • CrimeReads • Frolic • Hello! • Mystery and Suspense
January 2021 Indie Next Pick and #1 LibraryReads Pick
A delicious twist on a Gothic classic, The Wife Upstairs pairs Southern charm with atmospheric domestic suspense, perfect for fans of B.A. Paris and Megan Miranda.

Meet Jane. Newly arrived to Birmingham, Alabama, Jane is a broke dog-walker in Thornfield Estates––a gated community full of McMansions, shiny SUVs, and bored housewives. The kind of place where no one will notice if Jane lifts the discarded tchotchkes and jewelry off the side tables of her well-heeled clients. Where no one will think to ask if Jane is her real name.

But her luck changes when she meets Eddie Rochester. Recently widowed, Eddie is Thornfield Estates' most mysterious resident. His wife, Bea, drowned in a boating accident with her best friend, their bodies lost to the deep. Jane can't help but see an opportunity in Eddie––not only is he rich, brooding, and handsome, he could also offer her the kind of protection she's always yearned for.

Yet as Jane and Eddie fall for each other, Jane is increasingly haunted by the legend of Bea, an ambitious beauty with a rags-to-riches origin story, who launched a wildly successful southern lifestyle brand. How can she, plain Jane, ever measure up? And can she win Eddie's heart before her past––or his––catches up to her?
With delicious suspense, incisive wit, and a fresh, feminist sensibility, The Wife Upstairs flips the script on a timeless tale of forbidden romance, ill-advised attraction, and a wife who just won't stay buried. In this vivid reimagining of one of literature's most twisted love triangles, which Mrs. Rochester will get her happy ending?
I've enjoyed the Rachel Hawkins books I've read so far and her new releases always end up on my radar. I would say that her first foray into adult mystery/thriller was a success! I haven't read Jane Eyre so this wasn't the hook for me – I was fascinated by this idea and the title! Would the wife somehow literally be upstairs? Was this a metaphor for her presence lingering around the house and in their relationship?
This book actually managed to surprise me at multiple turns. There's a spoilery comparison to another popular mystery/thriller that I want to make here but I think it would spoil it for people who haven't read both books, so I'll refrain. The southern Gothic vibes were awesome, and I usually don't reach for books within that setting or genre very often. Hawkins does a really great job with it time and time again, regardless of the genre (her YA series REBEL BELLE was awesome).
I don't know why or how to explain it, but there was some OOMPH just missing from this one. I don't think it was an issue with twists and turns or suspense. Maybe it was about Jane as a character? I'm not sure. It's not an all-time favorite but I loved the ride. I was so addicted! I needed this book to deliver for me and it definitely did. I would also recommend the audiobook; the narrator was excellent.

The Cousins
by
Karen M. McManus
Genres:
Young Adult
,
Mystery/Thriller
Published by
Penguin Random House
on December 1, 2020
Also by this author:
One of Us is Lying
,
Two Can Keep a Secret
,
One of Us Is Next
,
You'll Be the Death of Me
,
Nothing More to Tell
,
One of Us Is Back
Format:
Hardcover
(337 pages) •
Source:
Library
Goodreads
•
Amazon
•
Barnes & Noble

Milly, Aubrey, and Jonah Story are cousins, but they barely know each another, and they've never even met their grandmother. Rich and reclusive, she disinherited their parents before they were born. So when they each receive a letter inviting them to work at her island resort for the summer, they're surprised... and curious.

Their parents are all clear on one point—not going is not an option. This could be the opportunity to get back into Grandmother's good graces. But when the cousins arrive on the island, it's immediately clear that she has different plans for them. And the longer they stay, the more they realize how mysterious—and dark—their family's past is.

The entire Story family has secrets. Whatever pulled them apart years ago isn't over—and this summer, the cousins will learn everything.

From the #1 New York Times bestselling author of One of Us Is Lying comes your next obsession. You'll never feel the same about family again.
Man, I feel like I waited forever for this library hold to come in! I finally started reading it mid-January and had requested it before the pub date. Either way, I'm (clearly) always excited to read a new Karen M. McManus book! I've largely enjoyed all of her stories and she's been an auto-read author ever since her debut. I need this kind of addicting, easy-to-read YA mystery on my TBR at all times.
I heard ahead of starting this one that it was a little more contemporary and less mystery and murder. Still involved those, for the most part, but reads more like a family history drama. Its set off the coast of Massachusetts on a small island near Nantucket/Martha's Vineyard. Realistically, that was enough to sell me even if this was by another author. Three cousins – Milly, Aubrey, and Jonah – are forced onto the island to work for the summer by their parents, at the request of their estranged grandmother. They soon realize how complicated and dark their family's history actually is.
Definitely true that this is slightly more on the contemporary side of mystery/thriller. I liked learning about Jonah, Milly, and Aubrey. There were some good twists and turns throughout too! I didn't see the ending coming at all, which is a pleasant surprise – I've been a little too good at guessing culprits/endings for mysteries lately.
If thrillers or murder mysteries are too much for you, this is a really light version that I think most people could handle.
Related Posts