I received this book for free (hey, thanks!) in exchange for an honest review. I promise that this does NOT affect my opinion of the book or the content of my review. For real.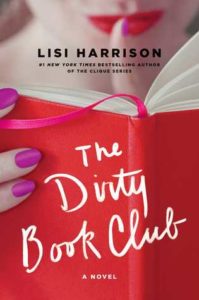 The Dirty Book Club
by
Lisi Harrison
on October 10th 2017
(320 pages) •
Goodreads
•
Amazon
•
Barnes & Noble

From the #1 New York Times bestselling author of The Clique series comes a novel about the importance of friendship, and, of course, the pleasure of a dirty book.

M.J. Stark's life is picture-perfect—she has her dream job as a magazine editor, a sexy doctor boyfriend, and a glamorous life in New York City. But behind her success, there is a debilitating sense of loneliness. So when her boss betrays her and her boyfriend offers her a completely new life in California, she trades her cashmere for caftans and gives it a try. Once there, M.J. is left to fend for herself in a small beach town, with only the company of her elderly neighbor, Gloria, and an ocean that won't shut up.

One afternoon, M.J. discovers that Gloria has suddenly moved to Paris with her friends to honor a fifty-year-old pact. And in lieu of a goodbye, she's left a mysterious invitation to a secret club—one that only reads erotic books. Curious, M.J. accepts and meets the three other hand-selected club members. As they bond over naughty bestsellers and the shocking letters they inherited from the original club members, the four strangers start to divulge the intimate details of their own lives… and as they open up, they learn that friendship might just be the key to rewriting their own stories: all they needed was to find each other first.
Initial Excitement & Summary
Lisi Harrison's CLIQUE series was one of my favorites back in the day. I used to count down new book releases on my white board before Goodreads was really a thing, and this was one of those series I'd try to track. When I saw that she was releasing an interesting-sounding adult contemporary, I was immediately on board. The book showed up on Goodreads YEARS ago and I was pretty convinced it would never come out. So, you can imagine how pumped I was when I was approved on Netgalley. I read it ASAP in July. ?
The premise for this one is that MJ finally moves to California to be with her long-distance boyfriend. She befriends her elderly neighbor, Gloria, who once had a Dirty Book Club with a few of her best friends. They vowed to move to Paris when their husbands all died and the day finally comes, so they pass along the DBC to MJ and three other women.
Storytelling
I was looking for something like The Seven Husbands of Evelyn Hugo and honestly this book is the closest I've come in some ways. I loved the inter-generational storyline of both books and the fact that they revolved around some kind of media (Evelyn as a movie star and Gloria/her friends reading dirty books). Both involved magazines and journalist main characters too. I don't think they're exactly the same, but if you're looking for something similar… maybe give this one a shot!
Okay, so I reaaaallly loved this book. I'm not sure if it was one of those things where I just read it at the right time (meaning immediately when I was really in the mood for it) or if this book is really a five star read, but I just really enjoyed it so much. So, maybe take my rating with a grain of salt? lol.
The book mixes in the history of the DBC with letters from their meetings, and the fact that the new DBC read the same books as the old DBC. The newer club brought together four very different women, which was also true of the original DBC. There was one sexual member, one very religious member, one dealing with infidelity, and one who can really just be described as the leader. I loved that different women came together and used the dirty books to empower themselves in each other, regardless of what year it was.
There was one scene in this book that had me absolutely rolling with laughter. If you decide to read it, the scene where they're in the hotel room. It involves a lot of alcohol, cornrows, and a Disney sleep shirt. The book overall made me smile a lot, which is a huge plus, but there were some heavier issues too. MJ lost her family in one swoop before the book takes place, which obviously impacts her throughout.
Negatives & Ending Feels
MJ was fairly annoying at times because of her wishy-washy feelings toward everything – her job, her boyfriend, the book club… I wasn't super attached to her. The other women were really interesting to me and I think they were highlighted enough to make up for that. I didn't dislike MJ and I did mostly like her.
The ending was interesting. I do have mixed feelings about how some things went down but I think a lot of it was appropriate kind of? The women end up in a few different places that make sense for each of them but not everything was a happily ever after.
TL;DR?
If you have a group of girls you can read sexy books with (or even if you don't), yo u should give this one a try. I loved seeing how the two different DBCs ran meetings, grew closer, and connected over the years. It kind of scratched the itch I had after EVELYN HUGO, which is a pretty big compliment. I liked how empowered the women became in very different ways as they all figured out what they wanted out of life.
Thoughts in a Gif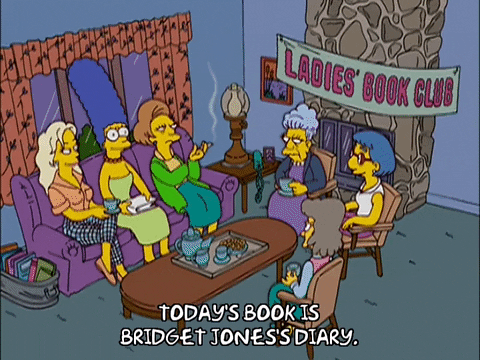 Related Posts