I received this book for free (hey, thanks!) in exchange for an honest review. I promise that this does NOT affect my opinion of the book or the content of my review. For real.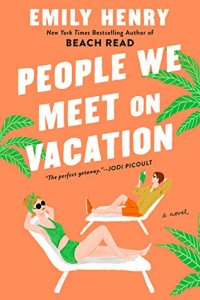 People We Meet on Vacation
by
Emily Henry
Genres:
Adult
,
Contemporary
Published by
Penguin Random House
on May 11, 2021
Also by this author:
Beach Read
,
Book Lovers
,
Happy Place
Format:
eARC
(384 pages) •
Source:
Publisher
Goodreads
•
Amazon
•
Barnes & Noble


Two best friends. Ten summer trips. One last chance to fall in love.


Poppy and Alex. Alex and Poppy. They have nothing in common. She's a wild child; he wears khakis. She has insatiable wanderlust; he prefers to stay home with a book. And somehow, ever since a fateful car share home from college many years ago, they are the very best of friends. For most of the year they live far apart—she's in New York City, and he's in their small hometown—but every summer, for a decade, they have taken one glorious week of vacation together.

Until two years ago, when they ruined everything. They haven't spoken since.

Poppy has everything she should want, but she's stuck in a rut. When someone asks when she was last truly happy, she knows, without a doubt, it was on that ill-fated, final trip with Alex. And so, she decides to convince her best friend to take one more vacation together—lay everything on the table, make it all right. Miraculously, he agrees.

Now she has a week to fix everything. If only she can get around the one big truth that has always stood quietly in the middle of their seemingly perfect relationship. What could possibly go wrong?

From the New York Times bestselling author of Beach Read, a sparkling new novel that will leave you with the warm, hazy afterglow usually reserved for the best vacations.
I read and loved BEACH READ, like many others, but I know that was somewhat polarizing. Lots of readers didn't think it was really a rom-com, since it centered around some heavier family or career-related elements, and the cover doesn't totally match the vibe. However, I adored it for what it was and that whole thing didn't affect my enjoyment whatsoever. I had really high hopes and expectations for PEOPLE WE MEET ON VACATION as a result.
Oh MAN, did this book deliver. Complete banter-y perfection. I saw a few people call Emily Henry's writing "witty" and that's such a great way to describe it. The characters in this book especially were so hilarious. I adored getting to know Poppy, Alex, and all of their inside jokes. The story follows the two of them after a two-year friendship hiatus. It goes back and forth between ten summer trips they've taken across ten years, and the present day vacation in Palm Springs. It recounts their many years of friendship, where their annual summer trips are the key grounding point in their relationship. There are always tiny hints of what-if-we-were-more, but the two of them also have a few relationships with other people to navigate as well. You also spend most of the book what happened during the dreaded Croatia trip that made them stop speaking for two years.
Poppy is so unique and her family life fascinated me. Her parents and brothers sounded wonderful and quirky. She had a fun sense of style and a passion for travel and writing that led to her career with a travel magazine. She met Alex at college even though they lived in the same town (they went to different high schools). He is completely different than her in most ways but you can really tell how she brings out the weird in him, in the best possible way. He also has an interesting family dynamic that I enjoyed exploring, especially through his brother's wedding that takes place during the book too.
The two of them started taking cheap trips during college and kept up the annual tradition, regardless of how much (or how little!) money they could spend. Over time, as Poppy started blogging about travel and then working at the magazine, the trips got bigger and more expensive. They go back to their roots during the Palm Springs trip and try to make it budget-friendly for old times sake.
The amount of banter and inside jokes in this book was on another level. I read this a lot at night while Chris was asleep and I'm genuinely surprised I didn't wake him up multiple times from laughing. The ending was so sweet and perfect for the two of them. I cannot recommend this book enough if you want to goofy-smile the entire time you're reading.
---
I received this book for free (hey, thanks!) in exchange for an honest review. I promise that this does NOT affect my opinion of the book or the content of my review. For real.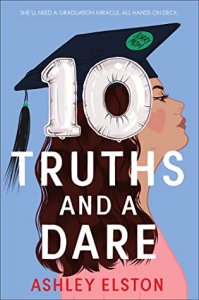 10 Truths and a Dare
by
Ashley Elston
Series:
10 Blind Dates #2
Genres:
Young Adult
,
Contemporary
Published by
Disney-Hyperion
on May 4, 2021
Also by this author:
10 Blind Dates
Format:
eARC
(304 pages) •
Source:
Publisher
Goodreads
•
Amazon
•
Barnes & Noble

It's Senior Week, that magical in-between time after classes have ended but before graduation, chock-full of gimmicky theme parties, last-minute bonding, and family traditions. Olivia couldn't be more ready. Class salutatorian and confident in her future at LSU, she's poised to sail through to the next phase of her life.

But when the tiny hiccup of an unsigned off-campus P.E. form puts Olivia in danger of not graduating at all, she has one week to set things straight without tipping off her very big and very nosy extended family. Volunteering to help at a local golf tournament should do it, but since Olivia's mom equipped her phone with a tracking app, there'll be no hiding the fact that she's at the golf course instead of all the graduation parties happening at the same time. Unless, that is, she can convince the Fab Four--her ride-or-die cousins and best friends Sophie, Charlie, and Wes--to trade phones with her as they go through the motions of playing Olivia for the week.

Sure, certain members of the golf team are none too pleased with Olivia's sudden "passion" for the game. And sure, a very cute, very off-limits boy keeps popping up in Olivia's orbit. But she is focused! She has a schedule and a plan! Nothing can possibly go wrong . . . right?
I adored 10 BLIND DATES so the news of a companion novel within the same family was amazing. I requested it so quickly. Naturally, I would have loved for this book to also be a holiday book, but I'm a huge fan of graduation-related books too. I knew I couldn't go wrong.
While my reading at the end of April took a nosedive for various reasons, I became addicted to this one when I finally sat down and made the time to read it. I finished over half of the book one morning and didn't even realize I was nearing the end! Elston has such an engaging writing style and her characters are so entertaining.
This book centers around Sophie's cousin, Olivia, as she struggles to make up for lost PE credits during her senior week. She's tasked with working a local golf tournament during their senior week, missing grad parties and fun events along the way. The catch? No one in her family (except her cousins in the Fab Four of course) knows the situation with her missing half-credit. AND her mom just recently installed a location app on her phone, so she needs her phone to be at all of the grad parties that week to look "normal." Sophie, Wes, and Charlie are responsible for bringing Sophie's phone where it needs to be while she works at the country club. Naturally, this scenario causes a lot of issues, lies, and miscommunications. It usually would annoy me but Elston's writing made it way more entertaining and fun instead of stressful and frustrating.
It was also really fun to spend a few paragraphs in each chapter inside the cousins' heads, plus Wes, while they babysat Olivia's phone. The whole family is what makes these books so good – I could read more from every single character perspective. We start to even KIND OF see a turn about the Evil Joes – I'd be so curious to read what goes on in their heads!
There's a little romance, which is somewhat important in the book, but I found myself more interested in everything else. Leo was a nice character overall but honestly? There was not a ton of character development for him or their relationship. I liked their flirting and thought they would be a nice pair, but the romance was not center stage here from a development perspective.
All in all, this was a lovely companion to 10 BLIND DATES and has put Eltson on my auto-buy list (at least for her contemporaries – I haven't tried her others yet!). The romance was lacking a little bit for me and it didn't have exactly the same magic as its predecessor, which is why it's rated slightly less. I think waiting to see what would happen on all ten blind dates is what made book one so fun, especially as we got to know each family member setting them up, and this one had less of a "theme." (There were truths to start each chapter and fun party themes, but that's about it.) If you liked her previous book, you will love this one too.
Related Posts