In an effort to cut down on posts and burnout, my Review Roundups will feature 2-4 books I've read or listened to recently. Sometimes they're newer releases and sometimes they're all backlist titles. My ARC reviews usually get the solo treatment. Enjoy the mini reviews!
---
I received this book for free (hey, thanks!) in exchange for an honest review. I promise that this does NOT affect my opinion of the book or the content of my review. For real.
Beach Read
by
Emily Henry
Genres:
Adult
,
Contemporary
Published by
Penguin
on May 19, 2020
Also by this author:
People We Meet on Vacation
,
Book Lovers
Format:
eARC
(384 pages) •
Source:
Publisher
Goodreads
•
Amazon
•
Barnes & Noble

A romance writer who no longer believes in love and a literary writer stuck in a rut engage in a summer-long challenge that may just upend everything they believe about happily ever afters.

Augustus Everett is an acclaimed author of literary fiction. January Andrews writes bestselling romance. When she pens a happily ever after, he kills off his entire cast.

They're polar opposites.

In fact, the only thing they have in common is that for the next three months, they're living in neighboring beach houses, broke, and bogged down with writer's block.

Until, one hazy evening, one thing leads to another and they strike a deal designed to force them out of their creative ruts: Augustus will spend the summer writing something happy, and January will pen the next Great American Novel. She'll take him on field trips worthy of any rom-com montage, and he'll take her to interview surviving members of a backwoods death cult (obviously). Everyone will finish a book and no one will fall in love. Really.
Woo, boy. I had HIGH expectations for this book. A few bloggers/booktubers I follow closely loved this one (and Madalyn told me I'd love it) so I was really preparing to be wowed. And I totally was. This book exceeded my lofty expectations.
January, a romance writer, and her college nemesis and literary fiction writer, Gus, end up neighbors in a sleepy Michigan beach town for the summer. January is getting through the death of her father and all of the secrets she's learned in the wake of his passing, all while trying to clear his house (and second life) and write a new book. She's not feeling very romance-y at the moment and when her and Gus meet up, they decide to swap genres for the summer and see if that breaks their writer's block. Naturally, they get closer throughout the summer, and take each other on genre-relevant field trips so the other person really learns what they should be writing about.
I LOVED that this book was very much a typical romance book (and sort of a love letter to the genre) while also managing to invent new tropes. Who knew that TWO grumpy main characters could be so perfect?! Usually you have one grumpy and one happy, with the happy one trying to make the grumpy one finally soften up. January and Gus both had different reasons to be salty with each other and with the world, which led to some amazing banter between the two. Their chemistry was so refreshing and their relationship felt natural to me.
I adored the side characters, like Pete and Shadi. Every aspect of both characters' lives felt well-done and fully fleshed out, which can be hard when you're not writing a dual-POV (in my opinion). I felt like I knew both characters intimately by the time it was over. I don't want to spoil the ending, but it was so nice to have a lower-stress "black moment" in this book. I just needed something light but still with a lot of depth; Henry managed to deliver both so well.
I definitely managed to laugh out loud AND tear up multiple times throughout the book, so you could call that a success. No doubt this will be in my top few books of the year, which makes me incredibly happy. This was exactly the book I needed when a pandemic was causing stress and my reading was down in the dumps.

I received this book for free (hey, thanks!) in exchange for an honest review. I promise that this does NOT affect my opinion of the book or the content of my review. For real.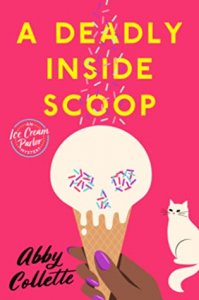 A Deadly Inside Scoop (An Ice Cream Parlor Mystery #1)
by
Abby Collette
Series:
An Ice Cream Parlor Mystery #1
Genres:
Adult
,
Mystery/Thriller
Published by
Penguin
on May 12, 2020
Format:
eARC
(384 pages) •
Source:
Publisher
Goodreads
•
Amazon
•
Barnes & Noble

This book kicks off a charming cozy mystery series set in an ice cream shop--with a fabulous cast of quirky characters.

Recent MBA grad Bronwyn Crewse has just taken over her family's ice cream shop in Chagrin Falls, Ohio, and she's going back to basics. Win is renovating Crewse Creamery to restore its former glory, and filling the menu with delicious, homemade ice cream flavors—many from her grandmother's original recipes. But unexpected construction delays mean she misses the summer season, and the shop has a literal cold opening: the day she opens her doors an early first snow descends on the village and keeps the customers away.

To make matters worse, that evening, Win finds a body in the snow, and it turns out the dead man was a grifter with an old feud with the Crewse family. Soon, Win's father is implicated in his death. It's not easy to juggle a new-to-her business while solving a crime, but Win is determined to do it. With the help of her quirky best friends and her tight-knit family, she'll catch the ice cold killer before she has a meltdown...
I never really got into this book and it took me about half of the month to get through, unfortunately. I was thinking it was just me and my reading slump but it really was that THIS book was putting me into a slump. It was just… not great.
The MC revamps and reopens her family's ice cream shop on a day when a blizzard moves through, leaving her with zero sales on her first day open. To make matters worse, she later finds a dead body in the snow. To continue to make matters even worse, it's a known enemy of her family who screwed them over years before. Win has to make sure she can clear her family from the crime while balancing her new business.
I have to say that I didn't love the writing style here – it was jarring at times and the internal dialogue of the character (or her describing what she was doing) felt very weird to me. It was almost juvenile, the way the sentences were structured and things were described. I know cozy mysteries are cuter and lighter than standard mysteries, so I just tried to ignore it and assume it came with the territory… but it never got better. Another issue with the writing style is that it was INCREDIBLY repetitive. Win and her friend, Maisie, went back and forth constantly with the clues and argued about the same suspects over and over. If some of those conversations were cut out, the book would be half this length.
By the time I got to the end of the book, I didn't really care who the murderer was. There were some red herrings constantly discussed by the characters but I never took the time to think about what my own theory was. I just wasn't engaged in the story. Unfortunately I won't continue this series, but the ice cream shop sounded so good!

I received this book for free (hey, thanks!) in exchange for an honest review. I promise that this does NOT affect my opinion of the book or the content of my review. For real.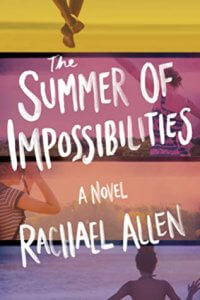 The Summer of Impossibilities
by
Rachael Allen
Genres:
Young Adult
,
Contemporary
Published by
Abrams
on May 12, 2020
Also by this author:
The Revenge Playbook
,
A Taxonomy of Love
Format:
eARC
(336 pages) •
Source:
Publisher
Goodreads
•
Amazon
•
Barnes & Noble
Skyler, Ellie, Scarlett and Amelia Grace are forced to spend the summer at the lake house where their moms became best friends.

One can't wait. One would rather gnaw off her own arm than hang out with a bunch of strangers just so their moms can drink too much wine and sing Journey two o'clock in the morning. Two are sisters. Three are currently feuding with their mothers.

One almost sets her crush on fire with a flaming marshmallow. Two steal the boat for a midnight joyride that goes horribly, awkwardly wrong. All of them are hiding something.

One falls in love with a boy she thought she despised. Two fall in love with each other. None of them are the same at the end of the summer.
I've loved the other books by Rachael Allen in the past – I think she's a super underrated YA writer with a lot of quiet books that more people should read! I've always thought that she did a nice job of writing real teenagers.
This book, unfortunately, missed that element for me. This is definitely a story where an old person like myself needs to turn on their teen brain and see where they're coming from, so don't read this if you're finding yourself unable to do that. I still felt that a lot of their inner thoughts and feelings were a bit unrealistic for characters their age.
I struggled to keep all of the characters straight, which is frustrating, because they're all honestly quite different from each other. I could tell you details about each of them and their defining characteristics, but their inner thoughts and POVs didn't distinguish enough from each other. I constantly forgot who I was reading about. Skyler and Scarlett are twins – Skyler is dealing with juvenile arthritis and struggles to tell her mom that the pain meds aren't working, while Scarlett is having issues with her "perfect" boyfriend and has had issues with self-harming in the past. Ellie is a biracial Muslim girl who loves tennis, has had issues with eating (borderline eating disorder), and has struggled with bullies and making friends. Amelia Grace loves going to church but is trying to reconcile her sexuality with her love of God, all while harboring a longtime crush on Scarlett. All of the girls are at the lake house for the summer because their moms were sorority sisters and needed to come together to help one of them.
So, as you can tell, there was kind of a lot going on… while at the same time, the plot never really kicked into gear for me. They would try to go to a party, talk about some stuff, hang out with their moms… and that's about it. So much of the book was just their internal thoughts about each other and overall feelings, without moving toward anything interesting.
I really enjoyed the Carolina lake setting and would have been curious to read more summery vibes in this one, as we're heading into May and I love reading summertime books now. Allen did a good job of touching on all kinds of marginalizations and problems teens could have, but it was a lot to read without really making progress toward a cohesive story. I really needed this book because it was easy to crank through, but I didn't love it as much as I hoped!
Related Posts