In an effort to cut down on posts and burnout, my Review Roundups will feature 2-4 books I've read or listened to recently. Sometimes they're newer releases and sometimes they're all backlist titles. My ARC reviews usually get the solo treatment. Enjoy the mini reviews!
---
Ringer
by
Lauren Oliver
Series:
Replica #2
Genres:
Young Adult
,
Sci-Fi
Published by
Harper Collins
on October 3rd 2017
Also by this author:
Before I Fall
,
Replica
Format:
eBook
(528 pages) •
Source:
Library
Goodreads
•
Amazon
•
Barnes & Noble

Like its ambitious companion novel, Replica, this far-reaching novel by powerhouse bestselling author Lauren Oliver digs deep into questions of how to be a human being in a world where humanity cannot be taken for granted.

In the world outside the Haven Institute, Lyra and Caelum are finding it hard to be human—and neither of them knows where they belong or who they can trust. When Caelum leaves without warning to pursue the dream of a place he belongs, Lyra follows him, convinced that together they will hunt down a cure for the illness that's slowly consuming her mind. But what they uncover is a shocking connection to their past—even as their future seems in danger of collapsing.

After discovering the uncomfortable truth about her connection to the Haven Institute, Gemma struggles to return to her normal life. But when she learns that her controlling and powerful father has new plans for Lyra and Caelum, Gemma and her boyfriend, Pete, leave in the middle of the night to warn them of the danger they face.When an untimely accident derails them, they are mistaken for the escaped replicas and seized by strangers hired to capture them. The Haven Institute wasn't destroyed after all, and now Gemma is the one behind the walls.

Lyra's and Gemma's stories can be read separately—with either story first—or in alternating chapters, but no matter which way you turn the book, the two distinct stories combine into one breathtaking experience for both heroines and readers alike.
The cool thing about this series is that there are multiple ways you could read it. You can read one girl's story all the way through and then read the second girl's, or you could alternate back and forth to create a dual POV.
I can't help but compare this experience to REPLICA. In that book, I was equally interested in both Gemma and Lyra's stories as I was reading them. I liked reading Gemma's all the way through and then learning Lyra's after to see how they connected. I could see how reading the book that way OR alternating back and forth would both work. I wish I could say the same about RINGER. I wasn't a huge fan of this one. Gemma's story, which I read first, was somewhat boring and not as shocking as I thought it would be. I wish I read Lyra's chapters in between because I think that method actually would be better for RINGER. Lyra's story was generally more interesting than Gemma's and would have provided some extra context in between, plus balance out the boring parts. SO if you're curious about what it would be like with both reading experiences for this series, I recommend trying REPLICA with all of Gemma then all of Lyra, and RINGER with alternating between Gemma and Lyra.
As for the actual plot of RINGER… I was always curious about where the story would go but I just don't think it had as many interesting elements as book one. It's almost like all of the big reveals already happened in REPLICA and this one just kind of pushed the story along to tie up loose ends. I still enjoyed this duo and would recommend it if the concept intrigued you.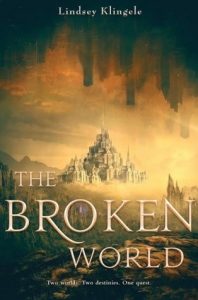 The Broken World
by
Lindsey Klingele
Series:
Marked Girl #2
Genres:
Young Adult
,
Fantasy
Published by
Harper Collins
on August 29th 2017
Also by this author:
The Marked Girl
Format:
eBook
(432 pages) •
Source:
Purchased
Goodreads
•
Amazon
•
Barnes & Noble
The adventures of three teen royals and foster girl Liv, which began in The Marked Girl, conclude in this exciting sequel.

In the fantasy world of Caelum, Liv, Cedric, and Kat must attempt to defeat an evil traitor and his army to save their families and the kingdom. But the city they left behind is facing its own problems: back in Los Angeles, the sky is orange, gravity isn't working right, and earthquakes shake the ground every few hours. Opening the portals has had devastating effects, and Liv's best friend Shannon and Cedric's frenemy Merek are the only ones who know what's going on – and that tracking down the murderous Knights of Valere might be the way to fix everything.

It's a race against time as the crew must find a way to reunite and combine their quests to save both worlds.
I was really excited for this book because I think THE MARKED GIRL was a fun, underrated fantasy from last year. It reminded me a lot of THE 10TH KINGDOM miniseries because of the whole portal situation. I haven't read portal fantasies before, but I think I'd like to read more!
I didn't remember a lot of the first book when I started reading but I think there was a decent enough recap through the first 10% of the book. I got off to a slow start but started really cruising once I hit the halfway point. I liked that there was some action in the real world and Caleum, so we could see what all of the characters were up to. Unfortunately the book felt a little choppy and scattered; it didn't flow as well as the first one.
I would definitely read more books about these characters though. Liz, Cedric, Shannon, Merek, and Joe are so fun. I love any book/movie where people who aren't from normal Earth and are confused by everything ("What is a movie?").
The ending was… interesting. It was cheesy but also appropriate based on the main character and the plot points that happened over the course of the two books. I'm not sure where it would go from here, which is an interesting thing to leave you thinking about, but it kind of works. Overall, this was a good final book (I think?) in this series.

Turtles All the Way Down
by
John Green
Genres:
Young Adult
,
Contemporary
Published by
Penguin
on October 10th 2017
Also by this author:
Let It Snow
Format:
eBook
(304 pages) •
Source:
Library
Goodreads
•
Amazon
•
Barnes & Noble

Sixteen-year-old Aza never intended to pursue the mystery of fugitive billionaire Russell Pickett, but there's a hundred-thousand-dollar reward at stake and her Best and Most Fearless Friend, Daisy, is eager to investigate. So together, they navigate the short distance and broad divides that separate them from Russell Pickett's son, Davis.

Aza is trying. She is trying to be a good daughter, a good friend, a good student, and maybe even a good detective, while also living within the ever-tightening spiral of her own thoughts.

In his long-awaited return, John Green, the acclaimed, award-winning author of Looking for Alaska and The Fault in Our Stars, shares Aza's story with shattering, unflinching clarity in this brilliant novel of love, resilience, and the power of lifelong friendship.
Like many, I had mixed feelings about the new John Green book. He was a very important author to me when his older books were coming out (primarily TFIOS and ALASKA) and I really adored his writing. After some years went by and I joined this particular community, my love decreased a little bit. Some things were brought to my attention that bugged me in hindsight: the whole manic pixie dream girl thing, plus the fact that his writing is pretty pretentious. (What teens talk like his MCs do!? I know I didn't.) All of this aside, I was definitely planning to read TURTLES and was first in line for my library's ebook copy. I started it on release day and here we are now.
Aza's head was a tough place to be. It wasn't easy to read but it felt real. I can't imagine having those thought spirals to that extent. The story was nothing like I expected based on the synopsis and that ended up being a good thing, I think. It's a quiet story without a lot of action, which also felt like a good thing to me. This is mostly a story about OCD and mental health, with a lot of friendship and a little romance thrown in.
I didn't love the ending but I also did at the same time lol sooo take that with a grain of salt. I would have preferred a few things to happen but it's not really Green's style to View Spoiler »have a real happy ending. « Hide Spoiler. I think this book has taken over as my favorite, just because of the recent revelations about my previous favorite (LOOKING FOR ALASKA). I'd be curious to reread it and see if my thoughts change, but I think TURTLES was a really great story. He came back from hiatus stronger and better, in my opinion.
Related Posts