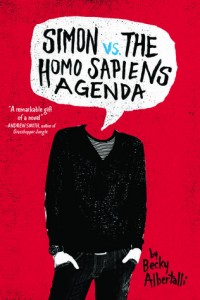 Simon vs. the Homo Sapiens Agenda
by
Becky Albertalli
on April 7th 2015
Also by this author:
What If It's Us
(303 pages) •
Goodreads
•
Amazon
•
Barnes & Noble

Sixteen-year-old and not-so-openly gay Simon Spier prefers to save his drama for the school musical. But when an email falls into the wrong hands, his secret is at risk of being thrust into the spotlight. Now Simon is actually being blackmailed: if he doesn't play wingman for class clown Martin, his sexual identity will become everyone's business. Worse, the privacy of Blue, the pen name of the boy he's been emailing, will be compromised.

With some messy dynamics emerging in his once tight-knit group of friends, and his email correspondence with Blue growing more flirtatious every day, Simon's junior year has suddenly gotten all kinds of complicated. Now, change-averse Simon has to find a way to step out of his comfort zone before he's pushed out—without alienating his friends, compromising himself, or fumbling a shot at happiness with the most confusing, adorable guy he's never met.

This was so cuuuuute! AH. I finally see what all the hype is about (to an extent…). I started listening to the audiobook of this but eventually decided to finish it up with my copy from the library. I'm so glad I did because I was ridiculously excited to find out who the eff Blue was.
So, this book was chock-full of adorable and realistic moments about relationships, friends, and family. I'm SO SO glad I finally read it. It centers around Simon, who has been emailing with a mystery guy named Blue. They know that they both go to the same high school and neither one of them is openly gay. I won't spoil too much about how things progress, but UGH THE FEELS.
"People really are like house with vast rooms and tiny windows. And maybe it's a good thing, the way we never stop surprising each other."
I started off literally loving this book but my obsession waned a little in the middle. I liked it, but I wasn't getting the same off-the-charts level of feels as everyone else. That changed back again towards the end! I can't really count this as an all-time favorite for some reason but it comes super close.
This is such an important story about coming out, being yourself, dealing with friends, communicating with your parents… you name it. It was such a realistic story about high school; I felt like I was back there dealing with all of the same issues. A few things I liked and thought were important, well-done topics:
(1) The friendships – I felt like Albertalli handled friend dynamics and relationships really well. There was jealousy, crushes on people within the friend group, and feeling like a bad friend. Everything that happened with Leah was totally relatable to me because there have been a few friends in my life who have that kind of attitude about feeling left out.
(2) The coming out – Obviously as a straight white female I've never needed to come out, but I really appreciated reading his story! I actually don't think I've read a story with that from a gay guy's perspective. (And Under the Lights was the only female coming out story I've read. Good lord I need to expand my horizons!) I don't want to give away a lot of details, but it was such a heartwarming, appropriately-slowly-moving timeline of coming out.
"Why is straight the default? Everyone should have to declare one way or another, and it shouldn't be this big awkward thing whether you're straight, gay, bi, or whatever. I'm just saying."
(3) The language – I'm genuinely surprised an actual high schooler didn't write this… and I mean that in the best possible way! It was extremely well-written and felt like I was actually in a high schooler's brain. The swearing, the feelings, the reactions – completely and totally spot-on. Simon was the best narrator. He felt so real because of his language.
(4) The family – Simon had a really wonderful family, but they still had their issues. Even the funny "cool" parents have some things to work on with their kids. Simon was tired of coming out to them in pretty much every way (except for the major one). They always made a big deal out of the little things; he couldn't start drinking coffee without them making some comment about changing. They were awesome, but it was nice to know they had their flaws.
"But I'm tired of coming out. All I ever do is come out. I try not to change, but I keep changing, in all these tiny ways. I get a girlfriend. I have a beer. And every freaking time, I have to reintroduce myself to the universe all over again."
(5) The fucking ship – Seriously though, Simon and Blue are my OTP. I'm so so sososososo happy with how that progressed and who Blue was! I had a feeling throughout the book but I kept theorizing about different people on and off. Regardless, I'm so incredibly smiley just thinking about how adorable they are and UGH I'll stop before I spoil anything.
Overall, I really REALLY loved this book. I think it's an incredibly shippy and swoony story with amazing characters and a heartwarming message. I kind of want to hug the book and go eat some Oreos???

| | |
| --- | --- |
| Plot & Premise | |
| Characters | |
| Writing Style | |
| Pacing & Flow | |
| Feels or Swoons | |
| Addiction Level | |
| Overall: | 4.8 |
Related Posts