I received this book for free (hey, thanks!) in exchange for an honest review. I promise that this does NOT affect my opinion of the book or the content of my review. For real.
The Mall
by
Megan McCafferty
Genres:
Young Adult
,
Historical Fiction
Published by
Macmillan
on July 28, 2020
Also by this author:
Sloppy Firsts
Format:
eARC
(320 pages) •
Source:
Publisher
Goodreads
•
Amazon
•
Barnes & Noble

New York Times bestselling author Megan McCafferty returns to her roots with this YA coming of age story set in a New Jersey mall.

The year is 1991. Scrunchies, mixtapes and 90210 are, like, totally fresh. Cassie Worthy is psyched to spend the summer after graduation working at the Parkway Center Mall. In six weeks, she and her boyfriend head off to college in NYC to fulfill The Plan: higher education and happily ever after.

But you know what they say about the best laid plans...

Set entirely in a classic "monument to consumerism," the novel follows Cassie as she finds friendship, love, and ultimately herself, in the most unexpected of places. Megan McCafferty, beloved New York Times bestselling author of the Jessica Darling series, takes readers on an epic trip back in time to The Mall.
This was so good and exactly what I needed, yet again. My reading mojo was really off for a few months in the beginning of the year, so I decided to read what was calling to me: THE MALL. I enjoyed the Jessica Darling series enough and was so curious to read more by Megan McCafferty. This book was exactly what I wanted it to be; it felt like all the best parts of the JD books.
I was born in 1991 when this book takes place so others who were teens around this time may relate to the mall culture even more, but it still made me super nostalgic. It's weird to classify this as "historical fiction" but hey, it's not contemporary technically! I used to enjoy the mall when I was in middle school through some of high school, so I can definitely relate to all those feels overall. It made for a really fun read.
I don't want to say too much about the plot because the synopsis of the book is extremely limited to basically what happens in the first two chapters… This book is super focused on friendship with light romance and a whole lot of ~finding yourself~ without feeling cheesy. Cassie thought she had her summer and life all planned out, but everything goes to hell on her first day working at the mall after a six-week quarantine from having mono (a little too close to home when I was reading this in early April…). She definitely makes some classic teen mistakes in this one, which made her easy to relate to and frustrating in equal measures. I LOVED Drea, her old best friend from childhood, and the scavenger hunt they went on together. Like I said, the romance element was light, but super enjoyable.
Overall, I really loved this and could not put it down. It was what I needed once my reading got back on target and it was fun to lose myself in the 90s mall culture that I remember so fondly.
---
I received this book for free (hey, thanks!) in exchange for an honest review. I promise that this does NOT affect my opinion of the book or the content of my review. For real.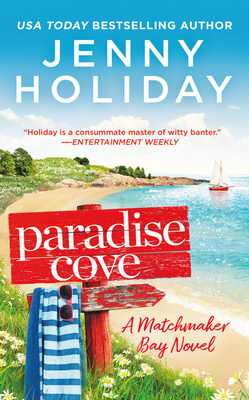 Paradise Cove
by
Jenny Holiday
Series:
Matchmaker Bay #2
Genres:
Adult
,
Contemporary
Published by
Hachette
on July 28, 2020
Also by this author:
Mermaid Inn
,
A Princess for Christmas
,
Sandcastle Beach
,
Duke, Actually
Format:
eARC
(368 pages) •
Source:
Publisher
Goodreads
•
Amazon
•
Barnes & Noble

From the USA Today bestselling "master of witty banter" (Entertainment Weekly) comes a hilarious and heartwarming romance about a big city girl who never expected to find the man of her dreams in the tiny town of Matchmaker Bay. Dr. Nora Walsh has just been dumped in spectacular fashion, making it the perfect time for a major life change. She figures taking over the medical practice in tiny Matchmaker Bay for a couple of years will help her get over her broken heart, and then she can head back to the big city. But when the first man she sees looks like a superhero god, she wonders if maybe there's something to small-town living after all. Jake Ramsey also has a broken heart -- one he never expects to heal. He doesn't need people anyway and is content hiding out in his secluded cottage on the beach. But after helping Nora with a medical emergency, he finds himself opening up to the witty, warmhearted doctor. Soon the local matchmakers are working overtime to pair them off, and Jake begins to wonder if his campaign to get Nora to stay is for the town or because he can't bear the thought of her leaving.
I absolutely loved the first book in this companion series so I had pretty high hopes for book two… and I loved it even more! I need to get moving on Holiday's other books because damn. She knows how to write a low-drama romance!
Nora moves to Moonflower Bay to lease a family practice after a bad breakup in Toronto. She sets herself up there for two years as a way to escape and then move back home to buy a home with her sister. Meanwhile, Jake has been the strong, silent type around town for years, and the two hit it off right away. Everyone is surprised at how open he is with Nora – it's like something just clicks for them.
Jake and Nora had great chemistry throughout this story. It's a classic "I don't want a relationship, let's just be friends-with-benefits" that turns into more. I also enjoyed that this took place over a longer period of time so it felt like a really nice, slow progression of their relationship. Like I said, this is another book with a lower drama "black moment" that doesn't drag out due to miscommunication or something equally silly. Both of Holiday's books I've read so far have included logical "breakup moments" and conclusions, which is so appreciated. It also works so well when the characters choose to stay because it's what they've ALWAYS wanted in one way or another, instead of just sticking around for the man they fell in love with.
This book has a trope that many people don't like but I don't want to spoil anything. I didn't mind it because it actually made sense given some other things that happened throughout the story.
I continue to love Moonflower Bay from a setting perspective. I've needed more books set in quirky small towns with meddling neighbors and friends! I saw who the next book is about and I am HERE FOR IT.
Related Posts