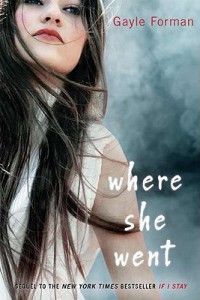 Where She Went
by
Gayle Forman
Series:
If I Stay #2
Genres:
Contemporary
,
Young Adult
Published by
Penguin
on April 5th 2011
Also by this author:
If I Stay
,
Just One Day
,
Just One Year
,
Just One Night
,
Leave Me
Format:
eBook
(304 pages) •
Source:
Purchased
Goodreads
•

The highly anticipated sequel to the New York Times bestselling and critically acclaimed If I Stay Picking up several years after the dramatic conclusion of If I Stay, Where She Went continues the story of Adam and Mia, from Adam's point of view. Ever since Mia's decision to stay - but not with him - Adam's career has been on a wonderful trajectory. His album, borne from the anguish and pain of their breakup, has made him a bona fide star. And Mia herself has become a top-rate cellist, playing in some of the finest venues in the world. When their respective paths put them both in New York City at the same time, the result is a single night in which the two reunite - with wholly satisfying results.
Contains spoilers if you haven't read If I Stay!
Review: If you haven't read If I Stay [review here], you should probably read that before reading this review! Overall, I liked this one better than If I Stay. I think. To me, they were just so different. The first book is from Mia's perspective, where you learn about her family, friends, and boyfriend as she decides if she should live or die. Once you get to know her parents and brother, you understand why this is a difficult decision for her, now that they have passed away. She can take the easy route and join them wherever they ended up, or she can struggle through the rest of her life without her family but with her boyfriend and bright musical future ahead of her. She ends up deciding to stay. At the end of the book, I was itching to know a little bit more about what happens next. I didn't feel like there was closure. I think that If I Stay could have been a standalone, but I'm glad it wasn't. I loved Adam from the first book and when I learned that Where She Went was from his perspective, I was very excited…. until I read the plot summary. She left him?? How could she do that!? I was initially pissed but then realized how hard it must have been for both of them. I was glad the two would have a chance to meet up again and hopefully start their lives together. The book was a little slow in the middle, but otherwise I was pretty interested the whole time. I wanted to see what went wrong and how their story ended up turning out. The two books are different in a few ways. First, obviously Adam was the narrator instead of Mia. Second, there weren't really flashbacks like in If I Stay… Adam would share old memories, but it was more like he was reflecting on them or reminiscing, instead of the reader being completely transported into the moment like Mia's flashbacks. Third, there weren't any paranormal aspects to this one, since Mia was fully alive at this point. I liked that the history and issues between the two of them came to a climax earlier than expected. There was some closure for the reader within the last few chapters, after the dust had settled. I'm trying not to give anything away here!! I can't really think of much that I didn't like about this one honestly. It was nice to see the characters again and become acquainted with the older versions of themselves. They both had definitely matured. Because of his rocker lifestyle, Adam got a reputation as an egomaniac and was kind of a jerk. Adam also noticed that Mia would use certain phrases or words that she wouldn't have used in the past, too. I think it was good to show the characters grew and changed, but I don't think a lot of it was resolved. They come together for the day and have all these new life experiences, yet they sort of act like nothing has changed. If they were to decide to begin a relationship again, there would be areas of friction; they weren't the same people they were in high school. I just think some of that part was unrealistic. Otherwise – overall, this was a good book. I'm glad I read these two, even though the hype overshadowed the quality for me. I won't lie that I was pretty captivated with their story and finished both books in a very short amount of time. I recommend that you pay attention to the song lyrics at the start of each chapter; I kind of ignored them at first but I started to realize that they were more relevant than I thought.
Related Posts