I'm usually not a huge novella fan, but I really enjoyed all four of these! I figured I would share some very brief thoughts on each novella, so you can judge if they're worth the time.
---
Harmonic
by
Erica O'Rourke
Series:
Dissonance #1.5
Genres:
Young Adult
,
Parallel Universe
Published by
Simon and Schuster
on March 3rd 2015
Also by this author:
Dissonance
,
Resonance
Format:
eBook
(100 pages) •
Source:
Purchased
Goodreads
•
Amazon
•
Barnes & Noble

Del's older sister can also walk between worlds, but her loyalties are uniquely tested in this original enovella set in the inventive world of Dissonance.Addison Sullivan, Del's older sister, has always been considered a model Walker—but her reputation within the Consort has been tainted by her grandfather's betrayal and her sister's recklessness. She is desperate to regain her position within the Consort and equally desperate to keep Del from spiraling out of control after losing the boy she loves.The Consort offers Addie a chance to redeem herself: if she can track down the Free Walkers her grandfather knew twenty years ago, they'll fast-track her apprenticeship and put her in charge of her own team. Addie asks a former classmate and crush, Laurel, a Consort historian, for help. As they work together, Addie's feelings for Laurel resurface, but she's too afraid to act. Same-sex relationships aren't expressly forbidden by the Consort, but she fears that a relationship with Laurel would be viewed as yet another mark against her.While she is fighting her feelings for Laurel, troubling details start emerging during their investigation…details that paint Addie's family in a sinister light. Will she reveal what she's learned to the Consort, or try to protect her family?This enovella is set in the time between Dissonance and Resonance.
THIS WAS SO GOOD. I absolutely loved reading from Del's sister's point of view for this 100 page novella. It was nice because it felt really like a mini book, instead of just a few pages. Addison's story picks up right where the previous book left off and gives us a little taste of what's been happening recently. I suspect that some of the issues from this book will continue into the next one, so I highly recommend reading this. Beyond that, I looooved Addie's relationship with Laurel. Yay, for LGBTQ! This was a perfect thing to hold me over until Resonance's release. (At the time of writing this, it hasn't come out yet.. but at the time of this is posting.. YAY IT'S HERE)
---
Happy Again
by
Jennifer E. Smith
Series:
This Is What Happy Looks Like #1.5
Genres:
Young Adult
,
Contemporary
Published by
Hachette
on April 14th 2015
Also by this author:
This Is What Happy Looks Like
,
The Statistical Probability of Love at First Sight
,
Summer Days & Summer Nights
,
Windfall
,
Field Notes on Love
Format:
eBook
(84 pages) •
Source:
Purchased
Goodreads
•
Amazon
•
Barnes & Noble

Ellie O'Neill and Graham Larkin fell hard for each other when a misspelled email address unexpectedly brought them together. Now, over a year has passed since they said goodbye with the promise to stay in touch, and their daily emails have dwindled to nothing. Ellie is a freshman in college and has told herself to move on, and Graham has kept himself busy starring in more movies, as well as a few tabloid columns. But fate brought these two together once before—and it isn't done with them yet.In this sequel novella to This Is What Happy Looks Like, Jennifer E. Smith revisits two beloved characters to tell the story of one magical night in Manhattan. When Ellie and Graham come face to face once more, can they get past the months of silence and the hurt feelings to find their happily-ever-after again?
Honestly, I wasn't the biggest fan of the first book. When I saw this novella was coming out, I was actually pretty excited! I actually ended up liking the novella even more than the original story. It was a super cute, quick read. I'd definitely recommend it if you're looking to know what happened next with the characters. I shipped them way more the second time around.
---
Secrets and Lies
by
Kody Keplinger
Genres:
Young Adult
,
Contemporary
Published by
Hachette
on June 1st 2013
Also by this author:
A Midsummer's Nightmare
,
The DUFF
,
Lying Out Loud
,
Run
Format:
eBook
Source:
Purchased
Goodreads
•
Amazon
•
Barnes & Noble
Kody Keplinger both returns to the halls of Hamilton High and explores new territory in her collection of two e-book exclusive novellas. In these short stories, the author revisits a familiar cast of characters from THE DUFF (Designated Ugly Fat Friend) and A Midsummer's Nightmare. Explore the uniquely teen world of high school drama, secrets, and romantic entanglements from completely fresh perspectives that will intrigue fans of Kody Keplinger and new readers alike.
I definitely wish I took a few notes on this one before deciding to write my review much, much later! Oh well. This "novella" really just included two bonus stories featuring side characters from Keplinger's other books. The first story was about Casey, Bianca's best friend in The DUFF. It shows her develop a cute relationship with Toby, the other member of the Bianca love triangle. I definitely shipped Casey + Toby, and this story was definitely the better of the two. The second story features Nathan's little sister, from A Midsummer's Nightmare. I thought she was super cute in their story and was happy to see her again here. This story wasn't AS good as the first, but still a good read. She deals with some bullying issues at school in it. I loved seeing all of my favorite characters again!
---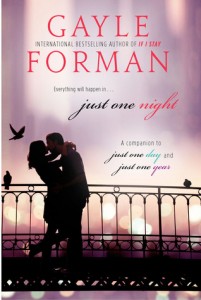 Just One Night
by
Gayle Forman
Series:
Just One Day #2.5
Genres:
Young Adult
,
Contemporary
Published by
Penguin
on May 29th 2014
Also by this author:
If I Stay
,
Where She Went
,
Just One Day
,
Just One Year
,
Leave Me
Format:
eBook
(40 pages) •
Source:
Purchased
Goodreads
•
Amazon
•
Barnes & Noble

After spending one life-changing day in Paris with laid-back Dutch actor Willem De Ruiter, sheltered American good girl Allyson "Lulu" Healey discovered her new lover had disappeared without a trace. Just One Day followed Allyson's quest to reunite with Willem; Just One Year chronicled the pair's year apart from Willem's perspective. Now, back together at last, this delectable e-novella reveals the couple's final chapter.
If you read and enjoyed this series, YOU MUST READ THIS NOVELLA. It's so adorable. It picks up and gives you the ending you deserve. I won't say too much, but it was ridiculously perfect and swoony. The third person POV was kind of annoying, but it was appropriate given the circumstances. Originally I said that I could probably have lived without this novella, but I think I was wrong. Very, very happy that she wrote this!
Related Posts