I received this book for free (hey, thanks!) in exchange for an honest review. I promise that this does NOT affect my opinion of the book or the content of my review. For real.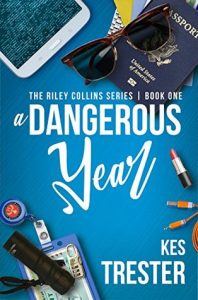 A Dangerous Year
by
Kes Trester
Series:
Riley Collins #1
Genres:
Young Adult
,
Mystery/Thriller
Published by
Curiosity Quills
on September 26th 2017
Format:
eARC
(255 pages) •
Source:
Publisher
Goodreads
•
Amazon
•
Barnes & Noble

Seventeen-year-old Riley Collins has grown up in some of the world's most dangerous cities, learning political strategies from her ambassador dad and defensive skills from his security chief. The only thing they didn't prepare her for: life as an American teenager.

After an incident forces her to leave her Pakistani home, Riley is recruited by the State Department to attend Harrington Academy, one of the most elite boarding schools in Connecticut. The catch: she must use her tactical skills to covertly keep an eye on Hayden Frasier, the daughter of a tech billionaire whose new code-breaking spyware has the international intelligence community in an uproar.

Disturbing signs begin to appear that Riley's assignment wasn't the walk in the park she'd been promised. Now, Riley must fight for her life and Hayden's, as those around her reveal themselves to be true friends or the ultimate betrayers.
I immediately saw comparisons to Ally Carter's books, plus a little bit of Pretty Fierce by Kieran Scott, when I first saw this book on Goodreads and Netgalley. I was definitely intrigued, as I love the whole teen-spy genre. Add in the fact that this takes place at a Connecticut boarding school and I was HERE FOR IT.
I have a lot of mixed feelings about this book. There were some potentially problematic sentences that really rubbed me the wrong way, and I initially felt that this book would definitely be under the three-star mark as a result. The author said things like "hooker red lipstick," which is rude, and didn't understand how something like Man Crush Monday or Woman Crush Wednesday worked. I know that one is small potatoes but it still definitely bugged me as I was reading. If you're going to write for teens and about teens, you should run those passages by a couple of them. The cab driver said his name was Steve and the MC thought, because of his accent, it should be more like "Tariq or Malik." And one other thing that bugged me, more in terms of the MC as a friend or human: View Spoiler »The girl she's there to protect, Hayden, is sent off for a few weeks to lay low at the end of the book. Riley has been flirting with Hayden's ex, Sam, and told Hayden that nothing was happening between them. When Hayden leaves at the end, she realized that "Hayden no longer stood between the two of [them]". It's messed up to me that she was willing to almost discard the friendship she developed with Hayden over this dude… without even telling her the truth first. « Hide Spoiler
Aside from those things, the book was sub-par until the very end. The last 10% was an absolute whirlwind. I thought I had everything figured out pretty early on, but there were a LOT of twists. The ending was definitely a cliffhanger too, so I'm really curious to see what's going to happen in book two. (Yes, I'm going to have to read it.)
---
I received this book for free (hey, thanks!) in exchange for an honest review. I promise that this does NOT affect my opinion of the book or the content of my review. For real.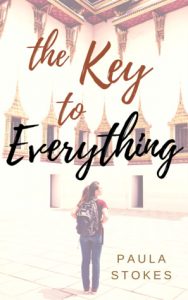 The Key to Everything
by
Paula Stokes
Genres:
New Adult
Published by
Self-Published
on November 7th 2017
Also by this author:
Liars, Inc.
Format:
eARC
Source:
Author
Goodreads
•
Amazon
•
Barnes & Noble
Content warning: because of its genre and/or because it has older characters than you normally see on my blog, it may contain sex, drinking/drugs, and/or violence.
College senior Oakland Fuller has always believed in signs and soulmates, so when both a therapist and a fortuneteller say that her repeated relationship failures are due to unresolved feelings for her high school boyfriend, Seth, Oakland tries desperately to get back in touch with him. Problem: Seth isn't responding to her online messages.

To rescue Oakland from a pathetic Christmas break of sitting in front of the computer, her best friend Morgan books the two of them on a guided excursion of Thailand. When the girls meet a pair of American soldiers in Bangkok, Oakland takes Morgan's advice and engages in a little harmless holiday hooking up. Sergeant Tyson Banks is the perfect mix of sexy and fun. Two weeks with him might just turn out to be the best relationship Oakland has ever had.

Until the day she spots someone familiar across a crowded temple complex—it's Seth! Somehow the boy she's been trying to reconnect with is in Bangkok too. If that's not a sign, then what is?

Filed with friendship, romance, and gorgeous faraway settings, The Key to Everything is a book for anyone who's ever dreamed of finding love when (or where) they least expected it.
I was excited for this because I like Paula Stokes' writing style quite a bit (even though I haven't read nearly as many of her books as I should have by now). I'm always looking for a solid NA even though I'm suuuuper picky about them. I often have issues because I have very little tolerance for the drama and angst that unfortunately happens in MANY of them. I'm happy to say that those elements were pretty minimal in this book. I liked that there wasn't a lot of lying and jerking around.
Oakland definitely got on my nerves a lot though. I can't deny that. She was a bit crazy and stalker-like quite a bit as she was determined to track down this guy from her past. Her conversations with her best friend, Morgan, about this were particularly frustrating. I get the whole appeal of the childhood-best-friend-soulmate situation, but she refused to see what was right in front of her. Morgan is a seriously great friend because I would have definitely flipped out on Oakland by then.
The steamy times were on-point. There were a few moments I wasn't a huge fan of, but that's inevitable. I tend to be picky about those too. I think there could have MAYBE been one more hot scene for me to be fully satisfied, but I don't think I can complain. Quality > quantity.
The story itself was sweet and I LOVED the setting of travel in Thailand. I haven't been, but Chris was definitely annoyed by my constant questioning while I was reading – "did you go here? Did you eat that? Did you see the elephants too?" Any book involving international travel is fun in my book, especially because I have yet to do that. It's also relatively uncommon (in my experience) for that element to appear in an NA book. Overall, I really recommend this one!
---
I received this book for free (hey, thanks!) in exchange for an honest review. I promise that this does NOT affect my opinion of the book or the content of my review. For real.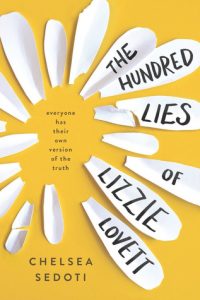 The Hundred Lies of Lizzie Lovett
by
Chelsea Sedoti
Genres:
Young Adult
,
Contemporary
,
Mystery/Thriller
Published by
Sourcebooks
on January 3rd 2017
Also by this author:
As You Wish
Format:
eARC
(400 pages) •
Source:
Publisher
Goodreads
•
Amazon
•
Barnes & Noble
Hawthorn wasn't trying to insert herself into a missing person's investigation. Or maybe she was. But that's only because Lizzie Lovett's disappearance is the one fascinating mystery their sleepy town has ever had. Bad things don't happen to popular girls like Lizzie Lovett, and Hawthorn is convinced she'll turn up at any moment-which means the time for speculation is now.

So Hawthorn comes up with her own theory for Lizzie's disappearance. A theory way too absurd to take seriously...at first. The more Hawthorn talks, the more she believes. And what better way to collect evidence than to immerse herself in Lizzie's life? Like getting a job at the diner where Lizzie worked and hanging out with Lizzie's boyfriend. After all, it's not as if he killed her-or did he?

Told with a unique voice that is both hilarious and heart-wrenching, Hawthorn's quest for proof may uncover the greatest truth is within herself. "
Man, that's a weird book. You seriously have to be in a very specific mood to read this. Luckily, I think I was in the right mood for most of this story. It's not a traditional "mystery" about someone going missing. Hawthorn is an incredibly bizarre character who, like the synopsis suggests, starts to "become" Lizzie (the missing person) in a lot of ways. This includes getting her job and talking to her boyfriend. However, I read the synopsis as being some kind of creepy impostor situation where people believe she IS Lizzie. Hawthorn really just has some insane theories about what actually happened to Lizzie and tries to get as much information as possible. Again, this sounds like a mystery but it's really not about that.
Hawthorn was a bizarre, imperfect, and often annoying main character. She definitely had a lot of flaws and obsessive traits, but I have to admit that I was fascinated by her journey. The side characters were really interesting too. She had a complex friendship with Emily, her best friend, on top of equally complicated relationships with her family members. Her brother was a popular kid in high school that played football, her dad is a history professor, and her mom is an (ex-)hippie. There's a caravan of people that come to stay in their yard. It was a very weird situation, to be honest. I think this book is really about finding your place and realizing you're not the only person who feels weird, alone, or judged all of the time. Hawthorn really goes on a journey to find herself… by becoming obsessed with someone else.
Overall, I'm not totally sure who to recommend this book to? Its clear from other reviews that people didn't love it because it was too weird or whimsical. You absolutely need to go into it with an open mind or else you're likely going to hate it. Because of those other reviews, I tried to eliminate all of my expectations. If you start this book with no expectations when you're in a quirky mood, maybe try it.
Related Posts