I received this book for free (hey, thanks!) in exchange for an honest review. I promise that this does NOT affect my opinion of the book or the content of my review. For real.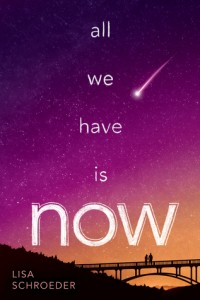 All We Have Is Now
on July 28th 2015
Format:
ARC
(272 pages) •
Goodreads
•
Amazon
•
Barnes & Noble

What do you do with your last day on earth?

Just over twenty-four hours are left until an asteroid strikes North America, and for Emerson and everyone else who didn't leave, the world will end. But Emerson's world already ended when she ran away from home. Since then, she has lived on the streets, relying on her wits and on her friend Vince to help her find places to sleep and food to eat.

The city's quieter now that most people are gone, and no one seems to know what to do as the end approaches. But then Emerson and Vince meet Carl, who tells them he has been granting people's wishes -- and gives them his wallet full of money.

Suddenly, this last day seems full of possibility. Emerson and Vince can grant a lot of wishes in one last day -- maybe even their own.

This book definitely made me think. I have to say that I've had a lot of "end of the world" books on my radar in the past, but this is the only one I've read. (Unless you count Station Eleven, which was more post-apocalyptic.) You know it can end in three ways: (1) the world actually doesn't end, (2) the world actually does end, or (3) you don't know what happens because the book ends before you find out. I wasn't sure what to expect with this one, but I was pleased with the ending overall.
Sorry, I got ahead of myself. I've also never read a book involving kids that are runaways/homeless. Emerson and Vince were really likable characters, but I feel like they were somewhat underdeveloped. We got a bit of their story and background, but a lot of the story was focused on some random memories mixed in with the current happenings. I'm not sure why, but I just wanted a bit more.
I loooved the whole "pay it forward" concept that drove the first half of the book. Carl, a man they meet on the suicide bridge, grants them one wish and asks that they pay it forward if they can. I don't want to spoil too much about that, but it was a great plot element. Carl's chapters were actually incredibly enjoyable and I was wishing for more of him all the time.
Towards the end, when they meet the skeptics, I really started to wonder how the end was going to be. Again, I won't spoil anything, but that part definitely got me thinking. What would you do if the world was about to end? Would you believe the government's reports, or assume they're lying to you? It's an interesting thing to think about. I honestly can't even imagine what I'd try to do on my last day. It was nice to see that looting and rioting was over by the time the book started. It makes me feel better, thinking that people would be more focused on spending time with loved ones than searching for stuff to steal in those final days.
There were also random poems intermixed throughout the book and I'm not sure why? It was an interesting style of writing but it would have made more sense if the main character was a writer or something. I just don't know why they were included.
Overall, I would definitely recommend this book if you're looking for a fast, addicting book that will still make you think a bit. The end of the world concept is done in a lot of books, but I have a feeling this one will stick with me for a while.
Spoiler section about the ending:
View Spoiler »
I thought the ending was well-done, but I did kind of wish for a bit more. I had a feeling it was going to end with a poem like that and I'm glad that it jumped ahead a little in time… but it was kind of cheesy. I have somewhat mixed feelings! I'm glad the world didn't end though. It made me happy that they'd all get another chance to be a family. « Hide Spoiler

| | |
| --- | --- |
| Plot & Premise | |
| Characters | |
| Writing Style | |
| Pacing & Flow | |
| Feels or Swoons | |
| Addiction Level | |
| Overall: | 4.3 |
Related Posts