I received this book for free (hey, thanks!) in exchange for an honest review. I promise that this does NOT affect my opinion of the book or the content of my review. For real.
Serious Moonlight
by
Jenn Bennett
Genres:
Contemporary
,
Young Adult
Published by
Simon and Schuster
on April 16, 2019
Also by this author:
The Anatomical Shape of a Heart
,
Alex, Approximately
,
Starry Eyes
,
Chasing Lucky
Format:
ARC
(432 pages) •
Source:
Publisher
Goodreads
•
Amazon
•
Barnes & Noble

After an awkward first encounter, Birdie and Daniel are forced to work together in a Seattle hotel where a famous author leads a mysterious and secluded life in this romantic contemporary novel from the author of Alex, Approximately.

Mystery-book aficionado Birdie Lindberg has an overactive imagination. Raised in isolation and homeschooled by strict grandparents, she's cultivated a whimsical fantasy life in which she plays the heroic detective and every stranger is a suspect. But her solitary world expands when she takes a job the summer before college, working the graveyard shift at a historic Seattle hotel.

In her new job, Birdie hopes to blossom from introverted dreamer to brave pioneer, and gregarious Daniel Aoki volunteers to be her guide. The hotel's charismatic young van driver shares the same nocturnal shift and patronizes the waterfront Moonlight Diner where she waits for the early morning ferry after work. Daniel also shares her appetite for intrigue, and he's stumbled upon a real-life mystery: a famous reclusive writer—never before seen in public—might be secretly meeting someone at the hotel.

To uncover the writer's puzzling identity, Birdie must come out of her shell…discovering that most confounding mystery of all may be her growing feelings for the elusive riddle that is Daniel.
Initial Excitement & Summary
I'm a huge fan of Jenn Bennett. Seriously, huge. All of her books have been major successes in my eyes. She always creates somewhat unique situations for romance and develops her characters in wonderful ways. Her three releases before SERIOUS MOONLIGHT each earned 4.5 stars from me… so clearly I'm a fan.
From an overall plot perspective, with the mystery solving and quirky settings across Seattle, this had the right setup to be another favorite by Bennett. Birdie and Daniel meet under interesting circumstances and find soonafter that they'll be working together during the night shift at a famous Seattle hotel. They move past the awkwardness of their first meeting to solve a mystery together – an author, who remains anonymous and uses a pseudonym, is staying at their hotel each week, and they want to confirm his identity. Birdie is big into mystery novels and hopes to be a detective of some kind someday. Daniel loves magic and has a talent for woodworking. Both of them also have secrets they're hiding from each other…
Storytelling & End Feels
I've never been to Seattle but I can say with certainty that I want to visit even more now! I know the hotel was made-up but the rest of the city felt real to me. I'd love to take a ferry to the island and explore the market on the other side. There were so many cool shops, like the bookstore (mysteries!) and magic shop, that made the setting even more quirky and applicable to the story.
One of the best parts of the novel and the romance is that they were often honest with each other about OTHER things. Yes, they hid some bigger secrets, but they were fairly honest about what they expected from each other and how they were feeling. I always appreciate that in a YA novel, because hopefully teens who read it learn that it really pays to be open with your partner or potential partner! I'll talk a bit more about Birdie in the next section, but I loved Daniel though. He was so funny and the two of them developed inside jokes that I loved, masquerading as Nick and Nora (from a classic mystery movie).
Unfortunately I was often frustrated by Birdie and never fully fell into the story as a result. There was a lot of back-and-forth in her feelings and doubting things that she didn't necessarily need to worry about. Believe me, I understand what it's like to be anxious and a worrywart. Maybe that's why it was hard to be in her head sometimes? I relate a bit too much, second-guessing things. She was not a perfect character, which is what did make her so great. She was very real. This isn't necessarily a negative, but it IS what made me hold off from giving this an even higher rating. I'll also mention that because of the back-and-forth between the characters or inside Birdie's head, the book felt like it was a little too long. It took me longer to read than her other stories, by a long while, but it was the kind of book you can fall into for a while without getting bored.
The ending of this book was so great. There was a couple of little twists that I definitely saw coming at a certain point, but they were still intriguing elements to add to the book. It felt like the characters would live on beyond the pages because of these new factors. I'm being vague on purpose because #spoilers. 😉
TL;DR?
While this may *technically* be my least favorite book by Bennett, do not get me wrong – it has all of her classic romance elements that make me love her stories so much. Some great characters (in general), a fun setting, and a wonderful and real-feeling romance are all trademarks of Bennett's work. Adding in the mystery-solving elements and other complex parts of the characters' backstories made for a very well-rounded story.
Thoughts in a Gif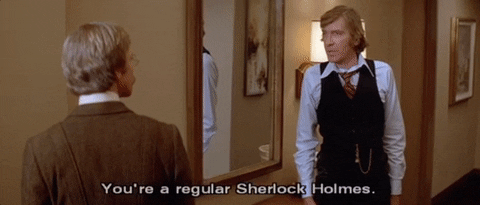 Rating Breakdown
| | |
| --- | --- |
| Plot & Premise | |
| Characters | |
| Writing Style | |
| Pacing & Flow | |
| Feels or Swoons | |
| Addiction Level | |
| Overall: | 3.9 |
Related Posts