This month I'll be highlighting different holiday or Christmas-oriented books on the blog. I love reading based on the season, so stay tuned for more wintery reviews. To learn more about what's coming and my holiday book rating system, check here!
---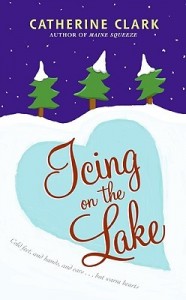 Icing on the Lake
by
Catherine Clark
on December 13th 2005
(368 pages) •
Goodreads
•
Amazon
•
Barnes & Noble
ICING ON THE LAKE

Beach reads for snow bunnies–our wildly popular beach reads expand to winter! The author of Maine Squeeze is back with another funny, romantic novel, this time in the snow.

I had literally no idea what to expect from this book. I couldn't track down a real synopsis for the life of me. I knew it was one of those HarperTeen books from back in my high school days; they tend to read like a romantic comedy. Early contemporary romance YA, I suppose. I really enjoyed Snowed In last year, which I imagined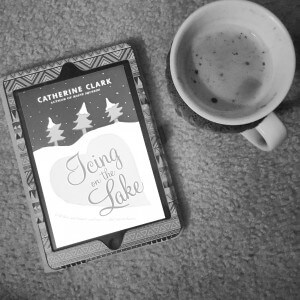 was quite similar. I remember getting these types of books out from the library after school and reading them in the library.
Anyways, the book is about a girl (Kirsten) who goes to stay with her young divorcee sister and her son, because she hurt her leg or something. She is somehow able to live there for a month or two while her sister heals. She's just… not attending high school, but is able to work on an independent project for the month instead. Pretty not realistic, but okay. Basically she gets involved with some ~boys~ because she wants to bring one to a weekend away with her friends.
→  A few highlights because I really don't know what to say:
The writing and dialogue felt super awkward (especially the "banter")
Lots of characters were fleetingly introduced at the beginning and I couldn't keep her friends straight in my head, even when they were brought back in later
I did laugh out loud a few times actually
There's tension between Kirsten and two brothers… so avoid it if that kind of thing annoys you (brother-centered love triangle)
If was a person who frequently DNFed books without any qualms, I would have quit this one
The characters were like cardboard cutouts – very stereotypical or standard personalities
I didn't really ship anyone because the dialogue was so awkward (reminded me a lot of Signs Point to Yes)
Sean and her seemed to be getting along fine until Conor said something to her about them having nothing in common. It was one of those abrupt changes of attitude because someone said something to her, not because she realized she liked him more or whatever
The book involved her needing to find a book to bring to a big weekend getaway… and then that part of the book lasted two seconds
It was relatively low drama, but the drama that DID exist felt superficial and forced
Definitely not a Christmas book! VERY wintery, with a major focus on winter activities like skiing and ice skating. The only holiday mentioned is New Year's, but it doesn't take place at New Year's. There's a big weekend getaway planned for Groundhog Day though…
| | |
| --- | --- |
| Plot & Premise | |
| Characters | |
| Writing Style | |
| Pacing & Flow | |
| Feels or Swoons | |
| Addiction Level | |
| Overall: | 2.7 |
Related Posts