I received this book for free (hey, thanks!) in exchange for an honest review. I promise that this does NOT affect my opinion of the book or the content of my review. For real.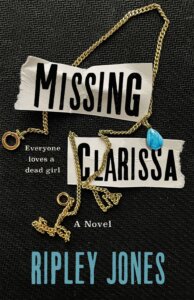 Missing Clarissa
by
Ripley Jones
Genres:
Young Adult
,
Mystery/Thriller
Published by
Wednesday Books
on March 7, 2023
Format:
eARC
(256 pages) •
Source:
Publisher
Goodreads
•
Amazon
•
Barnes & Noble
In a gripping novel perfect for fans of Sadie and A Good Girl's Guide to Murder, two best friends start a true crime podcast—only to realize they may have helped a killer in the process.

In August of 1999, dazzlingly popular cheerleader Clarissa Campbell disappears from a party in the woods outside the rural town of Oreville, Washington and is never seen again. The police question her friends, teachers, and the adults who knew her—who all have something to hide. And thanks to Clarissa's beauty, the mystery captures the attention of the nation. But with no leads and no body, the case soon grows cold. Despite the efforts of internet sleuths and true-crime aficionados, Clarissa is never found—dead or alive.

Over twenty years later, Oreville high-school juniors and best friends Blair and Cameron start a true crime podcast, determined to unravel the story of what—or who—happened to this rural urban legend. In the process they uncover a nest of dirty small-town secrets, the sordid truth of Clarissa's relationship with her charismatic boyfriend, and a high school art teacher turned small-town figurehead who had a very good reason for wanting Clarissa dead. Such a good reason, in fact, that they might have to make him the highlight of their next episode…

But does an ugly history with a missing girl make him guilty of murder? Or are two teenage girls about to destroy the life of an innocent man—and help the true killer walk free?
I was beyond excited for this book – I was really hoping for the second-coming of the GOOD GIRL'S GUIDE books. I wanted a true crime podcast and best friends solving the case of a missing girl. I love all that stuff! Unfortunately, MISSING CLARISSA was a disappointing and predictable read, despite being an overall enjoyable ride.
Cam and her best friend Blair come from a town with an infamous missing girl case – Clarissa Campbell. She was the popular cheerleader who left a party in the woods, never to be seen again. The two girls decide to focus on this case for their journalism class project and create a podcast about it. I loved this setup and the fact that both Blair and Cam had no experience in solving mysteries or making podcasts. The story went through the actual moments they had to figure out logistically where to even start.
I didn't mind reading about Blair and Cam but they (especially Cam) made very stupid decisions a lot of the time, especially toward the end. It was terrible to read about Blair's shitty boyfriend. I didn't mind Cam's romantic arc but she was still frustrating. The writing was pretty good – I can't figure out if it was the characters that annoyed me because they were annoying or if the writing made them more annoying lol. Their internal dialogue was a little cringe-worthy but again not sure if that has to do with the author's writing or just the characters and how they were developed. I think I would read another book by Ripley Jones, if that's any indication!
I read a lot of mysteries where I have an inkling of who the kidnapper/killer is but I can't put the full mystery/motive together. Those are still strong mystery books because I'm still trying to fit all the pieces together. Unfortunately with this one, I had the culprit and motive completely pegged from the very beginning. Like within the first chapter or two. I was shocked by how simple it all was.
The synopsis has like 2-3 extra sentences that it shouldn't have. I know that's not why or how I figured out the mystery but I think it's a bit of a spoiler for some of the things they don't actually uncover until over halfway through the book, and the setup is interesting enough without those lines. Two girls create an amateur podcast trying to figure out a case in their town – period.
Another quick thing that was lacking – this book would have benefitted from some beefing up. When you write a book with a true crime podcast, I really am expecting there to be more mixed media elements. There were some "transcripts" sort of at the end of each chapter, but not really. This book is under 250 pages! There's no reason not to add some more oomph with fun formatting, images, podcast transcripts, newspaper articles, etc. Just a total missed opportunity IMO to make this more exciting.
Don't get me wrong, I blazed through this in a couple of sittings – it's very engaging. I enjoyed the journey more than the destination, of course, but I can't justify rating this much higher because of how obvious the mystery's resolution was to me.
Related Posts