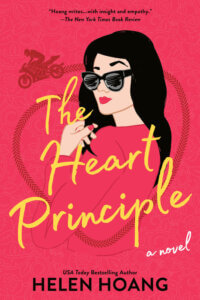 The Heart Principle
by
Helen Hoang
Series:
The Kiss Quotient #3
Genres:
Adult
,
Contemporary
Published by
Penguin
on August 31, 2021
Also by this author:
The Kiss Quotient
,
The Bride Test
Format:
Audio/Physical
(352 pages) •
Source:
Book of the Month
,
Hoopla
Goodreads
•
Amazon
•
Barnes & Noble

A woman struggling with burnout learns to embrace the unexpected—and the man she enlists to help her—in this new New York Times bestselling romance by Helen Hoang.

When violinist Anna Sun accidentally achieves career success with a viral YouTube video, she finds herself incapacitated and burned out from her attempts to replicate that moment. And when her longtime boyfriend announces he wants an open relationship before making a final commitment, a hurt and angry Anna decides that if he wants an open relationship, then she does, too. Translation: She's going to embark on a string of one-night stands. The more unacceptable the men, the better.

That's where tattooed, motorcycle-riding Quan Diep comes in. Their first attempt at a one-night stand fails, as does their second, and their third, because being with Quan is more than sex—he accepts Anna on an unconditional level that she herself has just started to understand. However, when tragedy strikes Anna's family she takes on a role that she is ill-suited for, until the burden of expectations threatens to destroy her. Anna and Quan have to fight for their chance at love, but to do that, they also have to fight for themselves.
THE HEART PRINCIPLE was one of my most-anticipated releases of 2021. I was thrilled when it was a BOTM selection and I could read it right away! And then… it sat on my shelf until March of 2023. I don't know why I never got around to picking it up. I think I wasn't expecting to love this as much as the other two in this companion series? It had a lot to live up to. I rated the first book 4.5 stars and the second book 5 stars, so where would this one land?
I didn't remember the two previous books that well but it's a companion series, so that wasn't an issue. We're introduced to Anna, a professional violinist who is stuck in a major rut with her music. Her longtime boyfriend suggests they have an open relationship for a bit before taking the next step and she's too angry to argue. She hops on a dating app and decides that if he can have a one-night stand or two, so can she. She's introduced to our boy Quan (love) and they fail at hooking up a few times but can't seem to leave it at that.
I really loved the relationship that Quan and Anna built – it was so sweet and wholesome! Both of them had some major issues they were dealing with and slowly began to open up to each other. When Anna's father becomes very ill, she's tasked with helping him and the family, which brings out the other side of Anna – the fake side, the one that is there to appease her parents and sister as the youngest child.
Helen Hoang's stories involve autistic main characters and that finds its way into this story as well. It was really well-handled. I loved seeing Anna start to come into her own and realize what she needs. The book itself is honestly VERY heavy. Yes, it's still a romance, but don't expect rainbows and butterflies. Anna has a lot of mental health issues that she struggles with and it gets bleak for a long time. I wasn't prepared for that. I honestly tend to avoid books like that but of course Hoang made it engaging, real, and well-written. (It did manage to be quite steamy in the midst of all the serious stuff!)
All in all, I hope everyone else who loved this series like me has already read this one. If you've been waiting for some reason like I did – STOP WAITING and pick it up. I think book two might still be my favorite but this one is so close (just very different).

Mirror Lake
by
Juneau Black
Series:
Shady Hollow #3
Genres:
Adult
,
Mystery/Thriller
Published by
Vintage Crime/Black Lizard
on April 26, 2022
Also by this author:
Shady Hollow
,
Cold Clay
Format:
Paperback
(216 pages) •
Source:
Library
Goodreads
•
Amazon
•
Barnes & Noble

b>The third novel in the Shady Hollow mystery series, in which Vera Vixen takes on her most challenging case yet: solving the murder of a rat who appears to still be alive.

Change is afoot in Shady Hollow, with an unusually tense election shaping up between long-serving Chief of Police Theodore Meade and Vera's beau, Deputy Orville Braun. But the political tension takes a back seat when resident eccentric Dorothy Springfield becomes convinced her beloved husband, Edward, is dead, and that the rat claiming to be him is actually a fraud.

While most of the town dismisses Dorothy's rants as nothing more than a delusion, Vera has her doubts. More than a few things don't add up in the Springfield household, but Vera will have to tread carefully, since, with Orville's attention on the election, she may be more exposed than ever.
While I still enjoyed COLD CLAY (the second book in this series), it paled in comparison to SHADY HOLLOW (the first book). The mystery was a bit too easy and obvious (at least the culprit). Unfortunately I had the same experience with this book but it was more fun overall. I'll be honest though – I'm mostly here for the vibes.
I haven't read a ton of cozy mysteries so I don't know if they tend to be more predictable in general and that's part of the reason they're more cozy than regular mystery/thrillers? I really don't mind either way as far as this series is concerned. They somehow make murder warm and cuddly. Is it because the characters are all woodland creatures in an adorable small town? Maybe.
MIRROR LAKE has a more unique and creative premise than the second book as well, which is part of the reason I enjoyed it more. One of the local residents is claiming her husband is dead… but he's right over there, looking like himself. Was he somehow replaced by an impostor?
It was a fun ride trying to see if my theory worked out because there actually was a period where it seemed like it wouldn't be the case. I did end up being right in the end but I still enjoyed the reading experience a lot. It's been nice to get to know more of the creatures in the towns across all of the neighborhoods.
I'm even more excited that a fourth book was recently announced! I can't wait to see where things go. I also have a holiday-themed novella to read but I plan on saving that for later this year. I can't remember the last time I sat here and binged a multi-book series in quick succession (without binge-reading them back-to-back).

Remarkably Bright Creatures
by
Shelby Van Pelt
Genres:
Adult
,
Literary Fiction
Published by
Ecco
on May 3, 2022
Format:
Audio/Physical
(368 pages) •
Source:
Library
,
Scribd
Goodreads
•
Amazon
•
Barnes & Noble

For fans of A Man Called Ove, a charming, witty and compulsively readable exploration of friendship, reckoning, and hope, tracing a widow's unlikely connection with a giant Pacific octopus.

After Tova Sullivan's husband died, she began working the night shift at the Sowell Bay Aquarium, mopping floors and tidying up. Keeping busy has always helped her cope, which she's been doing since her eighteen-year-old son, Erik, mysteriously vanished on a boat in Puget Sound over thirty years ago.

Tova becomes acquainted with curmudgeonly Marcellus, a giant Pacific octopus living at the aquarium. Marcellus knows more than anyone can imagine but wouldn't dream of lifting one of his eight arms for his human captors--until he forms a remarkable friendship with Tova.

Ever the detective, Marcellus deduces what happened the night Tova's son disappeared. And now Marcellus must use every trick his old invertebrate body can muster to unearth the truth for her before it's too late.

Shelby Van Pelt's debut novel is a gentle reminder that sometimes taking a hard look at the past can help uncover a future that once felt impossible.
This is for sure a book where the hype was the only thing that convinced me to read it. I saw so many people and bookish friends read and love it. I was on the fence because one of the POVs is an octopus and I just didn't know how it would go. I ended up loving his part in the story (his actual chapters as well as Marcellus as a character). Sidenote: I only listened to handful of chapters of the audiobook but it was really good – highly recommend that format and wish I had more time to utilize it! Marcellus's narration was great.
This book does indeed center around an aquarium and the resident octopus, Marcellus. It also focuses on Tova, the elderly night cleaner, and Cameron, the man heading to town to find his father. I don't really want to spoil the whole thing but it's one of those books where all the characters' stories intertwine in a magical, heartfelt way.
Okay so this is a really weird comp but the story reminded me of Poker Face (the new TV show on Peacock) – the reader (and viewer, in the case of the show) knows the "mystery" the whole time they're watching the episode. It's like they're in on something and get to watch as the MCs catch up and figure it out themselves. I thought there might be more twists involved in this story but it's pretty clear what's going on throughout and you're eager to see when and how the characters finally figure it all out.
It's not addicting in a traditional sense but I did enjoy reading this all in one day. I was always curious to know what was going to happen next. (This is why I only listened to a little bit of the audiobook – I was expecting to read this over multiple days and mix in the audio more, but I literally hung out and read my copy from the library all day one Sunday.)
REMARKABLY BRIGHT CREATURES is a really lovely story and I'm so, so glad I read it. A few scenes made me tear up at the end (one in particular, naturally from Marcellus's POV). I don't know if this book really and truly deserves five-stars but it made me feel so many things and was such a cozy experience, IMO. I don't think I'll soon forget about this special octopus, story setting, and yes, the human characters too!
Related Posts